Battles are not only opportunities to put your skills to the test; they are also your primary source of income. At the end of each battle, you receive an amount of in-game resources that can help you advance further.
Battle Results
You've fought your best, learned how to use tactics, and worked as a team. Now that the fight is over, it's time to view the results in the Battle Results window.
Interactive image. Click
(Next) to proceed to the next element.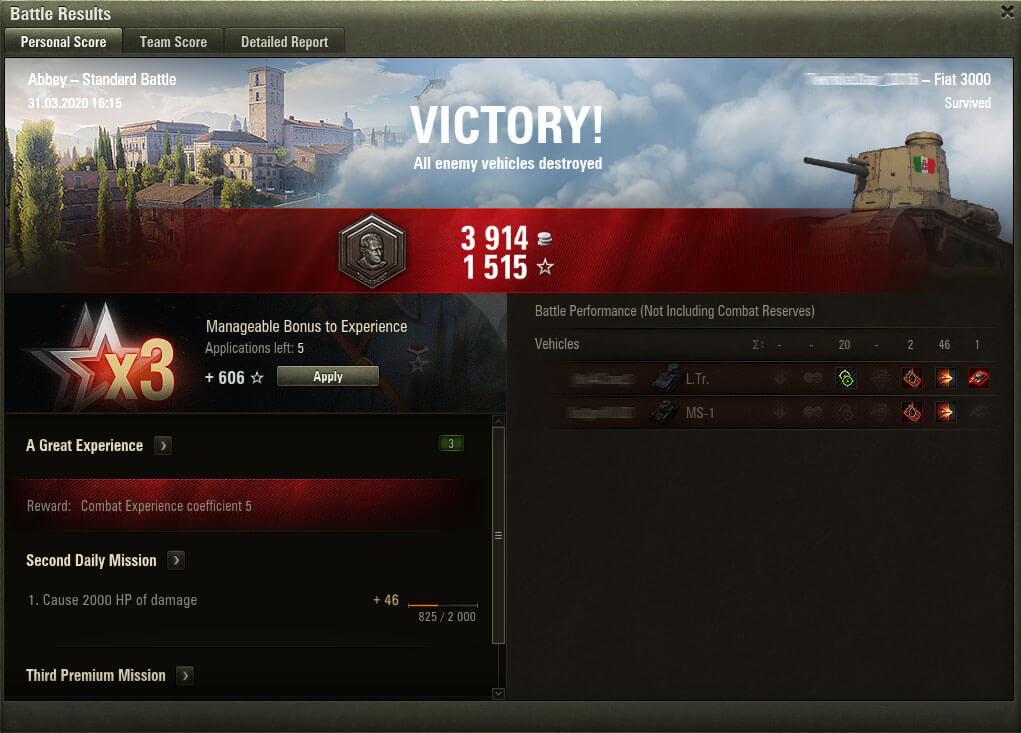 1. Credits and Experience
Your total battle income that is proportional to your success on the battlefield.
2. Achievements
You can receive medals and awards for exceptional performance in battle. For example, you win the Abrams' Medal (IV) for 5 team victories in which you survived the battle.
3. Missions and XP bonus
Your progress in all active missions and campaigns, and the ability to apply a manageable Combat XP bonus.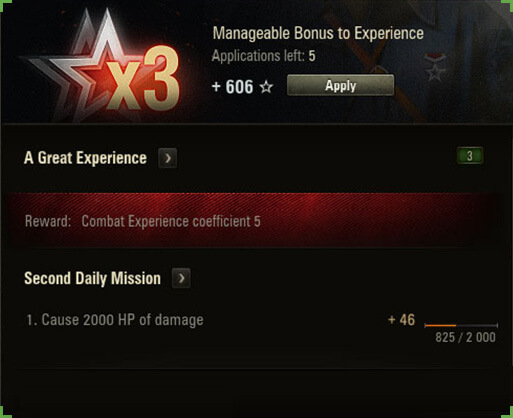 4. Battle Performance
This list shows all enemies you encountered and your performance in battle—for example, damage caused and vehicles destroyed. Types of battle activities are indicated by different icons.

5. Navigating Statistics
Go to the Team Score tab to check out both teams' battle performance. Open the Detailed Report to get full statistics on your battle results and income.

For an overall picture of your battle income and performance in all Random Battles fought within a day, click

Session Statistics
in the lower-right part of the Garage.
In-Game Resources
Credits are the main in-game currency earned in battles. You get credits for all battle activities; victorious battles provide a greater reward. You spend credits when you buy new modules, equipment, and vehicles. Credits are also spent to repair vehicles after battle, purchase Training Manuals and crew directives, and resupply ammunition and consumables.
Experience is an essential in-game resource, which you earn in battles and get for all battle activities.
You can spend your Combat Experience to research new modules of the current vehicle and vehicles of the next tier. Another type of experience is Free Experience, which you can spend to research any module or vehicle (as long as you have researched the preceding module or vehicle).
Bonds is a special in-game currency that is earned in battles, personal missions, certain in-game activities, and via the Referral program. You can use bonds to purchase unique items such as improved equipment, directives and rare vehicles.
Gold is an in-game currency that you buy for real money or receive for completing special missions, such as Bootcamp.
With gold, you can buy days of WoT Premium Account and Premium vehicles. Gold also allows you to convert XP earned in Elite vehicles to Free XP, retrain crew members, buy the Improved Pass and use many other in-game advantages.
Vehicles with all modules and subsequent vehicles researched acquire Elite status. All Premium vehicles are Elite.
Though gold makes your gaming experience more comfortable, you can become a successful commander and explore new vehicles without it. On the other hand, you cannot succeed by simply investing real money in the game.
Learn how to get and spend in-game resources from the interactive table below. We also recommend visiting the Economy in World of Tanks section for more information.
Experience
Credits
Gold
Bonds
Frontline, Stronghold, Steel Hunter
Special battle modes
A special game mode for clans
Global map
Conversion of Elite and Premium vehicles' XP into Free XP, gold to credits conversion
Resource conversion
Experience
Credits
Gold
Bonds
Researching and buying vehicles from the Tech Tree
Researchable vehicles
Vehicles that are not bound to the Tech Tree and are immediately available for credits. These vehicles have researchable modules available for XP.
Collectors' vehicles
Vehicles with special benefits, available for gold or bonds in the in-game Store
Premium vehicles
After-battle repairs, ammunition and consumables resupply
Vehicle service
Researching and buying modules; purchasing equipment, crew and equipment directives; equipment demounting
vehicle upgrades
Changing vehicle exterior with preset styles or custom elements
Vehicle Customization
Purchasing WoT Premium Account and Personal Reserves to earn more XP and credits
Economic boosts
Garage and Barracks enlargement