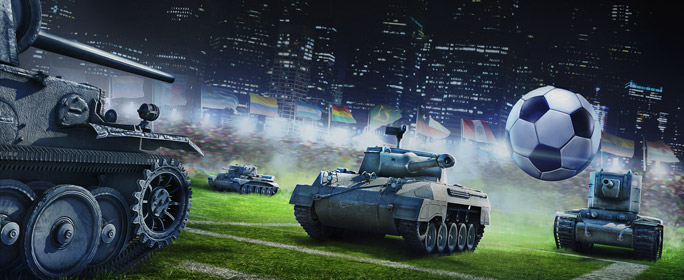 The intense battles of Copa World of Tanks have now come to an end, with the fast-firing Cromwell as champion!
The Cromwell has proven itself a dominating force on the battlefield, with the highest battle count in the Americas. Better yet, if you chose to drive the Cromwell during this event, you have the chance to win 7 days of Premium or a Premium vehicle of your choice!* Check to see if you made the top 100 base XP earning commanders. All prizes should be credited to the winning commanders' accounts by July 7, 2015.
*Chosen Premium vehicle prize must be one you do not own and is currently available in the tech tree at the end of the event.
WINNING TIER VI VEHICLE

Copa World of Tanks Contest Bracket

Quarterfinals
June 15 to 18
Semifinals
June 19 to 22
Finals
June 23 to 28

QF 1

SF 1

QF 2

QF 3

SF 2

QF 4
Prizewinning Commanders

The top 100 base XP earning players driving the Cromwell

InvaderTak

Premium vehicle up to tier VIII + Garage Slot

Matt0nChr0n

Premium vehicle up to tier VI + Garage Slot

houstongameguys

Premium vehicle up to tier V + Garage Slot

1st, 2nd and 3rd place winners will receive a private message regarding the chosen Premium vehicle. Players must respond in order to receive the prize.

4th - 100th Place:

Winning Commanders

Reduzir

houstongameguys
W0RMW00D
omoi
bandzi89
Forwardshoot21
Diesel10
dbBlaack
Skruface
Baphometus
kataskopos
Autistic_Walrus
kingmeofme
DaleAT
MegaHertz
ashegam
herb
zachary20
Gray762
Crucyble
dirtyscot
xowkjk
ridershadow123
PizzaAZ
Straaka851
BuddyJr2008
Bohdan155
Ender1323
manya
STNTOR1AN
As1an1nvas10n
zir_grizz
OOSTEVE

yoparami
TheAngryTomato
rsm958
dave197391
Pompous
thatcher_longstretch
Sgtturret17
KarlUllrich
EscHulk
Squiddite
SuicideWolf
Frostypants
purchasingaccount
krabobble
absoluteBum
PIPCornbread
sgtrieker
telab
1337Snarf
Assassin1998_invader
Yoshi_swag_XD
felixfdlove
BaronM
rhodopsine
RIP_TIGER
bughsy
kufo
agusm20
_Ro_cky_
ramiro37
rockamomma9
TogWhale
chac65

darsuz
Specializedshooter
Commodore_Swuage
enders_pawn
john58ford
ShootingGoldFarmingTears
delta38T
Neitor2828
puckup4x4
Squishy_QQ
Glorieux
Desdichado
Anfeels_Bro
ABigtiger
___SINISTER___
Evilducky062
Murtagh
SnoweeDrifter
dragon13a
DittoWaffles
TankerBritanico
thiho
GustavMahler89
ForeignFighter
feIicita
youarecool08
Vecchio
paulball1
carniloke
SqueakyZeek
mam1saki
NeoSolstice
SgtMCrhis

Reduzir

Expandir

7 Days of Premium Time

Premium days will start counting down once they are credited to your account. An email will be sent to the associated email address once the crediting has occured.