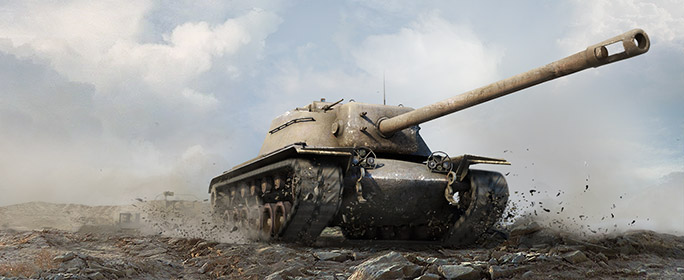 On Track is back! The US turreted tank destroyer line features many excellent vehicles, from the fast-firing M10 Wolverine and the speedy Hellcat to our featured On Track vehicle, the tier X T110E4. Armed with a deadly 155mm cannon and boasting nearly as much armor as the non-turreted T110E3, this tank destroyer can rule the battlefield!
In this On Track, enjoy discounts on tanks leading up to the T110E4 as well as missions designed to accelerate your progress towards this excellent tank destroyer, and potentially earn a Dicker Max! We also have bundles designed to help expand your Garage, train your crews, and convert XP. Finally, if you're looking for a well-armed US Premium TD to train your Crews as you move up the T110E4 line, check out the brand-new M56 Scorpion below!
New Vehicle: M56 Scorpion
Starts Monday October 12 04:20 PT / 07:20 ET
Ends Monday October 26 04:20 PT / 07:20 ET

M56 Scorpion
1xGarage Slot
30 DaysPremium Acct.

3,600
+ FREE
100% Crew
Beginning September 1, 2015, there is a change to how earned or won Premium vehicles are credited.


When you complete a mission or event to earn a Premium vehicle, or if you receive a code for a reward, if you already own the vehicle, you will be compensated the applicable Credit amount, and NOT the applicable Gold amount. This change applies to the following:
On Track Missions with a Premium vehicle reward
Events via any other mission (daily login/month-long missions, etc.)
Receiving a code for a vehicle that has to be redeemed via the Activate Bonus Code section of our website
Some transactions may still compensate you with Gold instead of Credits. Examples:
Purchasing/being gifted a Premium vehicle that you already own
Winning a Premium vehicle in a live event (livestream, player gathering, social media, etc.) that is NOT associated with a code
The Premium vehicle is substantially rebalanced and a refund is offered
Winning a Premium vehicle via a tournament that is NOT associated with a code
---
Event Starts Monday, October 12 04:20 PT / 07:20 ET
Ends Monday, October 26 04:20 PT / 07:20 ET

Select Vehicles
Tiers II-V
50% Off

Credits Price

Select Vehicles
Tiers VI-X
30% Off

Credits Price
Missions

Mission

Restrictions

Reward(s)

Rushing Down the Line

Damage two or more enemy vehicles in a battle.

+30% XP

Getting Your Crew On Track

Damage two or more enemy vehicles in a battle.

x2 Crew XP

On Track to the T110E4

Earn 25,000 XP over any number of battles.

Must be in any of the On Track vehicles featured above
10 times per account
All modes

2x Small First Aid Kit

2x Large First Aid Kit

2x Small Repair Kit

2x Large Repair Kit

2x Manual Fire Extinguisher

2x Auto. Fire Extinguisher

Equip Your T110E4 - Part I

Complete On Track to the T110E4 four times.

1x Large-Cal. Tank Rammer

Equip Your T110E4 - Part II

Complete On Track to the T110E4 eight times.

1x Enh, Gun Laying Drive


This Track Leads To The Armory

Complete On Track to the T110E4 ten times.

Dicker Max + 50% Crew
+ Garage slot
(If vehicle already owned, you receive Credit value as compensation)