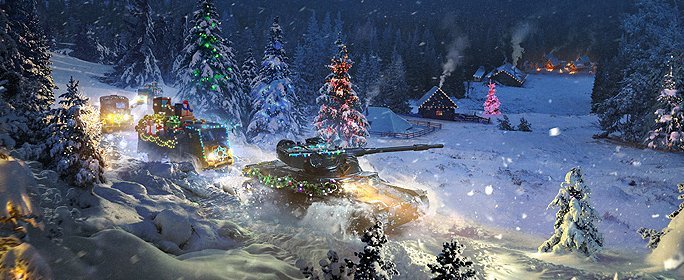 Celebration seems to be the name of the game at the end of the year, and this year, we want to celebrate you! Collect points through select missions and use them at TankRewards.com for great prizes!
We want to make the holidays a little brighter for less fortunate kids, but we need your help! Spread the word about TankRewards.com and help us get 10,000 new players to participate. For every player who logs into Tank Rewards for the first time on our way to the goal, we'll donate $1 to Toys for Tots (plus we'll add some Credit-based Personal Reserves to the first level of prizes when we hit $10k).
Get yourself some prizes, and make a difference in a child's holiday!
---
Ways to Earn TankRewards Points in December
(Up to 54 points)
Dec. 2 - Jan. 9: Get a point each day that you earn 20,000 XP in tiers IV+ (Up to 38 points).
Tank Mastery missions
Get a point for each Mastery Badge "Ace Tanker" earned on the featured tanks (Up to 16 points).
Dec. 2-12:

LTTB

,

M46 Patton

,

110

,

Tortoise

Dec. 9-19:

T71

,

121

,

Conqueror

,

Rhm-Borsig

Dec. 16-26:

59-16

,

Cromwell

,

E100

,

AMX 50 Foch

Dec. 23 - Jan. 2:

AMX 13 90

,

T-54

,

T32

,

Charioteer
*See "Missions" tab in game for additional rewards!
---
Prizes

Level Unlocked

Prizes

Unlocked with Donation

Level 1
(5 points)

Standard Supply Crate with a random prize
(could be consumables, Personal Reserves, a T28E with F-30 or an E 25!)

3x50% Credit Personal Reserves

Level 2
(10 points)

Your choice of Personal Reserves (or Standard Supply Crate)

N/A

Level 3
(20 points)

Your choice of equipment (or Standard Supply Crate)

Level 4
(30 points)

Your choice of bundled Premium tank and Personal Reserves (or Standard Supply Crate)

**Bonus Level
(40 points)

Deluxe Supply Crate with higher-tier random prize
(could be consumables, Personal Reserves, Equipment, a 105 leFH18B2 or an E 25!)

More information on prizing at TankRewards.com
---
More Details
Get more information on missions every Friday here on WorldofTanks.com
Log into TankRewards.com to pick your prizes starting January 13 at 12:00 PT
You'll receive your prizes by 14:00 PT the following weekday
After January 31, any unused points will result in default prizes