In Update 1.6, you will have a completely new experience interacting with tank customization. We're updating the decal interface to allow you to customize your vehicles more easily, and we're introducing fresh sets of "classic" square and brand-new rectangular decals. In addition, we're rolling out new fonts for Personal Numbers. Finally, you can see detailed information about some of the available styles in a special window in the game client. Here's a look at each feature individually:
The Improved Customization Interface
Previously, you had to choose one of four so-called "anchors" on a certain part of the hull to apply a Decal on your vehicle. You also had to use special little arrows, and perform other actions. However, the movement of decals still wasn't so convenient, and there was a need to improve the whole interaction process with Decals.
But now that's all in the past! Starting with Update 1.6, when choosing a Decal, you immediately see all the points on your vehicle where you can apply it. You can see how the Decal looks on a certain part of the hull, and drag the item to another location with your cursor. Don't like a specific Decal? No problem! Simply remove it with a few clicks and replace it with another one!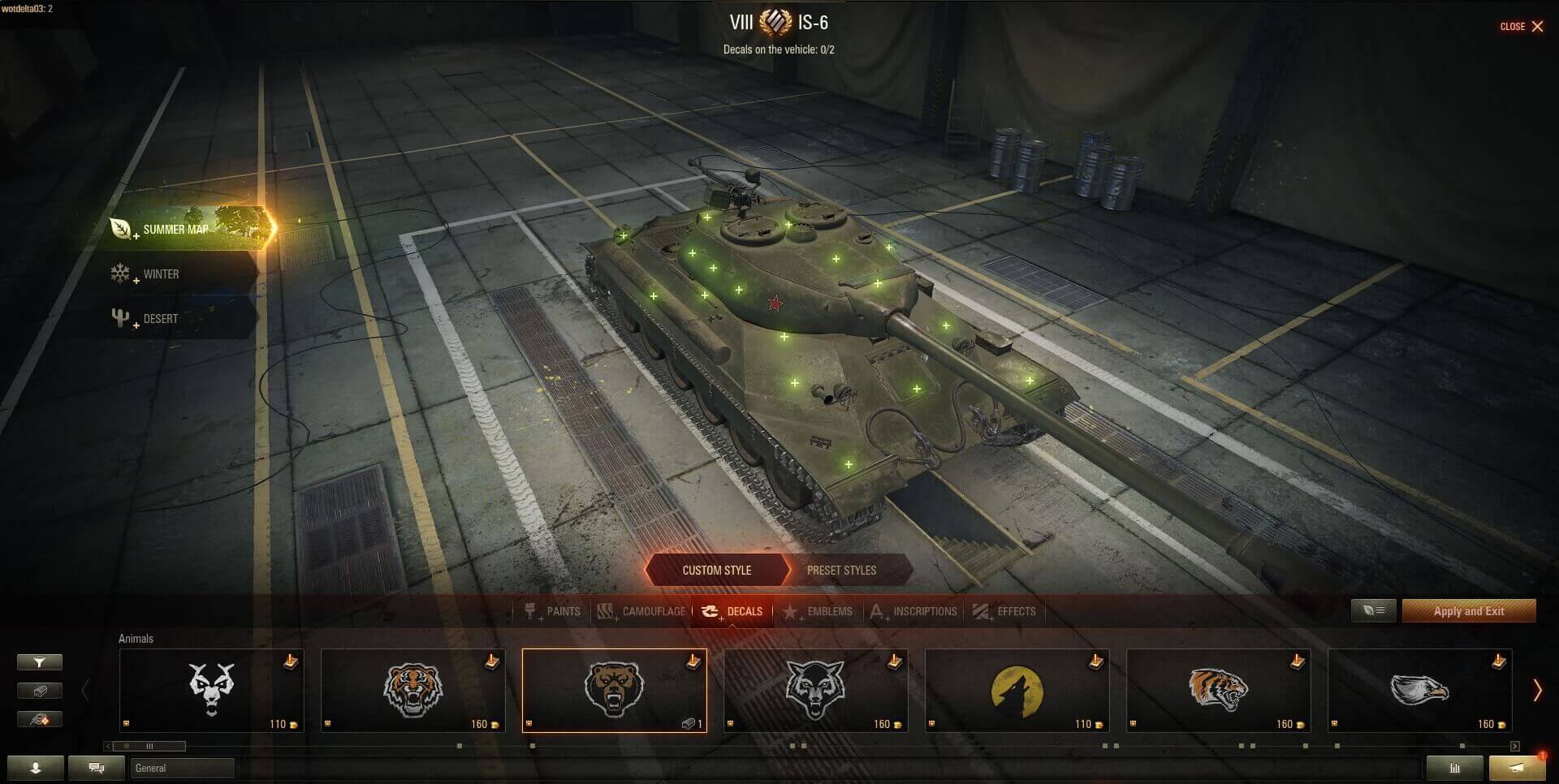 We also redesigned the menu for interacting with Decals, making it more clear, simple, and intuitive.
NOTE: During the interface redesign for interacting with Decals, we encountered some technical issues, due to which we had to remove previously applied projection Decals from your vehicles.
Don't Worry: These Decals haven't disappeared and are still stored on your account. You can find them in the Exterior tab and apply them on your vehicles again for free, using the reworked interface.
Roll Out in Style!
We're also adding a set of brand-new rectangular (multi-dimensional) Decals. Their sizes are displayed in the Decal selector as small squares. In addition, under each Decal is an icon of the ratio of its sides.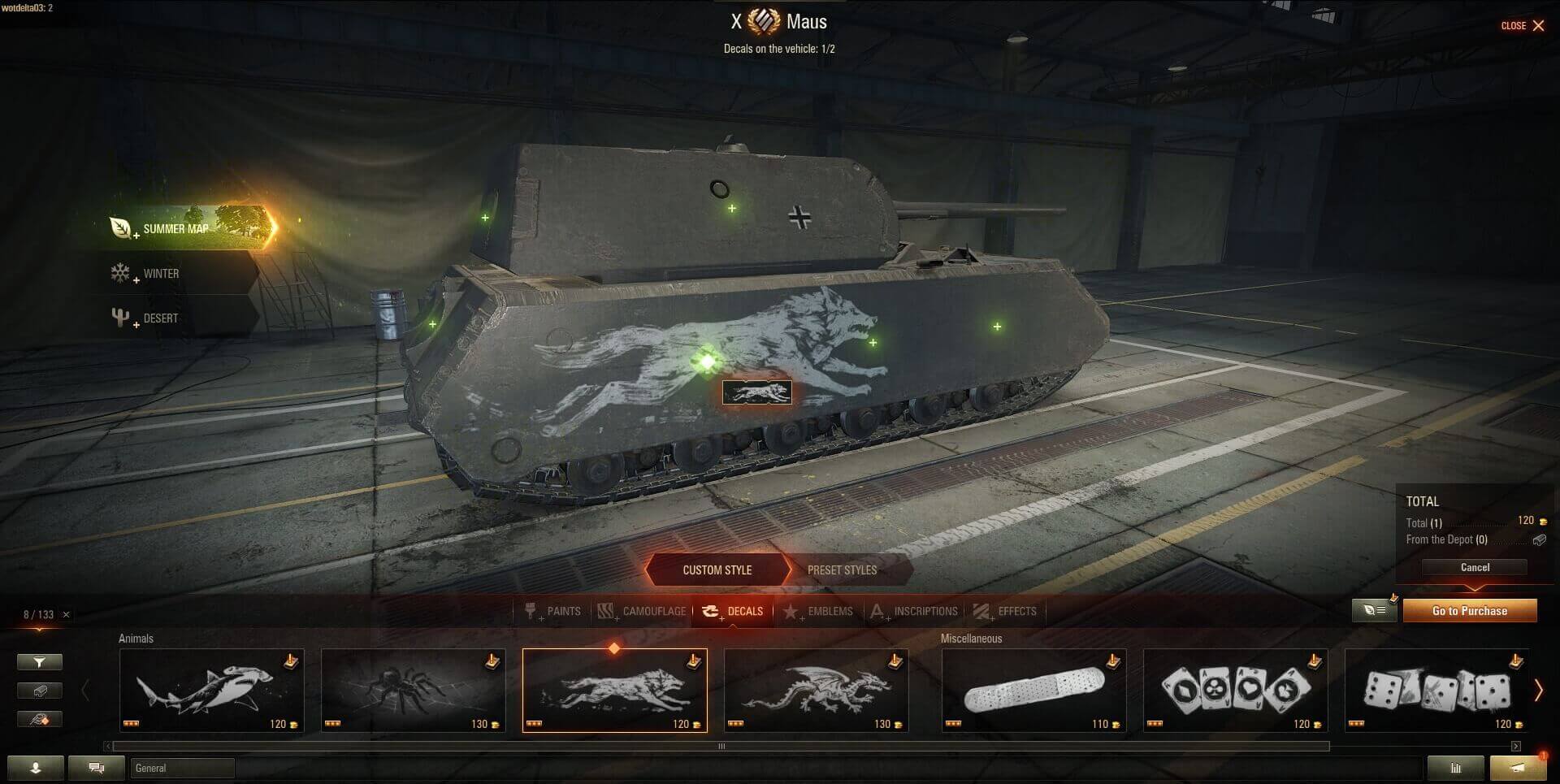 Rectangular Decals are available for Tier VIII Premium and Tier X vehicles, and can be applied to specific spots, such as an entire side. Positions for decals can differ from tank to tank. Ever wanted your Maus to look truly exclusive? Then decorate its entire side with a real piece of art! Take a look for yourself: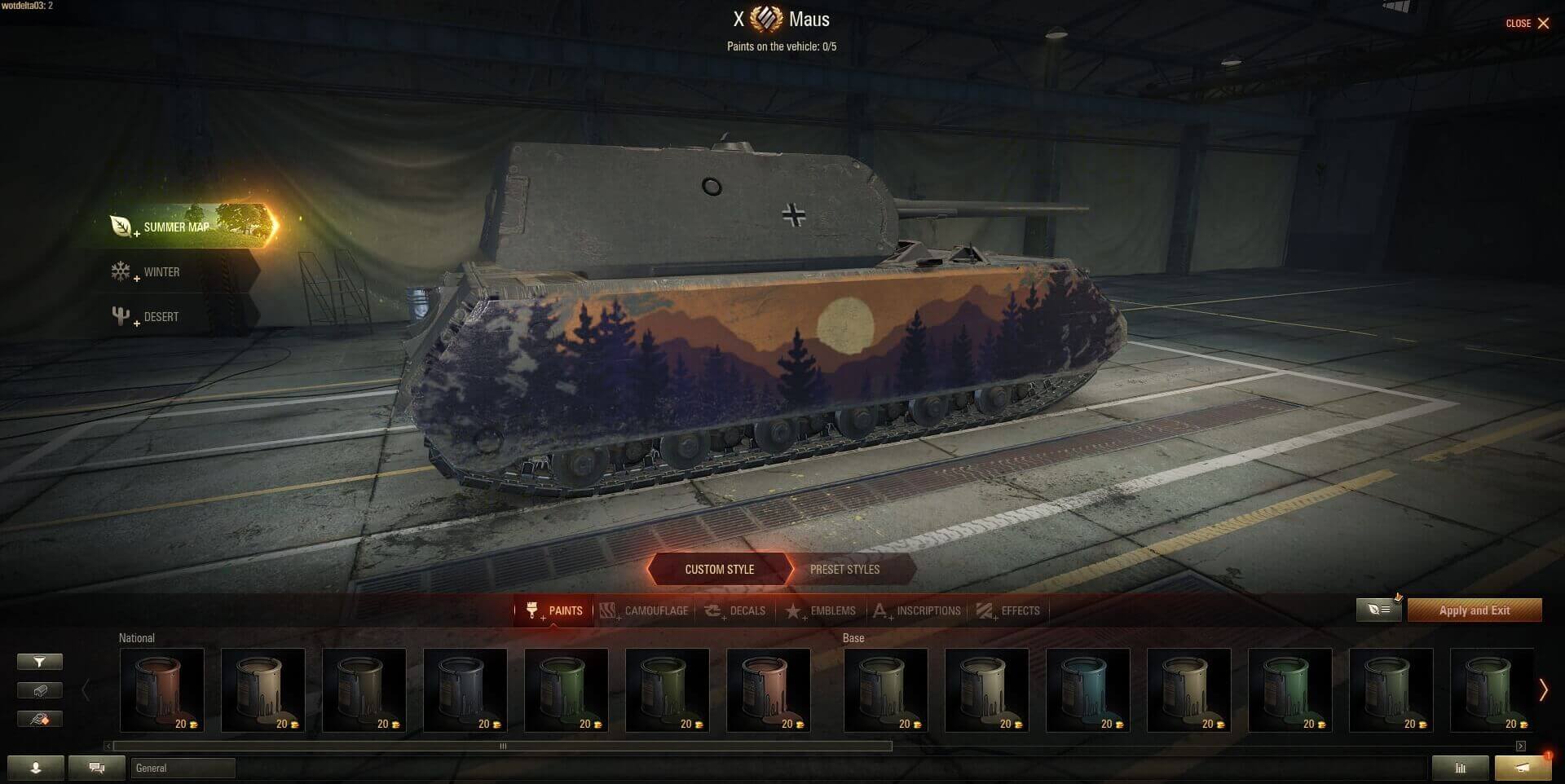 Moreover, we're adding a fresh set of "classic" square decals for Tier VIII and Tier X vehicles, as well as new fonts for Personal Numbers.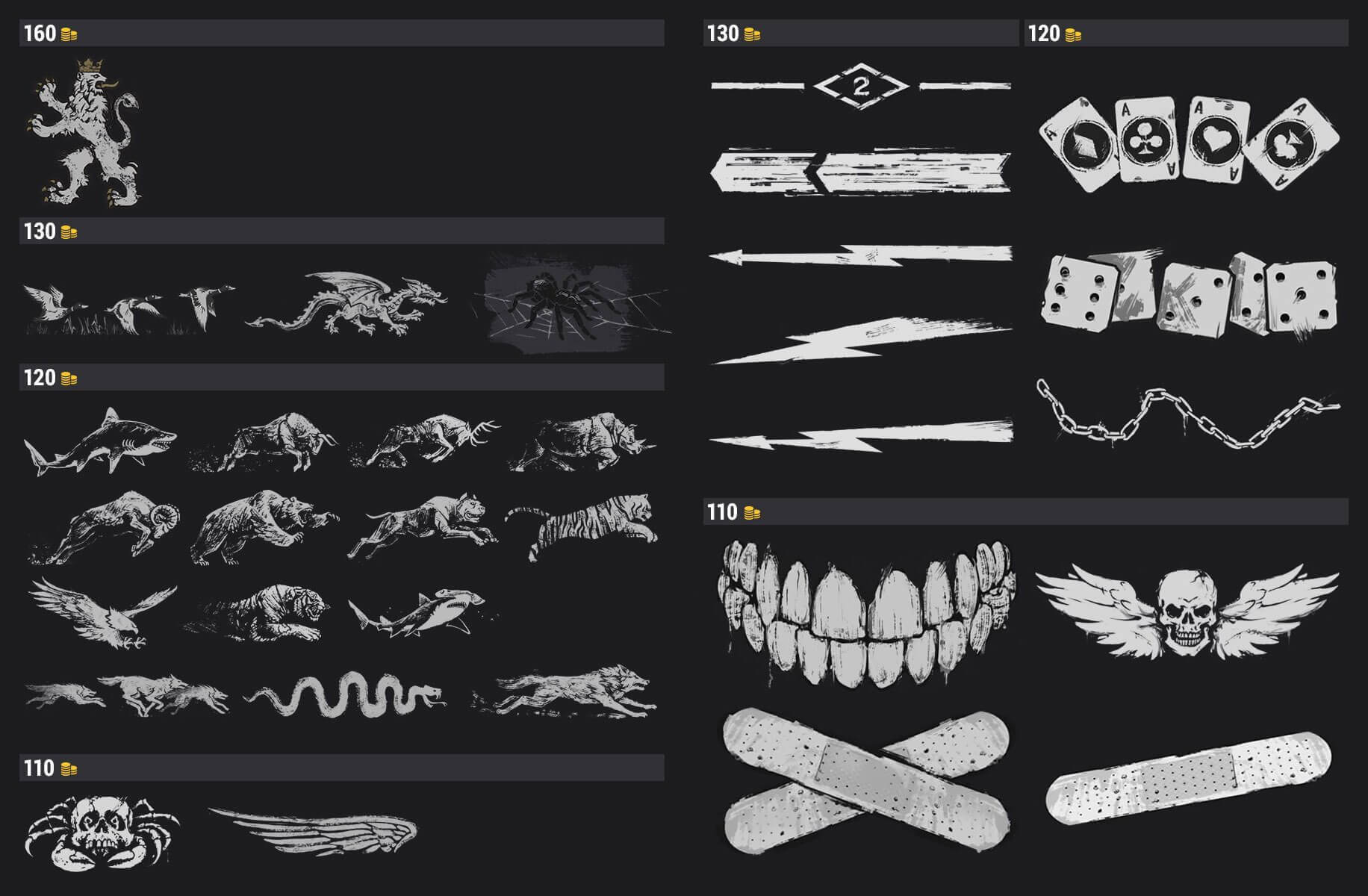 Finally, you can see detailed information about the following available styles in the game client:
Bad Ace Tanker
Black Panther
Black Widow
Champion 2018
Chinese New Year
Fan 2018
Fear Naught
Fire Bulge
Football player 2018
Forward 2018
Goalkeeper 2018
Granite
Heavy Present
Hellhound
Hero of the Battle of Kursk
Igelschnäuzchen
Immortal Classics
Jack-o'-Lantern
Jan Žižka
Made in China
Made in Czechoslovakia
Made in Germany
Made in Italy
Made in Japan
Made in Poland
Made in Sweden
Made in the U.K.
Made in the U.S.A.
Made in the U.S.S.R.
Marengo
Modern Christmas
Mordian
Snow Leopard
Soviet New Year
Sparkling Night
Striker 2018
Tempered Glass
Traditional Christmas
Valhallan Ragnarok
Winged Hussar
Winner 2018
Wolves of Odin
Simply apply the style and click the "Info" button. A full-screen page appears with interesting historical or other information.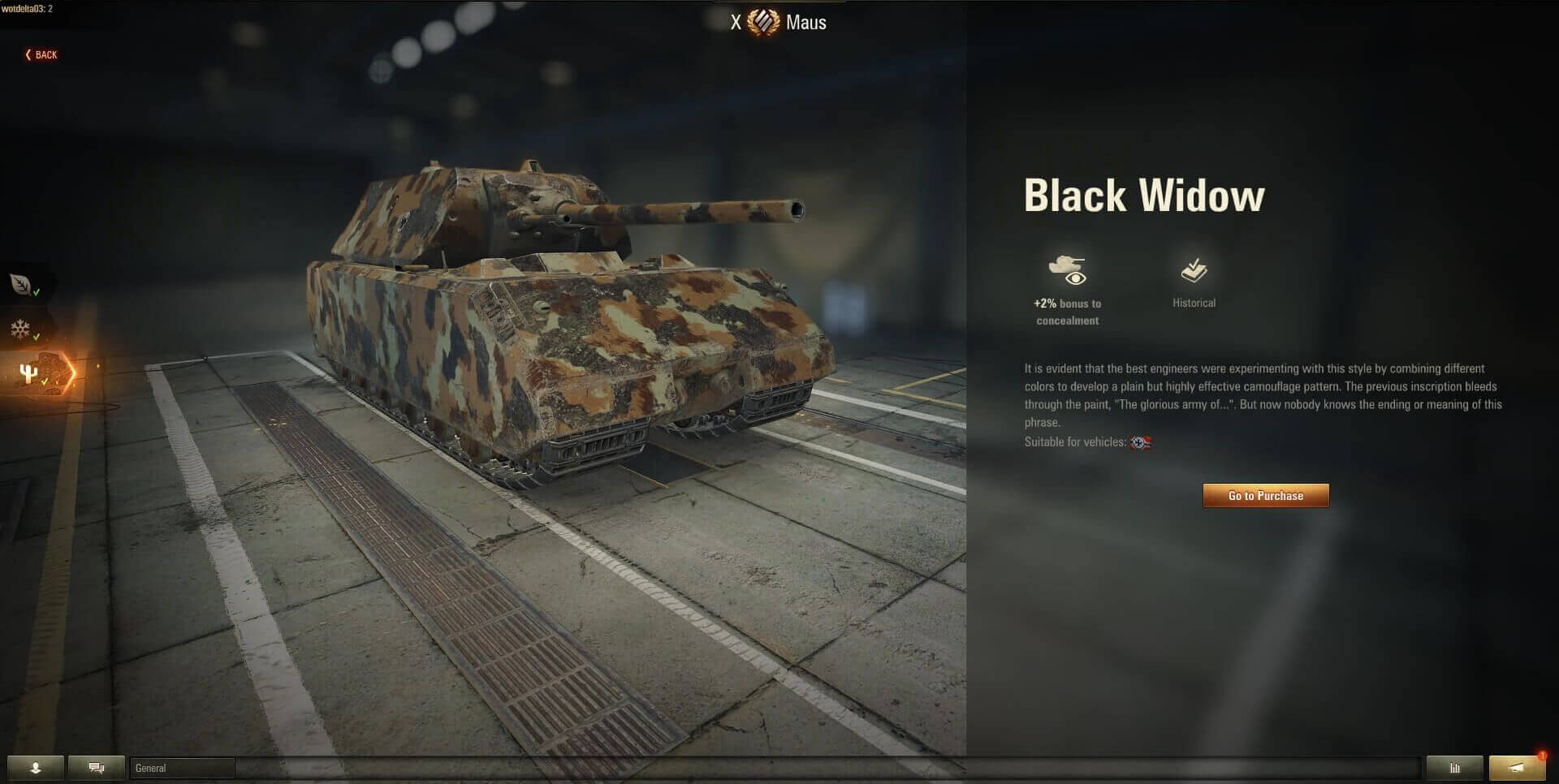 We're sure this large customization update will make your gameplay experience even more enjoyable. Decorate your vehicles with exclusive new elements and hit the battlefield!