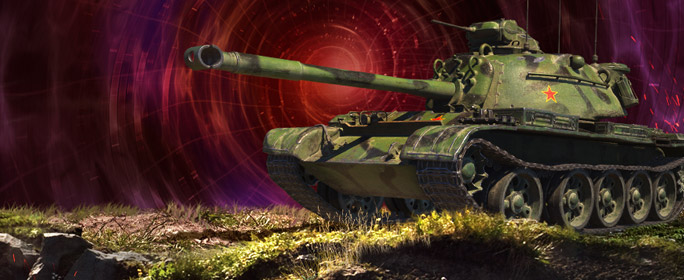 The newspapers briefly speculated that an unknown archaeological organization had discovered what appeared to be an ancient weapon of war. Blurry photographs of what looked to be a chassis/weapon-mount hybrid with two very different design philosophies were tucked neatly into obscure sections of all associated publications. These photos were an obvious call to those from the hunter world and would have never reached the public in such a manner unless it was of vital importance.
It was clear to us that this was The Conclave's work and we would answer the call.
Never before available on the NA server, the Chinese 59-Patton is a combination of a Type 59's hull and a Patton turret. With its low-profile hull, this medium beast is able to traverse the battlefield at up to 50 km/h! Once you've repositioned to the appropriate fighting location, use your turret's excellent gun depression to fight from a hull-down position.
With an identical layout to the majority of Chinese medium tech tree vehicles and exclusive access to a special x5 XP mission on the weekend, this is the perfect tank with which to further your Chinese medium crew's advancement. Get your Ancient Weapon today!
Rare Tank: 59-Patton

Starts Tuesday, September 1 04:20 PT / 07:20 ET
Ends Tuesday, September 8 04:20 PT / 07:20 ET

59-Patton

Garage Slot

2,800

30 DaysPremium Acct.
---
Ancient Weapon - Exclusive Mission

Starts Friday, September 4 04:20 PT / 07:20 ET
Ends Monday, September 7 04:20 PT / 07:20 ET

Mission

Conditions

Reward(s)

Powering Up the Ancient Weapon

Deal damage to at least two enemy vehicles in a single battle, and win.

Must be driving

59-Patton

Random battles only
Not available on daily first-win bonus
4 times per day

5x XP
There is much about The Conclave that is a mystery. They were founded as an order of knights many generations ago and evolved into what they are today. How does a group even survive for that long? One thing is for certain, The Conclave is always on the lookout for promising new treasure hunters and they reward those who have served them lavishly.
Perhaps that is their secret.
The gifts from The Conclave are the gifts that fuel their organization's immortality…
Gifts From The Conclave

Starts Tuesday, September 1 04:20 PT / 07:20 ET
Ends Thursday, October 1 04:20 PT / 07:20 ET

3 DaysPremium Acct.

1,300

+ FREE

1 DayPremium Acct.

30 DaysPremium Acct.

6,000

+ FREE
TANKS THROUGH TIME


Ancient Weapon Schedule

September 1

MT VIII 59-Patton

September 8

Ancient Weapon Reveal #2

September 15

Ancient Weapon Reveal #3

September 22

Ancient Weapon Reveal #4

Full details/durations to be posted on the World of Tanks website on the above dates.