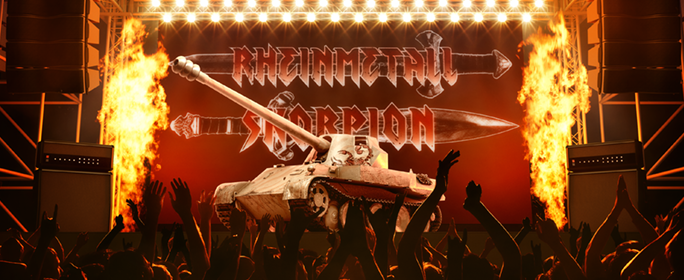 Rock on with the brand-new Rheinmetall Skorpion! This tier VIII German tank destroyer brings style and firepower, and your foes won't soon forget either one.
Purchases of the Rheinmetall Skorpion unlock missions for in-game rewards, and this time, a wicked real-life Skorpion t-shirt designed by Wargaming!
You can also win the t-shirt by participating in a Facebook contest -- no purchase required!
---
Starts August 18, 04:20 PT / 07:20 ET
Ends September 5, 04:20 PT / 07:20 ET
---
Rheinmetall Skorpion Bundles

+FREE

Rhienmetall Skorpion


15% tank discount

1,000

1xLg.-Cal. Gun Rammer
1xBinocular Telescope
1xGun Laying Drive

+FREE

+FREE
Not sure what to do with your Gold? Check out WoT Economics!
---
Rheinmetall Skorpion Missions*
Reward: Unique Wargaming Rheinmetall Skorpion T-Shirt!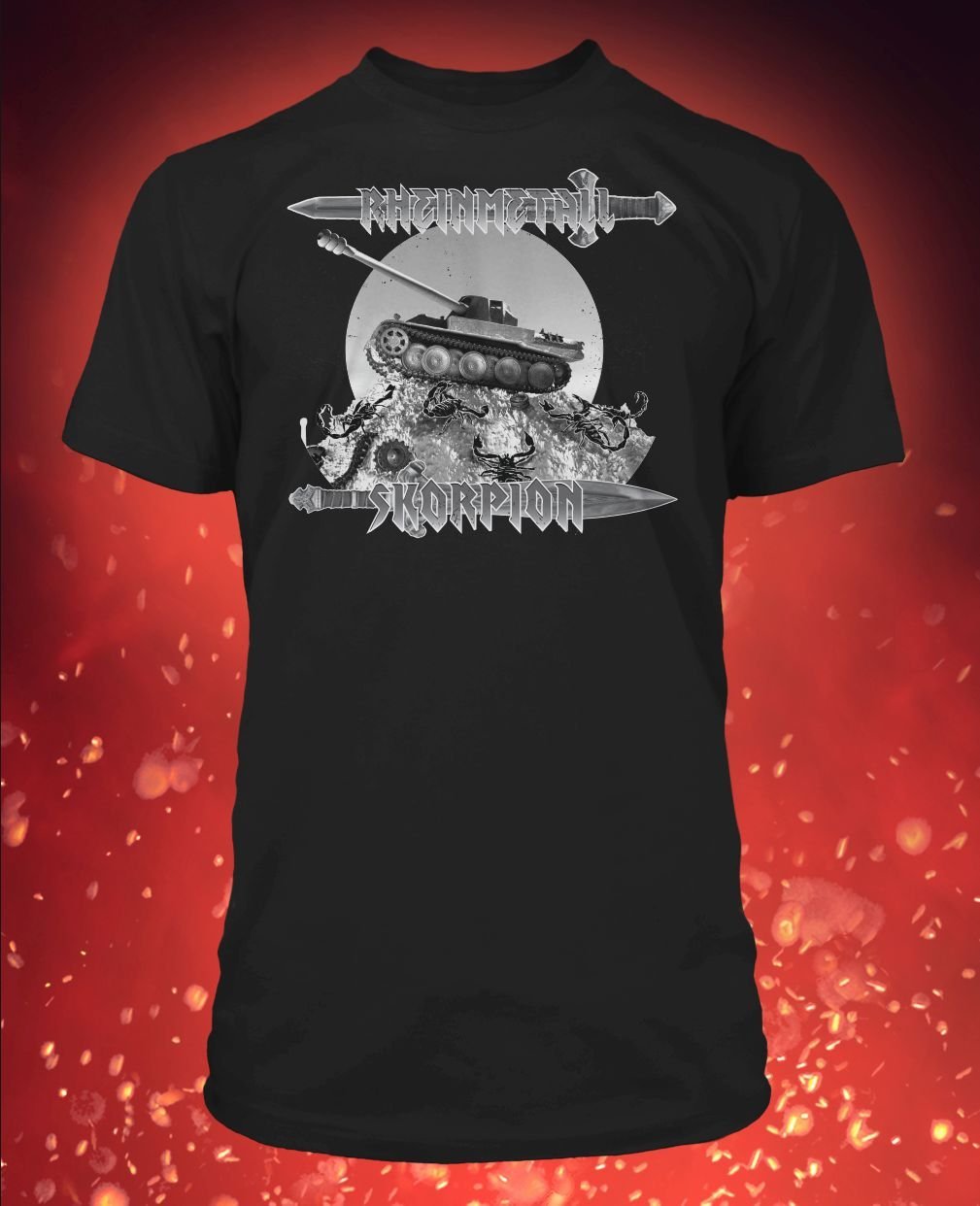 Prize for the first 500 players to finish 30 battles (where at least 1,500 damage is dealt in each) in the Rheinmetall Skorpion.
Must have purchased one of the above bundles and reside in the US to participate.
T-shirt sizes available: L, XL, XXL.
See the "Missions" tab for mission details (will only appear after purchase).
---
Rental Mission
Aug. 19-26, 04:20 PT
Earn

45,000 XP

in tiers V+ over any number of battles to unlock a 24-hour rental of the Rheinmetall Skorpion
T-shirt missions are not available for Skorpion rentals.
Ace Challenge


August 15-26, 04:20 PT
Get the highest base XP in a single battle while commanding the Rheinmetall Skorpion to take home the T-44-100.
Top five players of the week will be determined on August 19 and 26.
---
The Good

Accurate & devastating Rheinmetall gun (tier IX, 12.8cm)
Mobile with a high top speed
Uses those qualities to flank and relocate, making a real game changer

The Bad

Low signal range
Can struggle against tier X (best to be a support TD in those cases)

The Ugly

Slow reload, lower rate of damage per minute

Reasons to Buy

You dig TDs that move with the best of them
An accurate German gun on a Panther chassis is a great combo
Penetrating gun
Looks cool!

Reasons Not to Buy

You want a more brawl-worthy tank destroyer (try the

8,8cm PaK 43 Jagdtiger

)
You prefer something TD-ish, but with a tougher turret (go for the

T34 Heavy

)
Loadout
Equipment
Consumables
Crew Skills & Perks