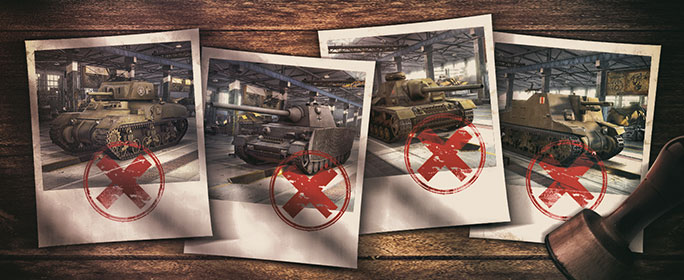 With the arrival of Update 9.8, the time has come once again for the changing of the guard. Each update brings new additions and improvements as well as changes to the game. Four Premium vehicles are set to retire from the in-game Store, Tech Trees and, eventually, from the Premium Shop as well.
The following Premium vehicles will be removed when Update 9.8 is launched:
The withdrawal of these Premium vehicles will be carried out in two stages:
For the release of

Update 9.8

, the vehicles are removed from the in-game Store and tech trees.
A few weeks after 9.8, the vehicles will also be removed from the Premium Shop.
Although these Premium vehicles won't be available for purchase, those who already own the vehicles can continue to battle with them! Rest easy, they won't lose their Crew-training prowess or their Credit-earning potential. Furthermore, it's possible that some of these vehicles will return in the future, either in the Premium Shop for holidays or as rewards during special events, tournaments and other contests!
These decisions are always tough, as some of these tanks are favorites of ours. But you can bet your TOG on a new generation of Premium tanks rolling off our assembly lines, just like the T-54 first prototype and the victorious Berlin Quartet!
You'll have one last opportunity at getting these outgoing vehicles in a set of special bundles!
If you were planning on adding any of these Premium vehicles to your collection, this might be your last chance, so act fast!
Premium Shop Bundles

Available until:

Monday, June 8, 04:20 PDT / 07:20 EDT

$44.89




Garage Slots ( 4 )

Free: 7 Days of Premium

You can also find each vehicle in their own bundle:
Sexton I | SU-85I | RAM II | Pz. IV Schmalturm
When you purchase a bundle and you already own one of the vehicles, you will receive the Gold equivalent of the vehicle plus the Garage Slot. However, if the vehicle is on sale, you will receive the sale value in Gold.
*By now, it's no secret where these Premium vehicles are going. Life in a tropical paradise has been a blast for the E 25, and the T14, FCM 36 and Panther/M10 are enjoying it as well. The TOG II* however, while usually leisurely cruising in the sea, has been MIA... It might have something to do with its close cousin entering the Wargaming universe!