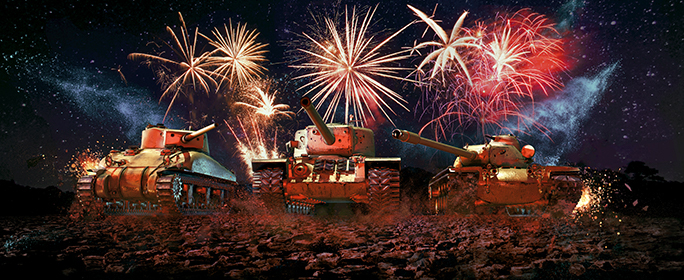 We're throwing a bash in honor of Independence Day and Canada Day, so grab your favorite USA tech tree tanks (or buy one at a serious discount!) and rack up some victories to earn a big XP bonus! Discounts and bonuses might be enough to have you reaching for the fireworks, but we're also offering missions that'll earn you Crew XP, boosters, emblems and more!
Celebrate 100 Years of Tanks with Wargaming!
To commemorate the history of tank development over the past century, we're holding a series of in-game events and specials across all platforms leading up to the anniversary of the Mark I, the first tank deployed in battle.
Starts July 1, 04:20 PT / 07:20 ET
Ends July 5, 04:20 PT / 07:20 ET
---

x5 XP

Reg. Vehicles (USA)

Tiers II-V
50% Off

Tiers VI-VII
30% Off

Tiers VIII-X


15% Off

Credits Price

Prem. Vehicles (USA)

Tiers II-V
50% Off

Tier VIII


15% Off

Gold Price
July 4th Weekend Missions
"x2 Crew XP on Tier IX & X USA Tanks"

"July 4th Celebration"

"Happy 4th of July and Canada Day!"

"Canada Day"
Q:

How do I find the mission requirements?
A: Go into your Garage and click on the "Missions" tab just above your Crew:

If you're still curious, check out our handy guide!