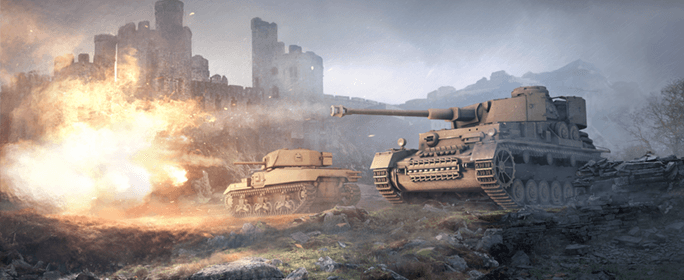 Two fun-to-play medium tanks roll back into the Premium Shop for a limited time -- including the rare beauty that is the Pz.Kpfw. IV hydrostat! Zip around opponents with speed and epic maneuvers, then blast them with accuracy and power.
If you're in the mood for more armor on your medium tank, try out the Ram II, currently on sale and available to rent in missions. Third Thursday Throwdown on November 17 makes it easy to give it a try!
---
Bundles


Available November 17 03:20 PT / 06:20 ET
Ends November 28 03:20 PT / 06:20 ET

Pz.Kpfw. IV hydrostat

|

15,000

|

3,000,000


FREE + Garage Slot | Improved Ventilation | Gun Rammer | Spall Liner

BUY NOW

Ram II

1xGarage Slot

Ram II

1xGarage Slot
1xCoated Optics
1xGun Rammer

350

FREE+

1xImproved Ventilation

Ram II

1xGun Rammer
1xImproved Ventilation

2,600

1,500,000

FREE+

1xGarage Slot
1xCoated Optics
Not sure what to do with your Gold? Check out WoT Economics!
---
Hydrostat: The Good, the Bad, and the Ugly

By RivaL's Unknown0ne

The Good

~1600 damage per minute
High HP for a medium tank
Decent accuracy
Good speed and maneuverability
Never encounters tier VII tanks

The Bad

Armor is ineffective against most opponents
330m view range, very low for a medium tank

The Ugly

Its model hasn't been updated to HD

Reasons to Buy

Well-rounded medium tank
You'll never see tier VII in this tier V tank
Trains German medium tank Crews

Reasons Not to Buy

You're looking for a heavy tank (try the

Churchill III

)
You want a higher tier premium tank (try the

FCM 50 t

or

IS-6

)
Play Style
The Pz.Kpfw. IV hydrostat is a well-rounded medium tank, with speed to get to advantageous positions and good damage per minute to hold them. Alternatively, its decent accuracy allows it to provide effective support from afar.
Loadout
In any role, optimizing this tank's aim time and rate of fire increases your effective damage output. For front line brawling specifically, minimize critical damage and improve maneuverability to increase your odds of success.
Equipment

Consumables
Crew Skills & Perks

"Snap Shot", "Smooth Ride", and "Brothers in Arms" help maximize your effective damage output at any range. For front line brawling, "Repairs" minimize downtime due to critical damage and "Clutch Braking" boosts your maneuverability. Additionally, "Sixth Sense" is always nice to have.