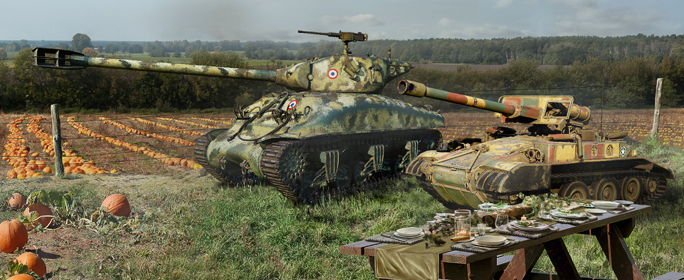 Vive La France!
The tier VIII M4A1 Revalorisé came to be because the French wanted to upgrade their Shermans to put some big holes in the most modern enemy vehicles. Capable of firing shells the size of a family-size thermos, the Revalorisé later found a home with the Israeli Defense Force, and remained in service well into the 20th century.
The Revalorisé is still a Sherman, but as a tier VIII tank, its armor will work like wet cardboard if taken to combat alone. Therefore, it's well suited to support play, so either stay at a distance and use that big honking gun from behind cover, or move behind the heavy hitters on your team and back them up on the offensive!
The Revalorisé arrives with a fully trained Crew, a Garage slot, and a nice sum of Gold. If you want to engage in some French impressionism while wreaking high-explosive havoc, there's a tree-branch camouflage pattern for certain maps available in the Garage!*
*Camouflage and artistic talent sold separately.
Don't forget to check out the missions, discounts and bonuses taking place during our Feast event!

Available Friday, November 27 03:20 PT / 06:20 ET
Ends Tuesday, December 1 03:20 PT / 06:20 ET
1,500|

M4A1 Revalorisé + 1x
Garage Slot | +FREE

100% Crew
Scorpion Strike!
The M56 Scorpion is a fearsome sniper boasting outstanding gun handling, accuracy and penetration! Its high speed and low weight is reflected in its armor, so be sure to keep your distance and punish your foes from a good hiding spot.

Available Monday, November 30 03:20 PT / 06:20 ET
Ends Tuesday, December 1 03:20 PT / 06:20 ET
1,100|

M56 Scorpion + 1x
Garage Slot | +FREE

100% Crew