Commanders!
A hefty gust of wind has blown stacks of spring postcards with discounts and sales all over World of Tanks. Try to catch them and save big on in-game goods!
The Daily Deals event returns with great discounts, fantastic offers, and a new feature to save deals for later. Make sure to visit the Daily Deals page every day, and save on lots of items, including Premium Account time and even Premium vehicles! Snatch up a deal you like or it will be blown away the next day.
Daily Deals

Daily Deals BEGIN:

Daily Deals END:

Thursday, May 13 at 04:20 PT | 06:20 CT | 07:20 ET

Thursday, May 20 at 04:20 PT | 06:20 CT | 07:20 ET

Don't hesitate to grab a good deal when you see one.
They will expire the very next day!
What are Daily Deals?
Daily Deals are an interactive way for you to receive flipping good deals for in-game items. Everything a tank commander's heart desires can be yours at a discount. Catch the right postcards to find sales on Premium time, vehicles, boosters, currency packs, and customizations.
Where can I find Daily Deals?
Log in to our Daily Deals page or check the Wargaming.net Game Center (not applicable to Steam players or Mac users) and catch up to 4 postcards per day. They fly by fast, so be quick and flip them over to reveal the offers on the other side!
Can I get Daily Deals if I can't catch them?
You don't have to miss out on any of the Daily Deals, even if the postcards are zooming by, you are not able to click on them, or if you don't want to go through the trouble of catching them individually. Use the "Catch them all" button on the page and four fantastic deals will be selected for you.
Can I save a Daily Deal for later?
Daily Deals change every 24 hours with a new chance to grab exciting offers. However, there is a way to save deals if you need a bit more time. "Save for later" tokens are a new feature that allows you to hold on to a deal until the next day. The first one is free, and you will receive additional tokens every time you purchase a daily deal.
What kind of deals can I get?
Daily Deals are divided into three levels:
Common Daily Deals

: Fantastic offers that range from Premium time to Premium vehicles and in-game goods.

Rare Deals

: They generally include a little bit more for a little bit less.

Legendary Deals

: Outstanding offers that you don't want to miss.
The level determines the package contents and the discount you can expect.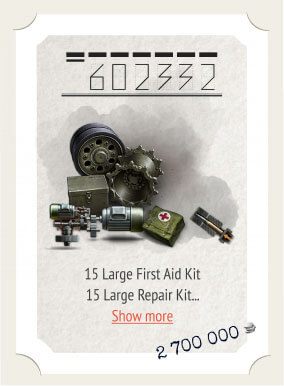 Common Deal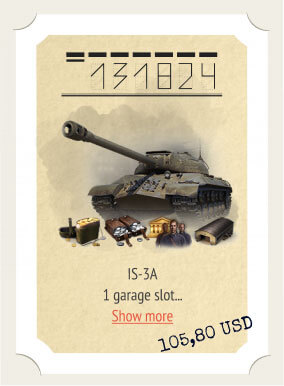 Rare Deal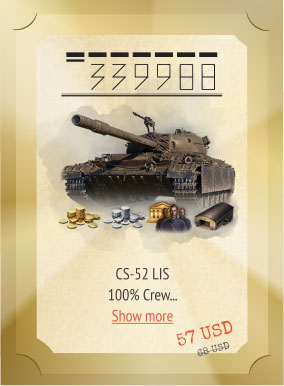 Legendary Deal
Are all Daily Deals for Premium Shop packages?
No! Most of the Daily Deals are discounts for exclusive Premium Shop packages, and there will be a dedicated "Daily Deal" category in the Premium Shop. Make sure to be logged in to see it and claim your Daily Deals!
However, some Daily Deals are directly available for

credits and

gold and will be sent to your garage in-game! No matter if it is a deal for the shop or for gold and credits, you will get a "Save the deal" token after you complete a purchase.
What if I already own the items in a Daily Deal package?
Premium vehicles and other unique items will be compensated in gold. Please note that the amount of gold depends on the discount that is applied to the package.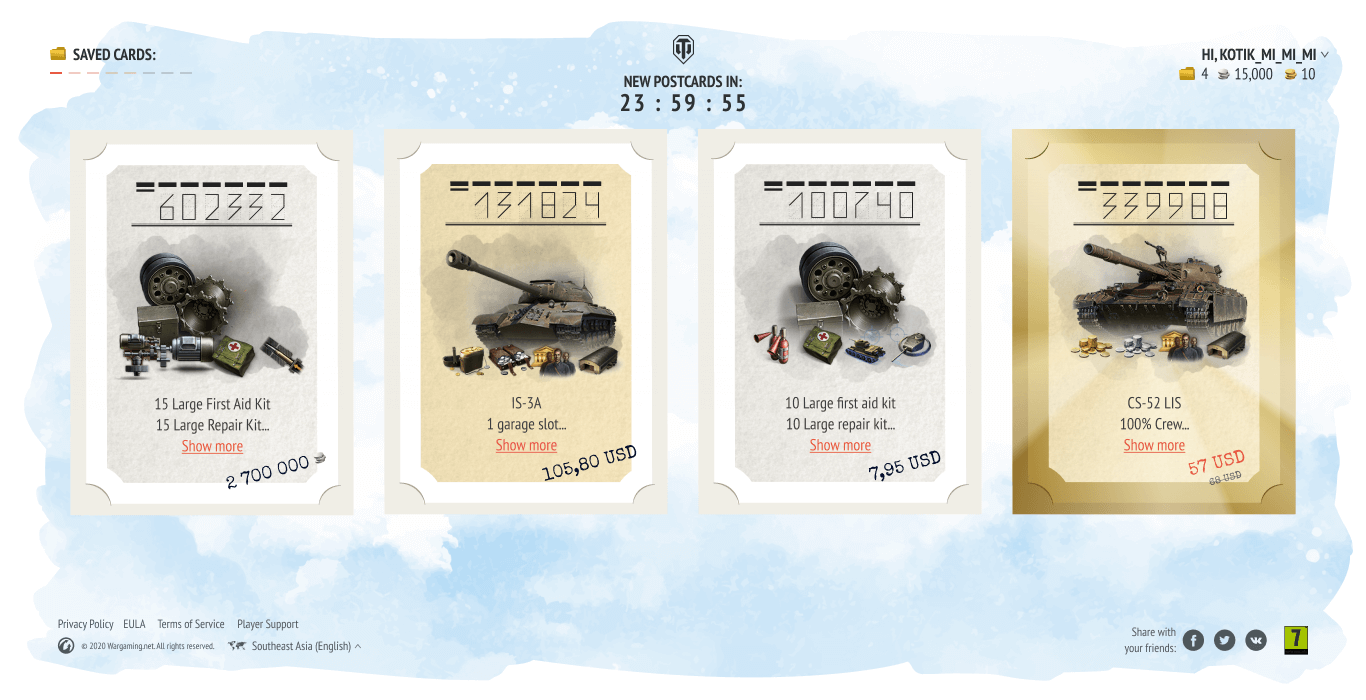 Chase after postcards from May 13 at 04:20 PT | 06:20 CT | 07:20 ET through May 20 at 04:20 PT | 06:20 CT | 07:20 ET and catch amazing offers with Daily Deals!
Roll Out!