Greetings, Commanders!
We're happy to remind you that your victorious tanking journey in Battle Pass Season 2 doesn't end with the completion of the Main Progression. Ahead of you awaits the Elite Progression with 100 tough Stages—a serious challenge only for the most persistent and dedicated commanders. But by completing it, you'll earn both a tremendous number of Bonds and enter the elite of our tank community.
The Elite Progression: Stunning Decals and Even More Bonds!
During Season 2's Elite Progression, you can earn 35% more Bonds than in Season 1! The number gradually increases from Stage to Stage and, as a reward for achieving certain Stages, you'll receive many more Bonds than usual. Consequently, upon completing the Elite Progression, you'll fill your vault with a huge amount of this valuable in-game currency. Feel free to exchange Bonds earned for high-performance vehicles and other valuable items in the in-game shop. On July 13, we updated the list of vehicles available for Bonds, and now you can get your hands on:
In addition, if you showcase great tanking skills and display your mastery in Ranked Battles 2020-2021, you have the opportunity to exchange your well-deserved bonds for two new exclusive items:
In addition to Bonds, the Elite Progression this Season rewards you with stunning projection decals.

Show the World Your Battle Prowess!
After completing the first Elite Progression Stage, you'll be rewarded with an Elite Chevron you can apply as a mark of glory and mastery. It displays your current Battle Pass Elite Progression Stage with a number that updates automatically as you advance through the Elite Progression.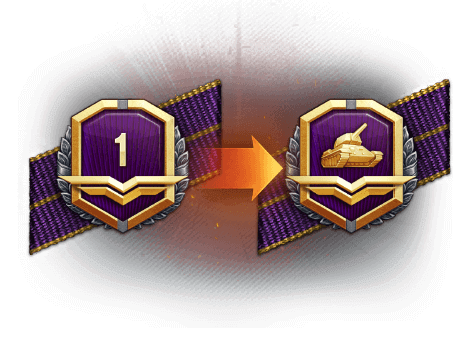 Your Results Are Truly Impressive!
Have you already completed the Main Progression in Battle Pass Season 2 and grabbed the sweet rewards? If not, don't miss out on this opportunity to get your hands on unique Bounty Equipment, two exclusive 3D styles, an exclusive custom crew member, and tons of other valuable prizes!
Since the start of the event, we've been closely monitoring how engaged you are when fighting in Battle Pass, both in the Main and Elite progression. The results are impressive—here's a brief summary:
Keep up the fight and earn rewards in Battle Pass Season 2, Commanders!