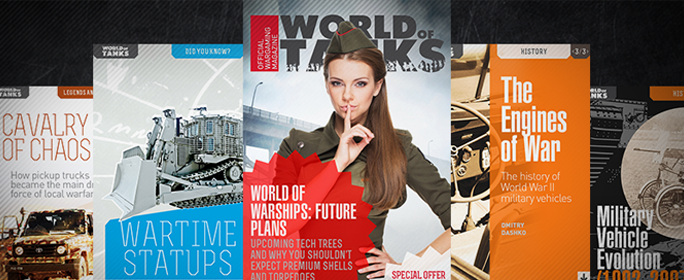 Get the lowdown on the new AMX CDC for World of Tanks, wartime startups, the evolution of military vehicles and much more!
The second issue of the official World of Tanks Magazine is now available for download—absolutely free! Combining exclusive information on in-game content and detailed historical articles, World of Tanks Magazine has something for gamers and history buffs alike! Plus, it includes offers that you won't find anywhere else.
In This Issue
Find out what's so great about the AMX CDC (explore it with the "Let's Rock" Shop bundle)
Check out our list of the top 10 fictional military vehicles
Learn about the French engineer who gained the favor of a Tsar and changed the global car industry
Get a sneak peek at what it's like to be a member of [WG], the main clan of Wargaming employees
Have your mind blown by 10 surprising facts about World of Tanks Blitz
In-game offers and much more!
Download Now!