Subtitles in our supported languages are also available by clicking on the icon in the bottom-right corner.
Get ready to party, Commanders!
To celebrate the 9th anniversary of World of Tanks, we're launching the Tank Festival, a series of activities for those who keep the game close to their hearts, on August 7. We've prepared a great program with tons of specials and plenty of gifts. Hop on board, try your hand at new game events, and fill your vault with unique rewards!
Here are some of the Festival activities you can look forward to:
Steel Hunter:

Explore the mysterious Zone 404 in this brand-new mode, research different vehicles, and fight to survive!

Tank Racing:

Ladies & gentlemen, start your engines! The legendary mode returns to WoT — get ready to burn up the asphalt!

Festival Fair:

What's a Festival without a Fair? Treat yourself to the tank of your dreams with daily special deals.

Frontline

:

The AE Phase I, a Tier IX American heavy tank with four caterpillars, will be up for grabs. Push for victory and claim your well-deserved rewards!
Customize Your Dog Tag
Aside from these activities, you will have the opportunity to customize your very own Dog Tag during the Festival — a special item that enemies will see after you destroy them. A Dog Tag is a unique expression of your personality and makes you instantly recognizable on the battlefield.
The Dog Tag consists of four elements:
Base

Engraving

Inscription

Title
Dog Tag elements can be combined. There are thousands and thousands of unique elements available, so no two players will have identical Dog Tags.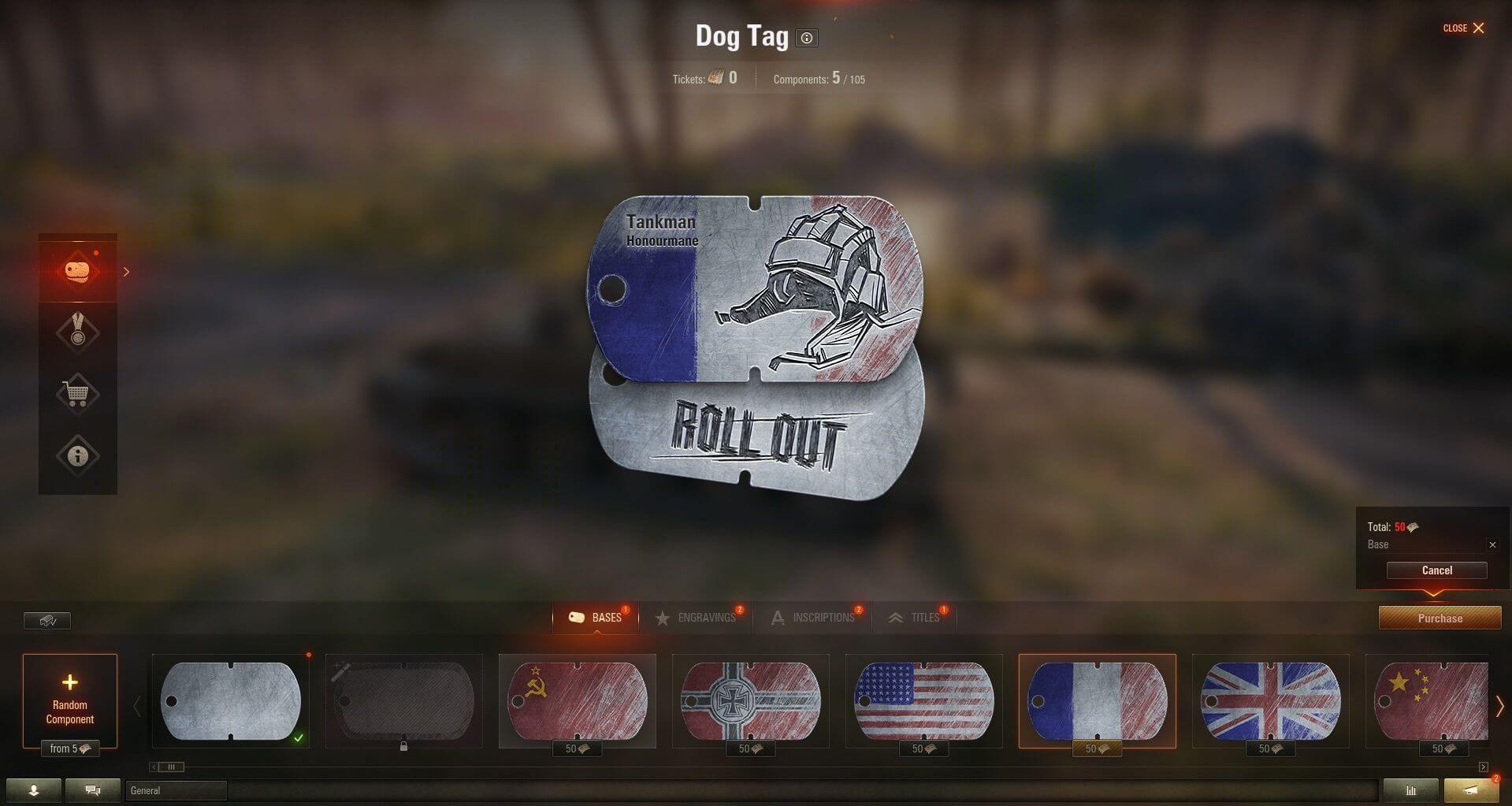 There are three types of elements:
Basic:

These will be credited at the beginning of the Festival

Standard:

These can be redeemed only for Tickets

Event:

These can be obtained by participating in Festival activities
In addition, there is another special element called Special Base, which can change images on other Dog Tag elements, marked with a special symbol. You'll get it when you collect half of the Standard elements.
Earn Tickets to Enlarge Your Collection
Tickets are a special game currency available only during the Tank Festival. You can earn them by completing simple missions in Random Battles. Use Tickets to exchange elements to customize your Dog Tag and make it truly one-of-a-kind!
Elements for Dog Tags can be purchased in the Collection interface. There are three ways to buy them:
Choose a specific item you like.

Make a random exchange. In this case, you get a random element from a variety of existing ones.

Pick a random item of a particular type from any of the three (3) Dog Tag elements, for example, a random Engraving or a random Inscription.
By earning customization elements for your Dog Tag, you can earn Titles and rewards. Your current Title will be reflected on your Dog Tag. You can also improve your Title by participating in Festival activities.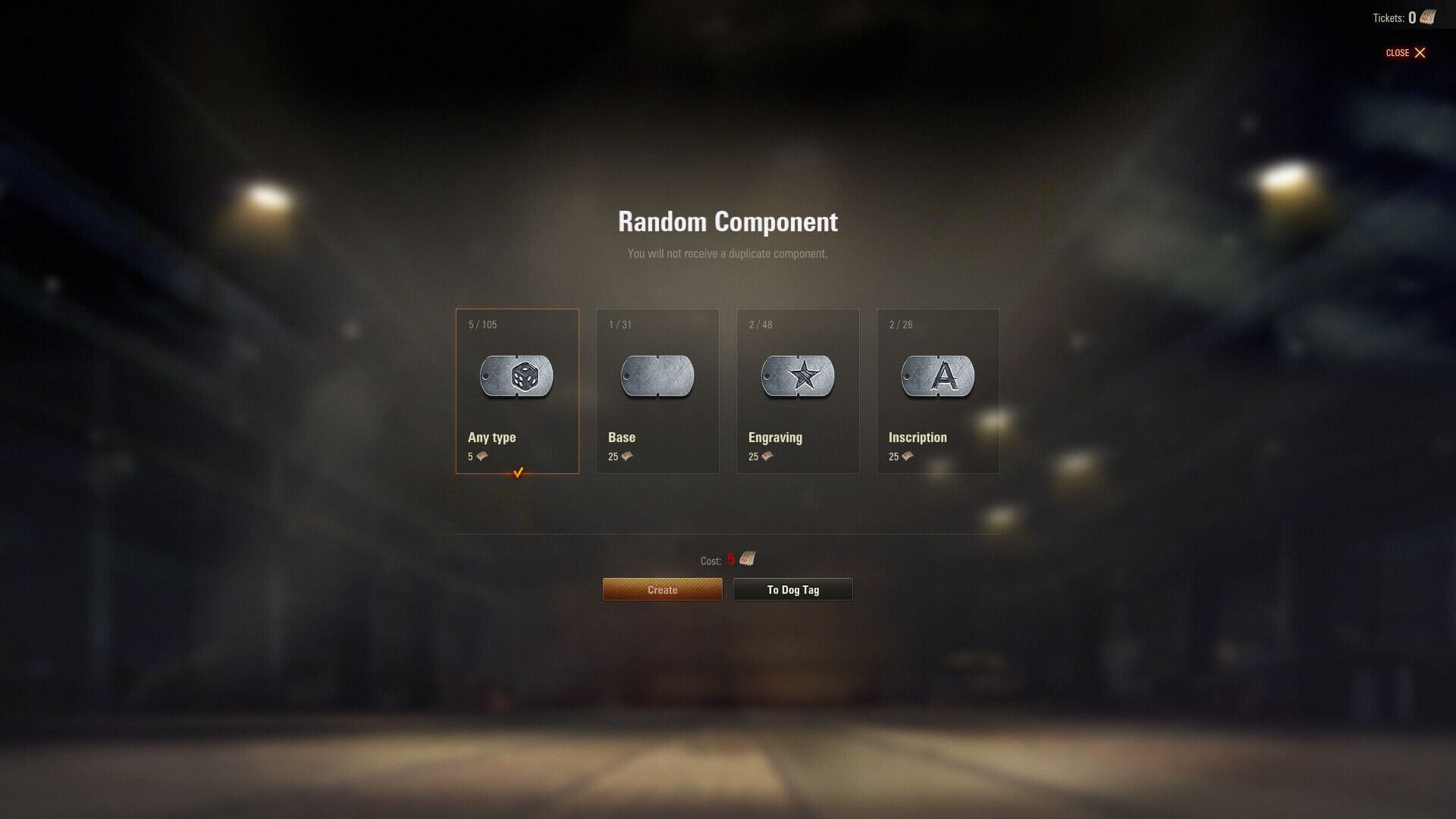 Get Access to the Festival Shop
Once you have completed the entire element Collection, you will get access to the special Festival Shop containing Directives and other valuable rewards that were previously available only from special events, such as the Jack-o'-Lantern, Fan-2018, and Fire Bulge styles. You definitely don't want to miss the chance to get your hands on these gifts!
At the end of the Festival, all your unused Tickets will disappear. Be sure to redeem the prizes you want before October 7!
Take part in the Tank Festival events, collect Tickets, and create your unique personal Dog Tag! Good luck on the battlefield, Commander!