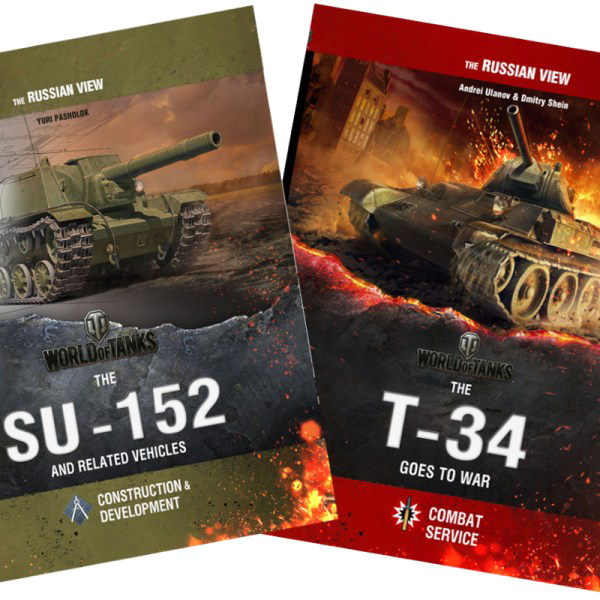 The first two installments in a series of World of Tanks eBooks are here, for the first time in English!
In "The SU-152 and Related Vehicles," learn about the design and evolution of the legendary self-propelled gun on the KV chassis, which includes many little-known prototypes and proposed alternates. "The T-34 Goes to War" chronicles the true story of the celebrated medium tank, from its troubled conception to its first, desperate combat actions in the cauldron of Barbarossa. Both books have rich illustrations, photos, blueprints, and cutaway diagrams.
If you purchase both books in eBook format by March 31, 2017, you'll receive a FREE PDF reference guide and tutorial for the SU-152, presented in a slick comic book style! You also get a coupon for free shipping (to USA addresses) for the print versions of the books -- they're high-quality, full-color hardcovers! (Expected to ship in late April.)
And there's more! If you purchase the print versions, you'll get a bonus code that works for existing World of Tanks accounts, or works as an invite code for new player accounts. Each code is worth $15 in virtual goods to use or give to a friend!
What Chieftain Says About the Series
"Those of you around for a while will recall the release of the Tactical Press books in Russian a couple of years ago. Sadly, my enjoyment and the utility of my autographed copies has been limited somewhat by the minor detail that I don't read any Russian, hence the idea that these books be translated into English, and I wholeheartedly approve.
The entire series covers vehicles that have already been addressed in English. However, these are based on the research of Russian authors who were able to take advantage of the more open Russian archives. Until now, we have been limited pretty much to the work of folks like Zaloga or Warford -- well-regarded authors, but ultimately Americans at a distance from the source. I'll guarantee that the information published hasn't been available in English before now.
More books to come in the future, plus printed editions. Stay tuned!