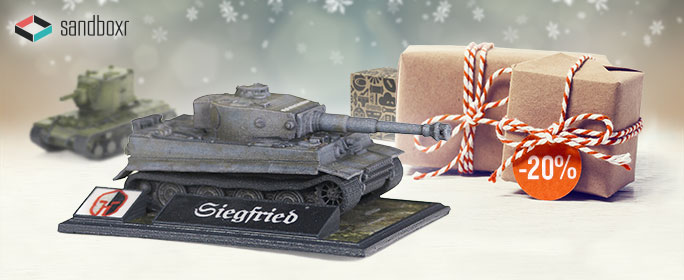 From now until December 18, save on a miniature tank of your very own with a 20% discount on one or more of your favorite 3D tank models. Head over to the official Sandboxr website top pick up great vehicles like the Tiger I, Type 59, Maus and more while customize them to your preferences!
How it Works
These 3D-printed models can be personalized with a name, emblem and inscription, so if you're on the hunt for a unique gift to give your comrades, or want a model of your favorite tank to dominate the dinner table, look no further! The tools for choosing and customizing your tanks are available Sandboxr's website -- once you're satisfied with the customization you've chosen, your model will be ready to print!
Get started customizing your tank!
Vehicles Available
*Please note: Delivery by December 24 is not guaranteed