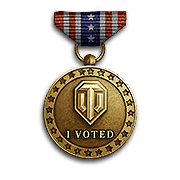 Mastery emblems anyone? Every week, when you acheive the "Ace Tanker" Mastery badge* in select tanks, you unlock a special mastery emblem to show off your skills! November's tanks are set in stone, but we need your help to determine the tanks for December.
Any tanker that has earned at least one TankRewards point since we launched the site in July can vote on which set of tanks they'd like to master in December (one vote per account). But decide fast --
voting closes November 8 at 20:00 PT

!

*"Ace Tanker" Mastery badge: Earn more Base Experience in a single battle than the average highest Experience of 99% of all players in the same tank within the last seven days.