Place your bids, Commanders!
From January 14–19, you will have a chance to receive very rare vehicles for Gold or Free Experience. For this, you'll need to make a bid at a special auction and win.
Over a period of five days, the auction will sell several exclusive vehicles—and they can all be yours!
Under the Hammer!




EVENT BEGINS:

EVENT ENDS:

Friday, January 14 at
01:00 PT | 03:00 CT | 04:00 ET

Wednesday, January 19 at
01:00 PT | 03:00 CT | 04:00 ET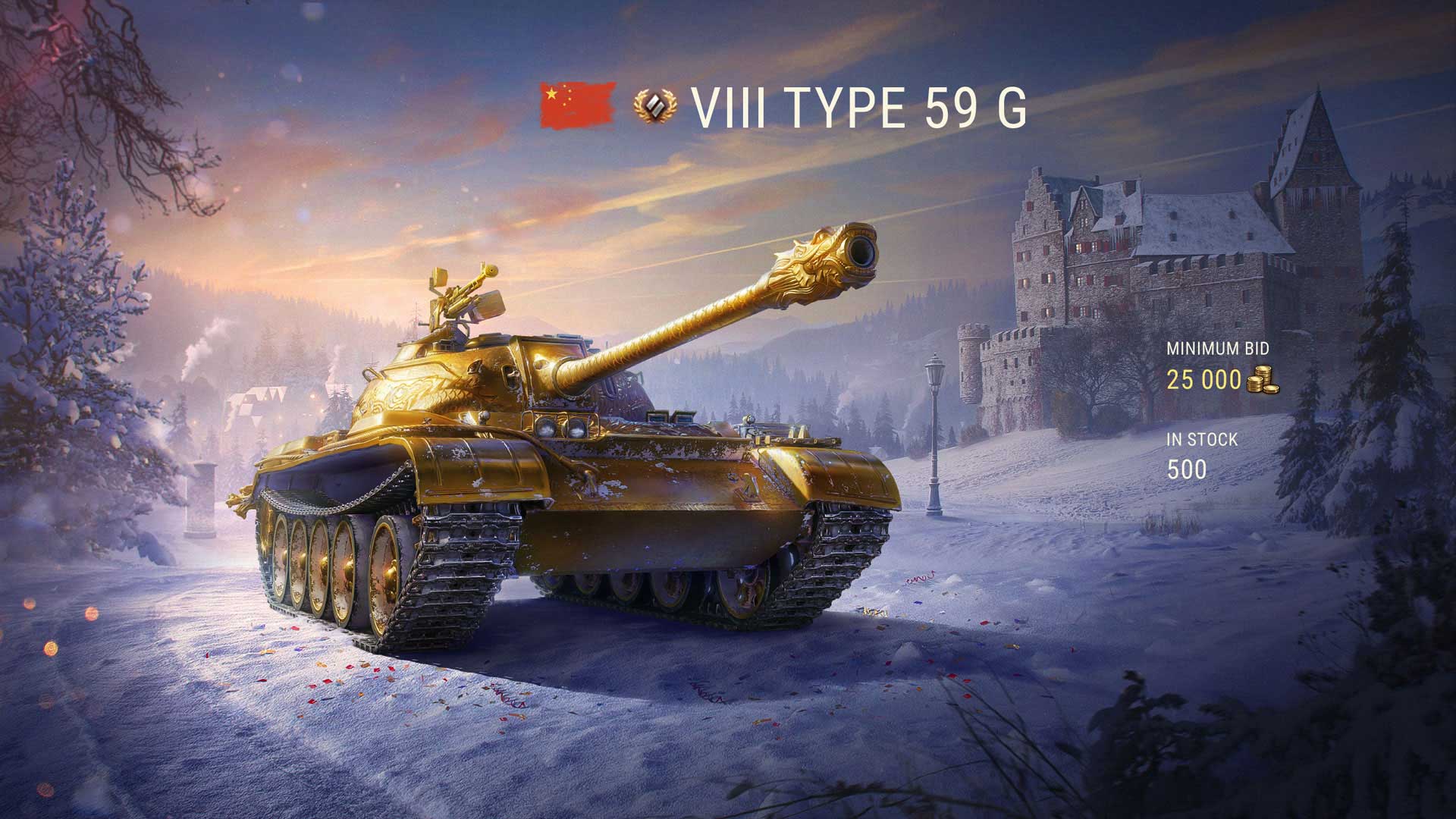 The Chinese Type 59 G Tier VIII medium tank. At first glance, it looks good. But upon closer inspection, you can see that a serious brute has entered the battle. This is the legendary Type in gold, suitable both for earning Credits and for photo shoots! A cherished trophy for collectors.
The parameters displayed are valid for the vehicle with each crew member trained to 100% major qualification level. Some vehicle characteristics can be further improved with the Commander's bonus to major qualification level, crew perks, and skills, as well as special in-game items.
TYPE 59 G
VIII
Average Damage
Average Penetration
Hit Points
Top Speed / Reverse Speed
Commander
Gunner
Driver
Loader
Average Damage
Ammunition
Average Penetration
Gun Reload Time
Dispersion at 100 m
Gun Depression / Elevation Angles
Aiming Time
Shell Types
Shell Velocity
Concealment of Moving Vehicle
Hit Points
Concealment of Stationary Vehicle
Hull Armor
Signal Range
Turret Armor
View Range
Turret Traverse Speed
Engine Power
Specific Power
Traverse Speed
Top Speed / Reverse Speed
How It Works
1. From January 14 through January 19, visit the new Under the Hammer! section in the in-game Store, or take a look at the pop-up in the lower-right corner in the Garage.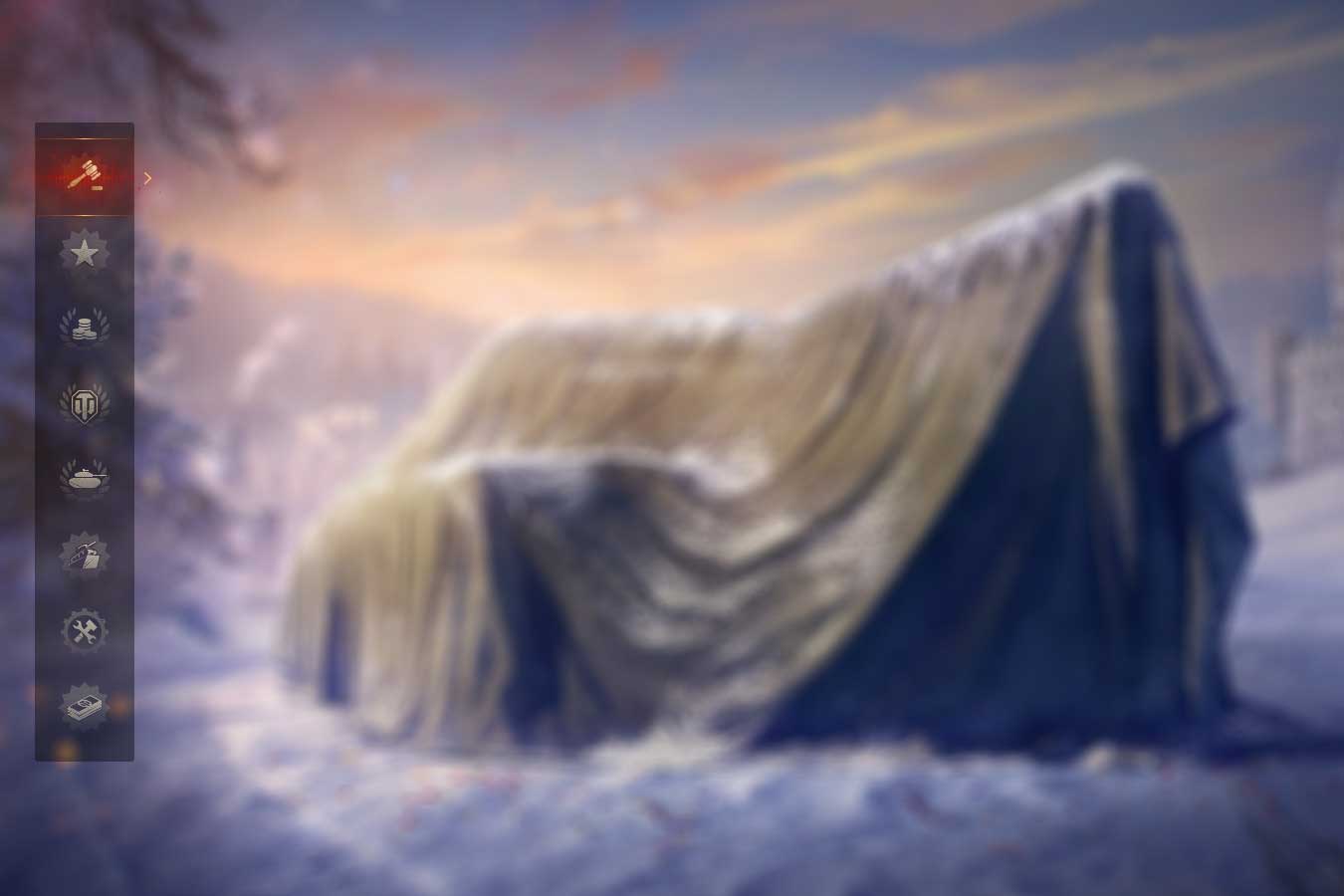 2. Every day at 01:00 PT | 03:00 CT | 04:00 ET, a new lot will be displayed there. You will see how many items are available, as well as the lot's starting price in gold or Free Experience.
Remember: If the cost is specified in Gold, Free Experience is not accepted, and vice versa.
3. Make a bid that you are ready to pay. This amount will be deducted from your account.
4. Only one lot will be available for Free Experience during the auction. If an item is sold for Free Experience, you will see a competitive bid when the number of bids on it exceeds the number of items. What is it? As many highest bids are accepted as there are available items: the one in the middle of this list is the competitive one. If you make a competitive bid (or even outbid it), you can count on winning the auction.
The competitive bid is dynamic and is updated every 10 minutes. The last update is 10 minutes before the end of the auction. Along with the competitive bid, you will also see the total number of participants applying for the vehicle.
5. Bids are accepted until 21:00 PT | 23:00 CT | 00:00 ET after the announcement of the lot. Until that time, you can change your bid as many times as you like—you can even cancel it. If you cancel a bid, the Gold/XP will be returned to your account. Bids will be returned and lots will be credited to the auction winners within four hours after the end of accepting bids.
6. The number of winning bids is determined by the number of available items. If the number of highest bids exceeds the number of remaining vehicles, the earliest bids will be given priority among others of the same value.
EXAMPLE: If the auction participants made 1,000 identical winning bids and only 300 vehicles are available, the earliest 300 bids will win.
7. The winners receive their goods. The rest of the auction participants receive their bids back in full.
8. To be fair with all auction participants, any tank won in the auction is non-refundable.
Place your bids and get rare vehicles, Commanders!