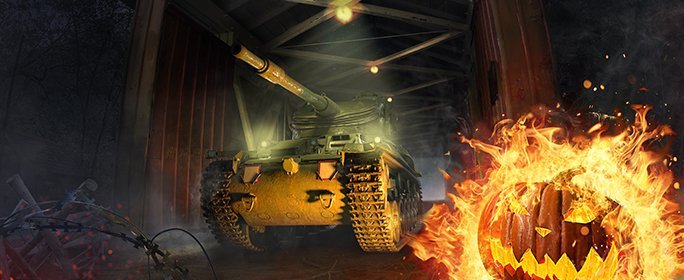 Head to the spooky streets of TankRewards.com to spend last week's points. Then get ready to take on the final challenges before the "Trick-or-Treating" is over.
Earn up to three TankRewards points by destroying enemy modules or injuring enemy Crew members, and get another with a "Top Gun" or "High Caliber" achievement.
And don't miss new specials running until the end of Halloween, including discounts on lower-tier vehicles and an XP conversion bonus!
---
Starts October 28, 04:20 PT / 07:20 ET
Ends November 1, 04:20 PT / 07:20 ET
---
"Halloween: Mutilator" (Damage/Injure 20 enemy internal modules/Crew members) Max. three points

"Halloween: Reaper" (Get the Top Gun achievement) One point

"Halloween:

Menace

" (Get the High Caliber achievement) One point
*Top Gun: Destroy more enemy vehicles than any other player in the battle (at least 6).
**High Caliber: Deal the highest amount of damage during the battle, which should be 1,000 points or more, and 20% or more than the collective HP of the enemy team.
Q:

How do I find the mission requirements?
A: Go into your Garage and click on the "Missions" tab just above your Crew:

If you're still curious, check out our handy guide!
---
x2 Crew XP

Top 10 XP earners

Free XP Conversion




1

= 35 Free XP

Reg. Vehicles
Tiers II-V
50% Off

Credits Price