The "Top Tankers" event took Random Battles to a new level and there were some truly exceptional performances among the community. It's been a long month of hard-fought battles, well-earned victories, and constant struggles to secure a place among the greats on the leaderboard.

However, good things always come to an end, and it's time to calculate the final standings. It will take us a week to compile all the results, analyze stats, and weed out any players who did not earn their position fairly. So, just stand by a little longer because we'll be ready to announce the final results and reward the best of the best with medals and exclusive prizes on December 2.
Commanders,
Professional gamers aren't the only ones capable of daredevilry and nail-biting maneuvers. We know you all have a competitive side, a few time-tested tactics, and plenty of epic victories in Random Battles on your record. Now's the time to show off those sweet skills in the new and first of its kind "Top Tankers" event!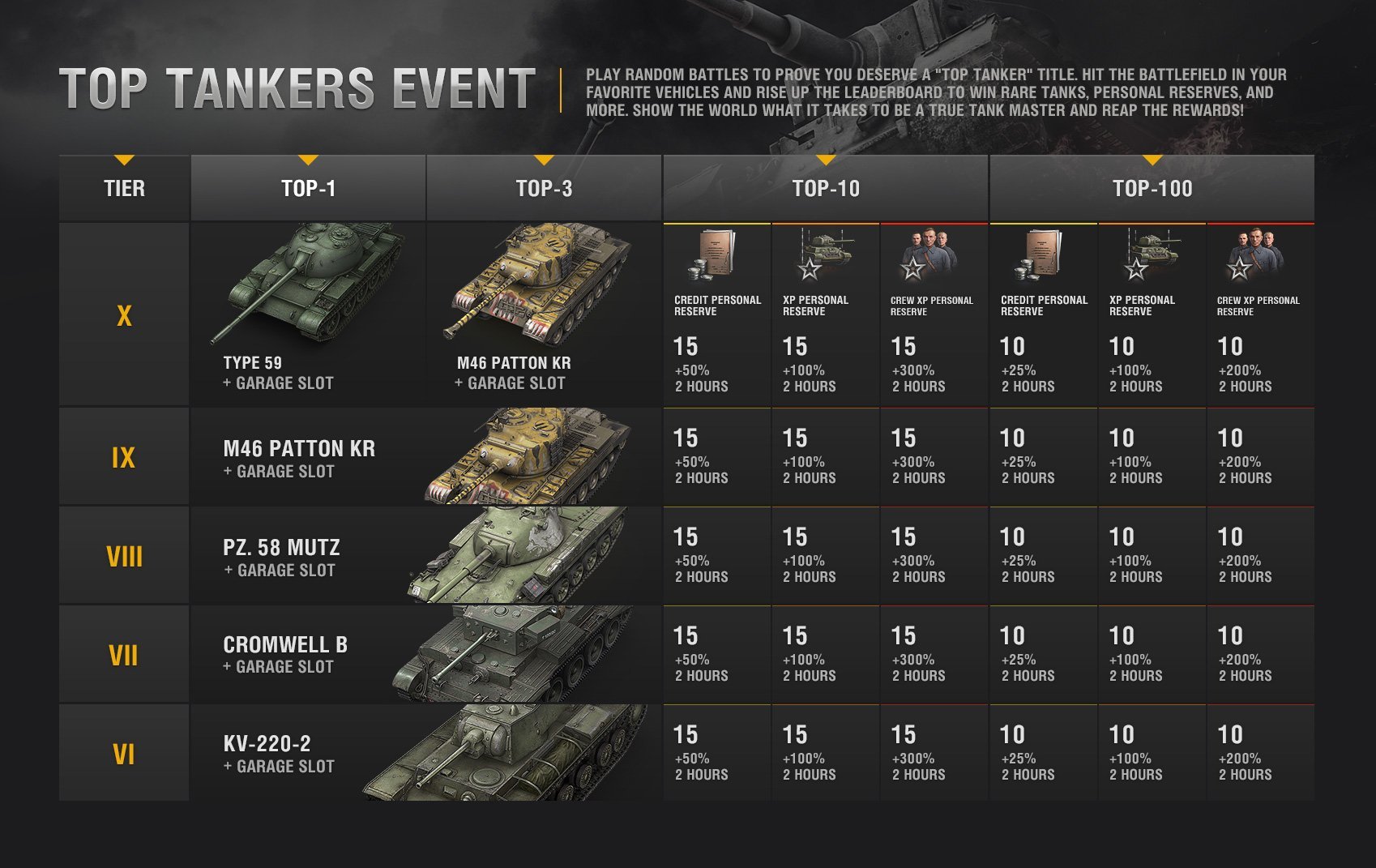 This event, open to all players, begins October 27 at 03:30 PT / 06:30 ET and will run for a month, inviting you to choose any tier VI–X tank or tank destroyer and show your prowess in fan-favorite Random Battles. Fame, complete with special awards like rare vehicles, including the iconic Type 59, and more, will be assured to each player that makes it on the top tankers list by the event's end, on November 28, 02:30 PT / 05:30 ET. On top of that, exclusive medals will be awarded to those of you who earn exceptionally good scores and rank in the top three, top 100 or top 1,000 in any vehicle fit for the event.

---
Event Details
The Setup

There will be no entry requirements, giving all of you a chance of getting and staying at the top of the pile. There won't be any complicated regulations, either. It's simple: just get out there and start playing. You're welcome to compete in virtually any Tier VI and higher vehicle, with just two exceptions—artillery and some rare tanks (check the event page for a full list). As far as the format goes, it will be none other than Random Battles. And if you have a few die-hard companions, you may as well join forces with them in a Platoon to fight together.
Rules & Regulations
Five battles in a row with the same vehicle automatically get you in the running for a Top Tanker title and the awards that come with it. The games that made you eligible for a ranking place also define your base experience, which you accrued with this vehicle in those previous five battles -- an average that shows your mastery. So, it's skill not luck that define the outcome, and it's you who decides how much time to spend competing: you can play five battles and call it a day if you're happy with your score. If you think you can do better in your chosen vehicle, keep the battle going, with the ultimate goal of securing a spot on the top 1,000 leaderboard.
Each tank and TD has a standalone nomination with a set of prizes attached to it. The stats for each vehicle are calculated separately. So, there's no need to stick to just one tank. For example, you can play, let's say, five battles in the T49 to get in the running for the top 1,000 in it, then have a few battles in another vehicle. If you take part in five or more games in a tank that fits the event criteria, it will put you in the running for its category.
Results & Leaderboards
Stats will be collected all through the event and processed daily at 03:50 PT / 06:50 ET (however, this process can take several hours). You can check where you rank at any time in the special "Top Tankers" section on the portal, or even better—keep track of your results right in-game with a mod developed specifically for the event (you can download it here). Once installed, it will give you a summary of a tank's performance (the current score and position in the ranking at the top center of the vehicle icon in the Vehicle Carousel). The Garage will also feature a detailed breakdown in the Technical Characteristics tooltip, with information on all five-battle series and the last five games played in a particular vehicle, as well as your current position in the rankings.
Head to the
event page
for the full list of prizes, as well as event rules and regulations.
Let your engines roar and see you in Random Battles!