We've decided to bring the holiday tradition of "Secret Santa" to World of Tanks by giving you the chance to buy a present for a fellow tanker! You'll not only bring a smile to your fellow player and spread a little holiday cheer, but you'll also receive a present and special commemorative medal!
Here's How it Works:
Click "Become a Secret Santa" to give a present to a random player.
Wait a bit and you'll soon receive a present from your Secret Santa.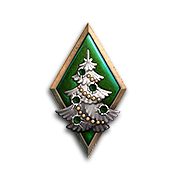 You'll receive as many presents as you give, but what you receive in return will be a surprise—just like Christmas morning!