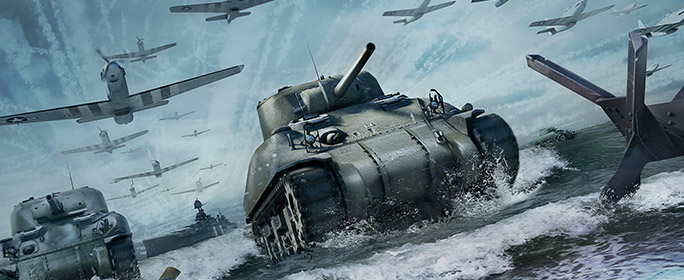 As part of our Operation Neptune month-long special, join us this week as we commemorate Operation Perch: a British and Canadian operation that was launched the day after D-Day and lasted until June 14. The main objective was the encirclement and capture of the town of Caen, a vital strategic position, and key to Cherbourg and the Cotentin Peninsula.
As the British Cromwell and Sherman Firefly tanks rumbled forwards, they met stiff resistance from the Pz. IVs, Panthers, Tigers and self-propelled guns of several surviving German panzer divisions. The Germans held their ground fiercely, so Montgomery stopped his pincer move and attacked only in the east before a German counterattack. While the operation ended with high losses to the British and Canadians, the Allied forces dealt substantial damage to the Germans as well, entangling German armored forces that might otherwise have been deployed elsewhere.
This week we have some rewarding missions ahead, as well as discounts on all regular British and German vehicles up to tier VII. We also have some great Premium Shop bundle deals on British and German tanks that can be used to train regular tank crews and earn a lot of credits along the way.
Starts Monday, June 8, 04:20 PT (07:20 ET)
Ends Friday, June 12, 04:20 PT (07:20 ET)
Discounts

50% Credit Discount

British and German Vehicles tier II-V

30% Credit Discount




British and German Vehicles tier VI-VII
---
Missions

Operation Perch


Place in the top 10 XP earners in the battle while driving a German or British vehicle.

Reward: x2 Crew Experience

Tier III or higher
Repeatable

Operation Perch: Allies

Destroy a German enemy vehicle while driving in a British vehicle, and win the battle.

Reward: +25% Experience multiplier

Tier III or higher
Repeatable

Operation Perch: Axis


Destroy a British enemy vehicle while driving in a German vehicle, and win the battle.

Reward: +25% Experience multiplier

Tier III or higher
Repeatable
---
Premium Shop Bundles

$10.99




Four (4) Days of Premium time

1250


+ Free: One (1) Day of Premium time


$14.99




Garage Slot (2)


+ Free: 1 Day of Premium time

$18.99

Garage Slot (2)

+ Free: 1 Day of Premium time