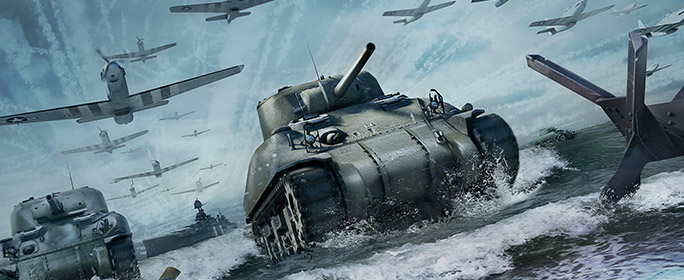 Operation Brassard is part of our Operation Neptune month-long special, and we're really bringing the goods this time!
Located just off the coast of Italy, the island of Elba might have been a footnote in European history if it had not been the site of the Emperor Napoleon's first exile in 1814. The island rose to prominence again in German hands after the capture of Rome on June 4, 1944. On June 17, U.S. and British naval support covered a landing by Free French (and French colonial) forces and British commandos. Fierce fighting took place for several days before the Allies took most of the island.
We have intense missions and steep discounts on regular U.S., British, French and German vehicles up to tier VII this week. We also have some awesome Premium Shop bundle deals on French and German medium tanks that can be used with elegance and precision to train regular tank crews and earn a lot of Credits along the way!
Starts Monday, June 15, 04:20 PT (07:20 ET)
Ends Friday, June 19, 04:20 PT (07:20 ET)
Discounts

50% Credit Discount


Regular U.S., British, French and German vehicles tier II-V

30% Credit Discount

Regular U.S., British, French and German vehicles tier VI-VII

50% Gold Discount




Premium U.S., British, French and German vehicles tier II-V

30% Gold Discount




Premium U.S., British, French and German vehicles tier VI-VII
---
Missions

Crew XP Boost


Place in the top 10 XP earners in a battle.

Reward: x2 Crew Experience

All vehicles, all tiers, Domination mode not applicable, Mission is repeatable.

Operation Brassard: Axis

Destroy a British enemy vehicle while driving in a German vehicle, and win the battle.

Reward: +25% Experience multiplier

German vehicles
Tier III or higher
Repeatable

Operation Brassard: Allies


Destroy a German enemy vehicle while driving in a U.S., British or French vehicle, and win the battle.

Reward: +25% Experience multiplier

All U.S., British or French
Tier III or higher
Domination mode not applicable
Repeatable
---
Premium Shop Bundles

$10.99




Four (4) Days of Premium time

1250


+ Free: One (1) Day of Premium time


$33.99




Garage Slot (1)


+ Free: Three (3) Days of Premium time

$34.99

Garage Slot (1)

+ Free: Three (3) Days of Premium time