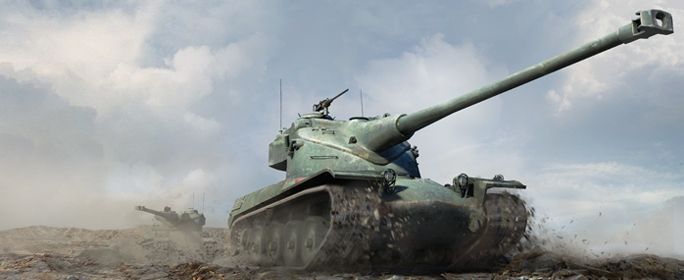 Event Starts June 3, 04:20 PT / 07:20 ET
Ends June 17, 04:20 PT / 07:20 ET

Our popular "On Track" events are designed to help you unlock and purchase an entire nation's specific tank line. If a line of vehicles is On Track, you'll receive substantial discounts on each listed vehicle in that line all the way to tier X. Plus, you have the chance to earn a Premium tank -- the Valentine II!
This latest On Track leads to the French AMX 50 B top-tier heavy tank that could easily become your new love. The best of the three French auto-loading heavy tanks, it can do enormous damage reaching more than 2,600 damage per minute. It has 4 shells in the clip and a pretty good reload speed, making it a true monster to challenge on the battlefield.
Get great discounts on the tanks leading up to the AMX 50 B and earn helpful rewards with our missions!
---
Select Vehicles
Tiers II-V
50% Off

Credits Price

D1

Hotchkiss H35

D2

Somua S35

SARL 42

B1

Renault G1

BDR G1 B

Select Vehicles
Tiers VI-X
30% Off

Credits Price

ARL 44

AMX M4 mle. 45

AMX 50 100

AMX 50 120

AMX 50 B
On Track Missions
"Rushing Down the Line"

"Getting Your Crew On Track"

"On Track to the AMX 50 B"

"Equip Your AMX 50 B - Part I"

"Equip Your AMX 50 B - Part II"

"This Track Leads to the Armory"
Q:

How do I find the mission requirements?
A: Go into your Garage and click on the "Missions" tab just above your Crew:

If you're still curious, check out our handy guide!
Premium Shop Bundles

BUY NOW

1,700

1 Day Premium Acct.

+FREE:

1x Garage Slot

BUY NOW

4,500

100,000

14 Days Premium Acct.

+FREE:

2x Garage Slots