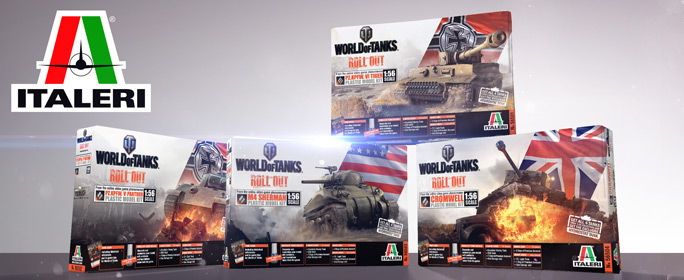 World of Tanks and Italeri have joined forces for a new range of tanks at 1:56 scale. These four new model kits are very easy to assemble (around 60 pieces) -- which ones will proudly camp on and guard your desk?
The New Models
The new lineup lets you create scale models of four of the most iconic tanks: Germany's destructive duo of the Panther and Tiger I; the trusty American M4 Sherman, and the elegant Cromwell from Great Britain.
What's in the Box?
Each set includes the tank model with World of Tanks decals based on emblems and inscriptions straight from the game, plus a mini guide on how the tank plays, and redeemable in-game items for the PC or Xbox versions of World of Tanks!
Panther

Tiger I

M4 Sherman

Cromwell
PC players also get three days of Premium account time, and those who purchase all four tanks in the product line get the Pz.Kpfw. IV Hydrostat as a FREE bonus! (Conditions apply)
At the moment, this new model lineup is only available from the official Italeri online store.
For a taste of what these fantastic kits are like to make and own, watch this video: