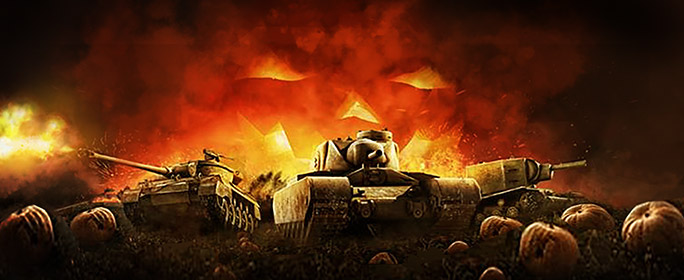 Monster Mayhem is heading into its last epic week packed with bonuses and rewards! Get x3 XP on your first wins, plus more XP rewards for completing our missions! Use those along with the XP boosters you've collected during Monster Mayhem to prove your prowess against other tankers in our intense Monster Showdown Contest, with prizes in Premium time, Gold and even rare Premium tanks, such as the Type 59 and more!
Plus, you can earn a jack-o'-lantern emblem when you deal damage to your enemies in battle, and you'll find all your vehicles in a spooky Halloween-themed Garage! Watch out for the ghosts and goblins!
Starts Monday, October 26, 04:20 PT / 07:20 ET
Ends Sunday, November 1, 03:20 PT / 06:20 ET
Monster Hunt
12:00-18:00 PT (15:00-21:00 ET)
If you enter battle against a Wargaming employee or Club Wargaming member in bright yellow camo, you win

250

for destroying them!
Bonuses and Discounts

x3 XP

Daily First Victories

+15% Free XP

All Battles

XP to Free XP

1

= 35 XP
Missions

Mission

Restrictions

Reward(s)

Monster Sight

Earn 30,000 XP over any number of battles.

Random battles
Once per account

Binocular Telescope

Monster Bash - Pumpkin Mash!

Deal 5,000 damage over any number of battles.

Random battles
Limited to three times per account

Jack-O'-Lantern Emblem

Monster Smash!

Destroy two (2) enemy vehicles in a single battle

Random battles
Repeatable

+30% XP

Monster Pack Leader

Finish a battle and place in your team's top five XP earners.

Random battles
Repeatable

+50% XP

Strength of the Monster Deals

Damage at least two (2) enemy vehicles in a single winning battle while driving one of the following vehicles: TOG II*, Sexton I, M56 Scorpion or BT-SV.

Random battles
Limited to four times per day
Not available on daily first victories

x5 XP
Monster Deals in the Premium Shop

+ FREE

7 daysPremium Acct.

1xGarage Slot

3,600

30 DaysPremium Acct.

+ FREE

1xGarage Slot

6,500

6,500,000

30 DaysPremium Acct.

+ FREE