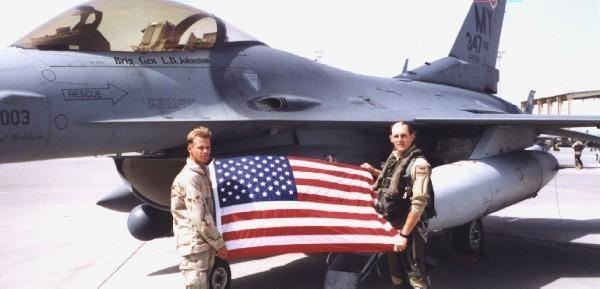 Military Appreciation Month is an important month for us here at Wargaming. We want to spotlight those employees that served and celebrate them throughout the month of May. Today we're interviewing Michael Gotshall, UX Designer at Wargaming Chicago and part of the World of Tanks Console team.
When did you join?
August ,1996, almost immediately after graduation from high school.
Which branch did you join?
U.S. Air Force
Where did you go?
My final duty assignment was the 69th Fighter Squadron at Moody Air Force Base in Georgia. I had multiple training deployments and two short tours as part of Operation Southern Watch in Bahrain and Iraq.
What was your job/assignment?
F16/F117/F15 Crew Chief – Aircraft Launch/Recovery/Repair.
Tell me about a couple of your most memorable experiences.
I go to take part in an amazing experience as part of the 1998 Red Flag Exercise in Las Vegas at Nellis Air Force Base. It's a multi-day exercise that include all branches of the armed forces in a mock combat engagement. I was able to see behind the scenes at the operation center, it was like watching a video game version of a tactical strategic map with live updates of all the combatants.
Later in the exercise I got my first of many flights in the back seat of an F16-D aircraft and got to see the action up close and personal. My body didn't take too well to my first fighter jet experienc,e and unfortunately for me it was all filmed with radio comms and all! It was still the experience of a lifetime!
Were you awarded any medals or citations?
I was awarded an Outstanding Unit Award two years running as the 69th Fighter Squadron had flown more successful sorties and had more aircraft flight hours logged with flawless results and no mishaps.
What did you do for entertainment?
It was a very busy job by day but every available minute I spent taking as many trips down to the Gulf of Mexico at Fort Walton Beach, Florida. It was only a short ride from my base. I loved, and still do love, the ocean and it was a great experience getting to live so close to it.
What is your position now with Wargaming and do you feel that your military experience has helped you in this field?
At Wargaming I'm a UI/UX (User Interface/User Experience) Designer. I wear many hats within the department. From game art, to art mockups and UX flows, as well as more graphical tasks such as logos, shirt designs and dashboard themes. I also get to do some light scripting for functionality, allowing me as an artist to bring some of my UI contributions to life for release or for interactive visualizations.