Military Appreciation Month is an important month for us here at Wargaming. We want to spotlight those employees that served in the military and celebrate them throughout the month of May. This time we speak with Nicholas Moran, aka The_Chieftain, Director of Militaria Relations at Wargaming America.
---
When did you join the military, and which branch did you join?
I joined the Irish Defense Forces Reserve in September of 1997 and the US Army National Guard in November of 2000.
Where did you go?
In the U.S. Army, I was deployed in Iraq between 2004 and 2005, and Afghanistan between 2009 and 2010. For training, I've been anywhere from Yakima, Washington to Bovington, U.K -- Fort Meade, South Dakota (we went on a field trip to Mount Rushmore), to Fort Dix, New Jersey. Most of my time was spent in Fort Knox, KY, and Fort Irwin, CA.
What was your assignment?
In Ireland, I was a Cavalry trooper, and in Iraq, I led a Tank Platoon. When I served in Afghanistan, I became a Troop Commander/Assistant Squadron S-3 (Operations officer) and I'm currently the S1 (Administrative Officer) for a training unit with the rank of Major.
What were some of your most memorable experiences?
The Army is fantastic for experiences, many of which fall into the "I wouldn't believe it if I didn't see it for myself" category. This varies from the radio call where I stated "I am in high-speed pursuit of a blue Opel Kadett Wagon, Northbound on Rte. Nissan" as I was weaving through traffic in my tank, through the fun of going through an airport security checkpoint, and putting 300 rounds of ammunition and my rifle through the metal detector while my knife had to go in checked baggage. (I go into detail on that elsewhere.)
Then there was the traffic accident in Iraq where a local townsman ran into my tank, claiming he didn't see the 68-ton, 10-meter long, three-meter tall hunk of metal, the elation of nailing a very difficult Tank/Track Commander's (TC) engagement with the 25mm and coax on the Bradley (the 120mm on the tank is pure awesomeness, but the 25mm is a sheer hoot to fire).
I'll always remember the feeling of riding around from the TC's hatch of the tank. Especially when my tank was just another vehicle in rush hour commuter traffic.
Basic Training and OCS will both forever be burned into my memory, as will my passionate detestation for the Fitness Test -- the two-mile-run in a 6 AM deluge in Fort Knox was easily the most memorable of those (which in fairness, I passed).
I've eaten on the dirt floor of an Iraqi farmer's house, and the wooden paneled environment of the Royal Armored Corps Officers' Mess in Bovington.
Plus being as cold as I've ever been in my life, and so hot I could almost feel my skin melting. I've certainly learned an appreciation for life's luxuries, such as warm showers, or sitting in traffic with the windows down and radio up. And all of this is only a part of the nearly 20 years of experiences I've had while wearing Army green.
Were you awarded any medals or citations?
I won't go into the full list, but the top two individual awards are a Bronze Star Medal with Oak Leaf Cluster, and Meritorious Service Medal. Also at the unit level a Valorous Unit Award (for Iraq) and Meritorious Unit Citation from Afghanistan.
What did you do in your downtime?
I was something of a loner, so I spent most of my free time either playing computer games (Civilization and Total War got a lot of play, as did Combat Mission) or watching movies. Or sleeping. Bought DVDs. Occasionally card games, and wargames including entire Warhammer 40K armies that were brought with us to Afghanistan.
What's your job at Wargaming, and has your military experience helped?
My official title is "Director of Militaria Relations." In practice, this means that I'm the liaison between the company and the wonderful world of the military. Given that the flagship product is World of Tanks, it was a natural progression to using my real-world tank experience to bring my experience as a tanker to players through my "Inside the Chieftain's Hatch" videos. It has also provided a "working knowledge" of how tanks are supposed to function and feel, which is something I believe the developers of our products have been paying some attention to.
Being an armor officer has also made working with the Army much simpler, for example, we were given full access to the Sullivan Cup tank crew competition because the Army were fairly confident that I knew how not to get myself hurt working around tanks, and similarly, the military connection has made my showing up at installations such as Anniston Army Depot (Home of the Army's Center of Military History) or Fort Benning (home of the Army's Armor and Cavalry Museum) for research trips very easy. I think it's also good that players who are veterans know there are people in the company they can contact who can relate to them well.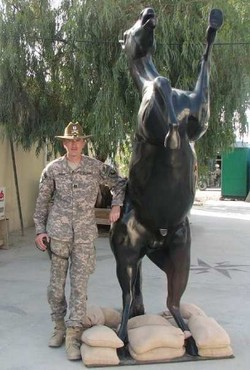 Nick standing next to the symbol of the 11th ACR, "Blackhorse," wearing one of his hats
You can find Nick in-game as The_Chieftain!