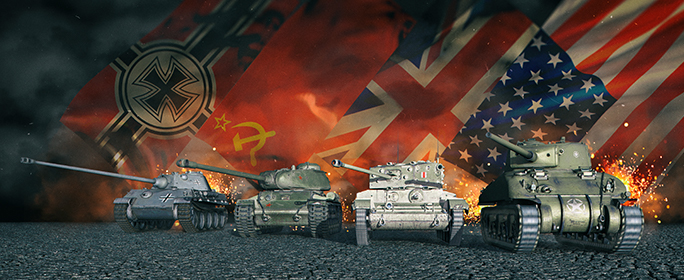 This weekend is dedicated to honoring the men and women serving in the American military.
Mid-tier American vehicles and Garage slots are on discount, along with missions to reward your hard-working Crews. Then on Memorial Day, you'll receive x2 XP on all your battles, and American flag emblems when you achieve ten victories.
Starts May 27, 04:20 PT / 07:20 ET
Ends May 30, 04:20 PT / 07:20 ET
---

x3 XP

Garage Slots


50% Off

Gold Price

Emblems


50% Off

Gold or Credits Price

American Vehicles

Regular - Tiers VI-VII
30% Off

Credit Price
Weekend Missions
"x2 Crew XP on Tier IX & X USA Tanks"

"Be Top 3 by XP in a USA Tank"
Memorial Day Missions
May 30 - 31, 04:20 PT / 7:20 ET
"x2 XP for Memorial Day"

"Get 10 Wins for USA Flag"
Q:

How do I find the mission requirements?
A: Go into your Garage and click on the "Missions" tab just above your Crew:

If you're still curious, check out our handy guide!