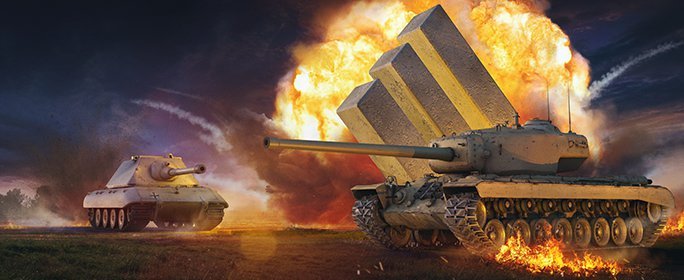 This week we focus on tactics for fearsome heavy tanks. Let's start with some killer tips!
Do

Find out where enemy heavy and medium tank weak spots are. You can do more damage when you understand what you're up against.

Practice side scraping and angling techniques.

Use cover and angle your vehicle to maximize your armor's resistance to penetration.
Load a variety of ammo.

Certain types of ammo are more effective against some vehicles.

Don't

Go off on your own. Roll out in a tactical unit that comprises heavy and medium tanks.
Poke recklessly around corners into an ambush. Enemies can knock out the tracks of your vehicle, making you a sitting duck.
Snipe from the back. With your heavier armor, you can get your gun much closer to your foes.
Also this week, rent the Pz.Kpfw. B2 740 (f), a heavy tank with good armor that's easy to drive. If that's up your alley, make sure to check the Premium Shop for great deals!
Pz.Kpfw. B2 740 (f) Bundles

Starts May 23 04:20 PT / 07:20 ET
Ends May 30 04:20 PT / 07:20 ET

Pz.Kpfw. B2 740 (f)

--

30% Tank Discount

1x

Ventilation Class 3

1xHeavy Spall Liner
1xToolbox

500

+FREE

1x Garage Slot

Pz.Kpfw. B2 740 (f)

1x

Garage Slot

350
Take the fight to the frontlines, and complete bonus missions that offer XP boosts, consumables and equipment!
Plus, participate in the Throwdown, a 1v1 heavy tank tournament for the chance to win Gold!
Tank Rental Missions
May 23-30
04:20 PT / 07:20 ET
If you earn 20,000 XP each day over any number of battles in a vehicle of tier V or higher, you'll unlock the

Pz.Kpfw. B2 740 (f)

for 24 hours.
Play your new heavy tank and see if you like it enough to own!
Heavy Tank Daily Missions
May 23-30
04:20 PT / 07:20 ET
Here are the missions for this week!
"Heavy Solo Daily"

"Heavy Platoon Daily"

"Full Daily"

"Get Full Daily 4 Times"

"Destroy 2 Heavies"
Q:

How do I find the mission requirements?
A: Go into your Garage and click on the "Missions" tab just above your Crew:

If you're still curious, check out our handy guide!