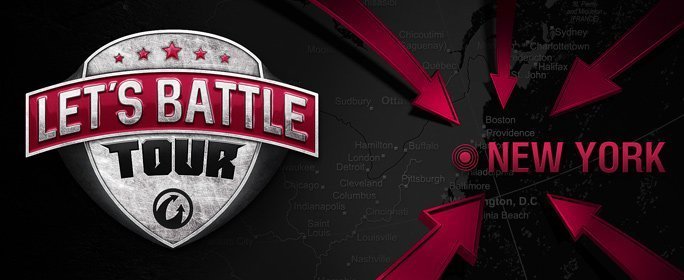 We promised one more stop on the Let's Battle Tour -- we're extremely excited to announce our final stop of the year: New York City! On Friday, November 18 from 6:00 to 11:00 PM, we're taking over the the Intrepid Museum for an epic community event open to players of all ages (yes, that includes kids and families).
USS Intrepid served during several key campaigns in WWII's Pacific Theater, cementing itself in US naval history as one of the most reliable aircraft carriers put into action. Now a landmark of the Intrepid Sea, Air & Space Museum in New York City, this venerable vessel will provide Wargaming players with an evening to remember!
Event Highlights
Complimentary food and beverages including beer & wine
30 gaming stations with PC, Xbox One and PlayStation 4 systems to test your skills in World of Tanks and World of Warships
Photo opportunities aboard the iconic aircraft carrier Intrepid
Wargaming personalities like MeatheadMilitia
Docent tours
Flight simulators
Exclusive giveaways
Prizes! Prizes! Prizes!
Join us November 18 at
Pier 86, W 46th St & 12th Ave, New York, NY 10036
*Please note a ticket does not guarantee entry to the event. Admittance is based on holding a ticket and event capacity by a first come first serve basis. No parking available onsite.*
For a look at one of our recent stops, be sure to check out our appearance at PAX West with real tanks and lots of #CRUSHINGIT!