Have you missed epic 30v30 tank clashes, Commanders?
Frontline, one of the most exciting modes in World of Tanks, will return with several adjustments. One week-long Stage awaits you each month, from August through November 2021. (Note that Frontline will be unavailable between these Stages.) Learn all the details and precise specifications right here!
The dates of the other upcoming Frontline 2021 Stages will be added later, so stay tuned!
| STAGE: | Start: | End: |
| --- | --- | --- |
| Stage 1 | August 16, 2021 at 04:00 PT | 06:00 CT | 07:00 ET | August 23, 2021 at 01:00 PT | 03:00 CT | 04:00 ET |
| Stage 2 | September 20 at 04:00 PT | 06:00 CT | 07:00 ET | September 27 at 04:00 PT | 06:00 CT | 07:00 ET |
| Stage 3 | October 18 at 04:00 PT | 06:00 CT | 07:00 ET | October 25 at 01:00 PT | 03:00 CT | 04:00 ET |
| Stage 4 | November 15 at 03:00 PT | 05:00 CT | 06:00 ET | Monday, November 22 at 00:00 PT | 02:00 CT | 03:00 ET |
Frontline 2021 will feature a reworked Combat Reserves system and will be closely integrated with Battle Pass. But most importantly, Tier IX vehicles will be allowed in this mode in a trial format. Let's dig into the details.
Brief Overview
The Frontline 2021 core mechanics and progression system remain unchanged. Here's a quick refresher, just in case:
Battles take place between 2 teams of 30 players on two huge 9 km² maps: Normandy and Kraftwerk.
Each team has its own objective. The attackers should break through the defense and destroy at least 3 of 5 pillboxes on enemy territory. The defenders should repel enemy attacks until the battle timer elapses.
To fight in Frontline, use any Tier VIII vehicles available in your Garage. Plus, Tier IX vehicles will be allowed in this mode in a trial format at a later part of battles (more details below).
You can also use special Tier VIII and IX rental vehicles to enter battle.
Play Frontline and Earn Battle Pass Points!
You can now receive Battle Pass Points when playing in all Frontline Stages. The number of Points you can earn will depend on your position in the post-battle ranking by Frontline Experience earned, as well as whether your team won or lost.
| Position in the Post-Battle Ranking: | Victory: | Defeat: |
| --- | --- | --- |
| 1–5 | 25 | 10 |
| 6–20 | 10 | 5 |
| 21–30 | 0 | 0 |
Upon reaching each Frontline Tier (except for the first), you will also receive 20 Battle Pass Points, as well as a bonus reward of directives.
| Frontline Tier: | Points: | Directives: |
| --- | --- | --- |
| 1 | – | – |
| 2 | 20 | 5× Directives: Vent Purge |
| 3 | 20 | 5× Directives: Vent Purge |
| 4 | 20 | 5× Directives: Vent Purge |
| 5 | 20 | 15× Directives:Exhaust Insulation |
| 6 | 20 | 5× Directives:Stabilizer Greasing |
| 7 | 20 | 5× Directives:Stabilizer Greasing |
| 8 | 20 | 5× Directives:Stabilizer Greasing |
| 9 | 20 | 5× Directives:Stabilizer Greasing |
| 10 | 20 | 15× Directives:Fuel Filter Replacement |
| 11 | 20 | 5× Directives:Orderly Ammo Rack |
| 12 | 20 | 5× Directives:Orderly Ammo Rack |
| 13 | 20 | 5× Directives:Orderly Ammo Rack |
| 14 | 20 | 5× Directives:Orderly Ammo Rack |
| 15 | 20 | 15× Directives:Aim Tuning |
In total, you'll earn 280 Battle Pass Points when you reach Frontline Tier 15.
Vehicles allowed in Frontline don't have a Battle Pass Point Limit. You will receive Points in every Frontline vehicle in every battle, so long as the above conditions are met.
Combat Reserves Rework
In the 2021 Season, we've added three new Combat Reserves and reworked some of the existing ones. In total, there will be nine Combat Reserves divided into three categories: Attack, Recon, and Tactical. All vehicles will have three Combat Reserves slots, one for each category.
By reaching Frontline Tiers, you'll earn Combat Reserves Points. Use them to unlock Combat Reserves on their dedicated screen. Once unlocked, you can select and assign Reserves to your vehicle. All Combat Reserves can be upgraded in the course of a battle after obtaining certain ranks. The maximum upgrade level of a particular Combat Reserve depends on the vehicle type in which you're playing. Check it out: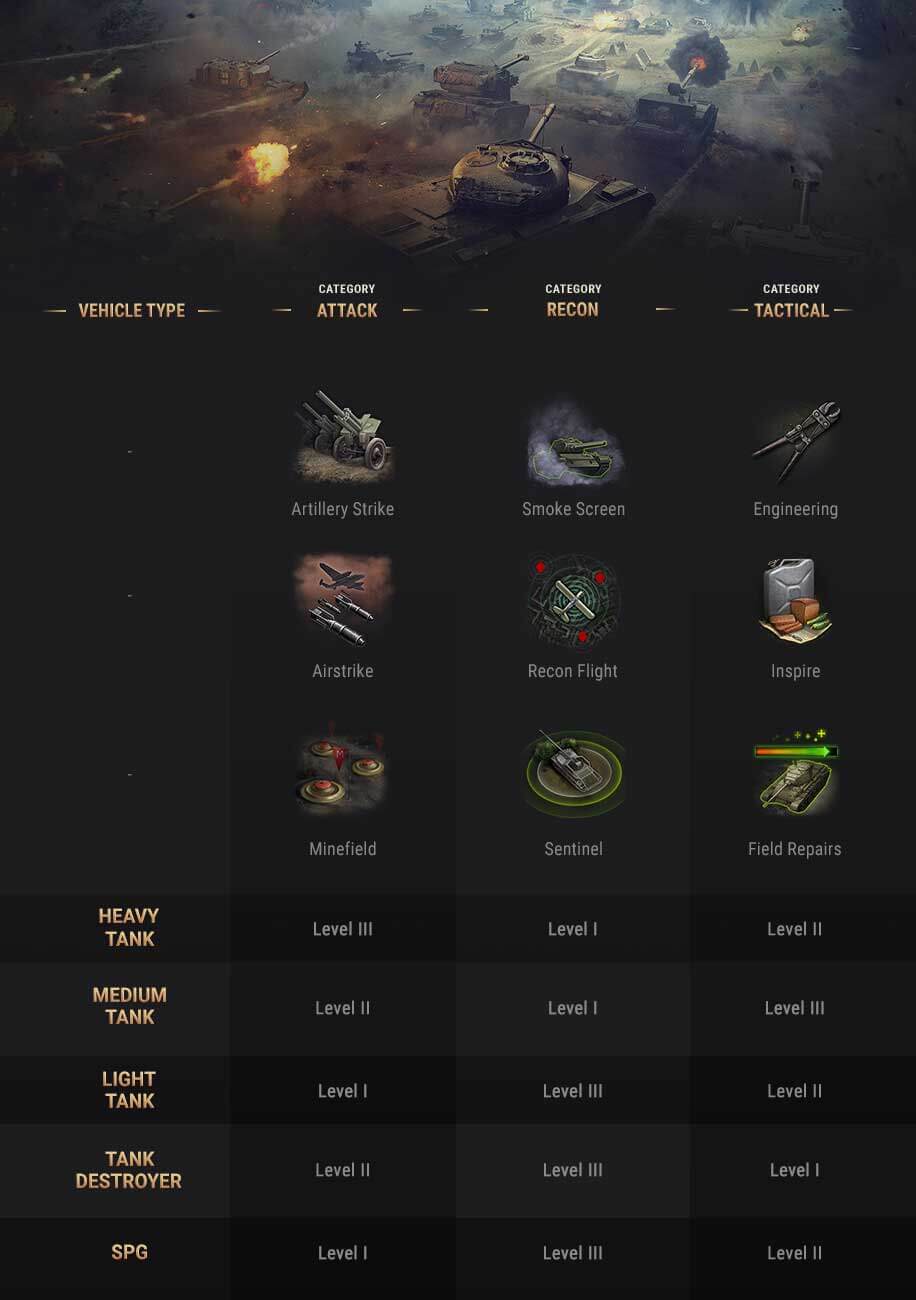 Now, let's take a look at each Combat Reserve category individually.
Attack Reserves
This category includes Combat Reserves that cause direct damage. Two of them, Airstrike and Artillery Strike, will be familiar to you. Airstrike is most effective against swift targets and large enemy formations, while Artillery Strike is best used against slow opponents and vehicles with decent armor.
The third—and new—Reserve is Minefield. Once activated, you can plant mines that will not only inflict damage upon but also stun your opponents. Minefield is more of a tactical Combat Reserve that will help keep enemies from advancing, cut off their retreat, and control strategic zones on the battlefield.
The mines planted by your allies will be marked with special indicators and won't cause damage to or stun your vehicle.
Enemy Minefields will be automatically detected when they are within 50 meters of you. You can also spot them with the two Combat Reserves in the Recon category (more on that below). Destroy mines with a direct shot, as well as with Airstrike or Artillery Strike. Or deploy your own Minefield, after which both fields will be destroyed.
Recon Reserves
We've improved Smoke Screen, a Combat Reserve that blocks the enemy view range and conceals allies within the specified zone. Previously, it improved concealment while limiting the view range of all tanks inside; now, it'll hide allied vehicles without imposing a view range penalty on them. Your opponents will receive a view range penalty with no bonus to concealment. In addition, you can now distinguish enemy and allied Smoke Screens by the color of the smoke: gray for allies and dark orange for enemy vehicles.
Recon Flight remains unchanged but will now enable you to detect enemy Minefields.
We've also added Sentinel, which will be especially useful for light tanks. This is a passive ability that takes effect if your vehicle is stationary for a few seconds, improving your view range. Upon activation, Stealth grants a bonus to concealment and gives you the Commander's Vision System property, which worsens the enemy's concealment. This bonus takes effect if enemy vehicles are stationary. In addition, this Combat Reserve will allow you to detect enemy Minefields within a radius of 250 m.
Tactical Reserves
Inspire now gives a significantly higher bonus to your vehicle's crew performance than to the allies around you. The bonuses to skills and perks of crews of allied vehicles will remain +15% to the major qualifications.
Engineering will no longer provide a bonus to restoring vehicle HP at Resupply Circle—this bonus will be moved to Field Repairs (more info below). Engineering will still give a 50–80% bonus to base capture speed and a 30–50% bonus to resupply speed, depending on its upgrade level. Additionally, when causing damage to an attacker, the base capture will be interrupted by five to 10 seconds, depending on the Combat Reserve upgrade level.
Field Repairs is a new Combat Reserve that instantly restores a significant percentage of a vehicle's HP and continues to restore it a little more for a few seconds. It also reduces the damage from Minefield while active. Field Repairs doesn't stop, even if you take damage.
Combat Reserves Categorization
You will enter a battle with one Combat Reserve and gradually gain access to other Reserves from the remaining categories. You'll be able to select one of the three available Reserves for each slot category. You can also upgrade Combat Reserves during battle when you achieve certain ranks.

Each vehicle type will have its own order of unlocking Combat Reserves, depending on their gameplay features. For example, at the start of a battle, heavy tanks will only have a Combat Reserve of their choice from the Attack category. As the battle goes on, they can unlock and select a tactical Reserve, then Reserves from the Recon category will be the last to be available. For light tanks, SPGs and tank destroyers, the Recon Combat Reserves slot will be the first to be available. Medium tanks will first gain access to tactical Reserves. Thanks to this system, you can improve the Combat Reserves that will allow you to be most effective in battle and use various strategies.
Get Ready to Fight in Tier IX Vehicles!
Tier IX tanks are popular vehicles with diverse gameplay, coveted by every Commander. You could have earned them as a reward in last year's Expedition (which shared a progression system with Steel Hunter) or in Battle Pass. But, except for Random Battles, there were no modes in the game where you could play them and fully unleash their high combat potential. Now, you can get a whole new gameplay experience and see these formidable vehicles in action in the most epic World of Tanks mode!
Start battles according to the standard rules: in a Tier VIII tank. But when the attackers capture at least one point of the second defense line (zones D, E, and F), all players, upon respawning after being destroyed, may pick a Tier IX vehicle to reenter the battle and strengthen their team.
If you enjoy playing Tier VIII tanks, you don't need to pick a Tier IX tank to rejoin the battle. You can still play the entire battle in Tier VIII Premium tanks and earn maximum credits, as always. However, Frontline's economy allows you to make a good profit in Tier IX vehicles, as well. After Tier IX tanks become available, you can play in them without restrictions, just like in Tier VIII tanks. And thanks to rental tanks, which you can also obtain for free, it's very easy to enter battles in Tier IX vehicles.
The Frontline Garage will consist of two sections, each containing only Tier VIII and IX vehicles. If you want to join a battle in a Tier IX vehicle, don't forget to select and equip it before the fray begins—and the same applies to your Tier VIII vehicles.
Rental Vehicles
If you don't have any Tier VIII and IX tanks in your Garage, you can rent vehicles. The following vehicles will be available at a fixed price in credits throughout the Stages:
Tier VIII rental tanks (available for 240,000)
Tier IX rental tanks (available for 320,000)
Two more Tier IX rental vehicles, the M46 Patton and the Conqueror, can be obtained for free by achieving the second and fifth Frontline Tiers, respectively. All rental tanks are replicas of existing vehicles, with the same characteristics and properties.
We hope that all these changes will make your experience even more enjoyable. Get ready for intense 30vs30 clashes, Commanders!