The heat of the summer season has ended, but even more fun awaits you this fall, Commanders!
Get ready to take part in a whole series of exciting activities and try out some long-awaited game modes! Mark your calendars and stick around, because this fall will be full of specials and surprises. Here's what you can expect in World of Tanks.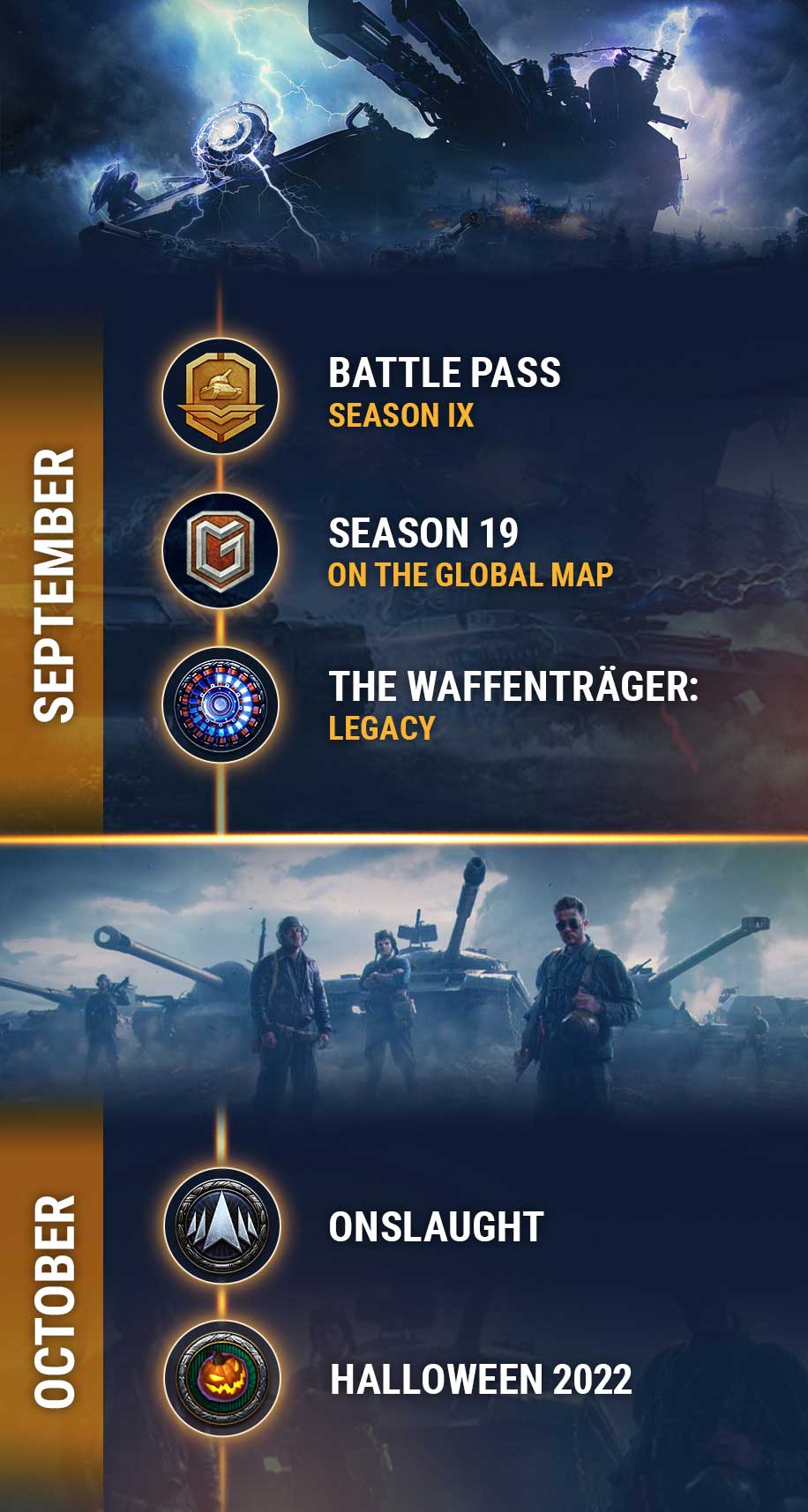 Battle Pass 2022: Season IX
Battle Pass Season IX kicked off on September 8, and it's chock-full of valuable rewards, including 3D styles, unique crew members, Bounty Equipment, and more! This Season features three new Core Vehicles:

X
AMX 13 105

X
Progetto M40 mod. 65 and

X
60TP Lewandowskiego You can complete Chapters in any order or pause one Chapter to switch over to another. Roll out, earn Points and Tokens before they reset, and receive rewards. It's going to be an exciting Season!
Global Map Season 19
An exciting new journey on the Global Map is about to begin! Season 19 will kick off on September 19, promising you thrilling battles and tactical challenges. It will follow the same rules as the previous Season but with an updated list of rewards. Clan warriors—it's your time to shine!
The Waffenträger: Legacy
What is September without the Waffenträger? This fall, one of the most anticipated game modes is making a comeback, featuring adrenaline-fueled battles with familiar rules. The formidable Blitzträger auf E 110 and the Harriers are ready for a new round of epic confrontations. Which side will you choose?
Onslaught: A New Competitive Mode Is Coming!
A brand-new thrilling mode called Onslaught is coming to World of Tanks! Prepare your Tier X vehicles to fight for glory and honor. Exciting battles and a host of fresh gameplay mechanics await! Onslaught will feature the following:
Intense 7v7 clashes in Tier X vehicles only
A pre-battle lobby where you can select a different tank from your Garage and prepare your vehicle during the countdown ahead of battle
Special Tactical Skills you can activate after capturing certain key positions on the map
Unique vehicle Role Skills that can be upgraded over the course of the battle
2-player squads and Super Platoons of 7 players—handpick your Platoon members and play to your strengths
A rating system that takes your progression position into account and finds opponents with similar ratings
And much more!
Get ready to face your fellow commanders and find out who's the strongest!
Halloween 2022
The upcoming spooky season will be perfect for cozy fall evenings. If you're on the hunt for a light-hearted, dynamic, and exciting Halloween, don't miss our friendly party this October! It's your chance to enjoy an intense PvP mode with a fascinating story that features a team of colorful witches and a bad-tempered cat.
Stay tuned and get ready for a fun-filled fall, Commanders!