How to Connect Your Accounts
Go to your Wargaming Account management page
Click the

Twitc

h

Button

on the right (as shown)
Authorize the connection on the next page
After successfully connecting the accounts, you will see Twitch as a linked platform in your Wargaming account settings. You'll also see Wargaming.net in your Twitch account settings.
If you don't have a Twitch.tv account yet, you need to start by creating one.
What is CLICKSPORT-1?
You're invited to the CLICKSPORT-1: Tournament of Grandiosity! CLICKSPORT-1 is an esports tournament wrapped in Comic-con fare. Witness our galactic host Xoc Aventus teleport Twitch gamers into the CLICKSPORT-1 Arena for a 3-day competition! The brave gamers won't do it alone. Mysterious special guests step onto the stage to help these gamers make it out before turning into ethereal goo (you will find out what it is soon)! Put on your best sci-fi costume, follow the Crown Channel, and help crown the best gamer in the Known Universe!
Game Modes
Watch and see how the streamers tackle these exciting in-game modes.
Golden Tank
Play a Chinese Type 59 G Tier VIII medium tank against your enemies and try to score the highest damage, XP and kills. Alternatively, command the only golden tank in the game and then try to work with the other members of your team to win or survive the battle.
Test Your Tank Trivia
Get yourself out of a tricky situation and get your paralyzed tank moving again by correctly answering a True or False question from the stream host.
Streaming Schedule
Here's the lineup of events taking place Wednesday, September 23:
| | |
| --- | --- |
| World of Tanks EU Warm-Up Stream | 09:00–13:00 PT | 11:00–15:00 CT | 12:00–16:00 ET |
| World of Tanks North America Warm-Up Stream | 13:00–15:00 PT | 15:00–17:00 CT | 16:00–18:00 ET |
| Crown Channel | 15:00–17:00 PT | 17:00–19:00 CT | 18:00–20:00 ET |
Rewards Up for Grabs
Twitch Drops

Learn how to get these exciting rewards by linking your Wargaming and Twitch accounts. All you need to do is watch World of Tanks Twitch streams with "Drops enabled" on special dates, including the Official World of Tanks NA Twitch Channel, and after completing a few simple steps.
The longer and the more often you watch, the more rewards you can earn!
2D Style: "Moon Viewing"
Would you like to give your favorite tanks a fresh coat of paint or adjust them to your playstyle with new equipment? Don't miss out on this guaranteed drop*.
Limited to one per account. If you receive a tank you already own, you get Credit compensation.
Epic Drop: T26E5 Patriot
Just like last time, the luckiest ones among our viewers will be treated to a very special Drop! This time, you have the chance to take home the star-spangled U.S. T26E5 Patriot* Tier VIII heavy tank!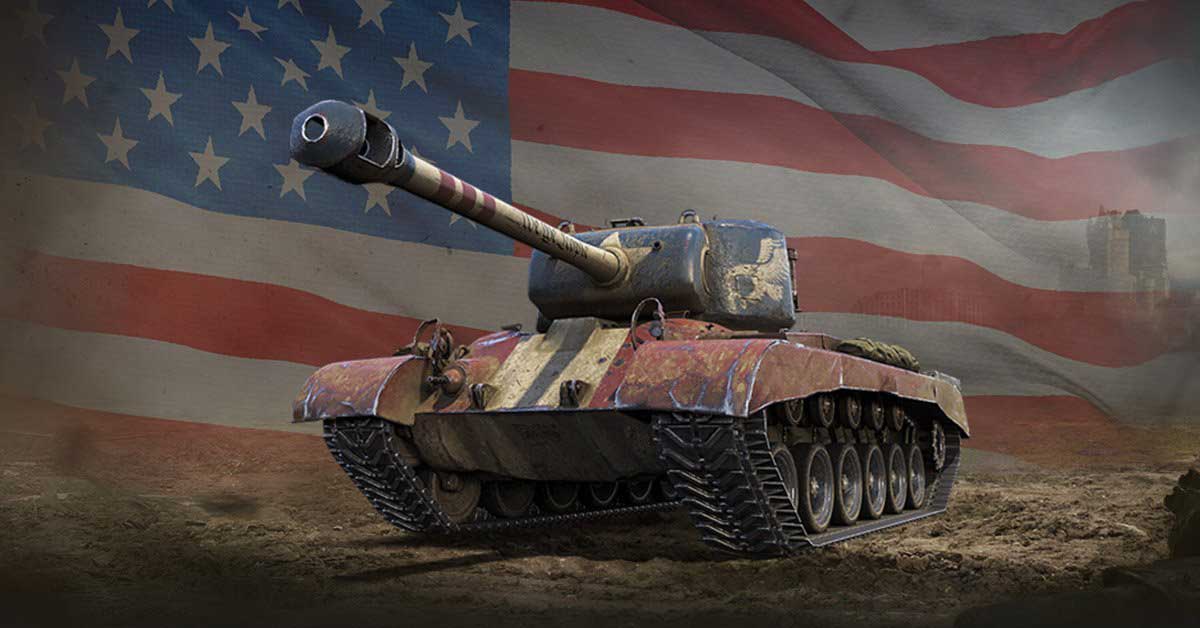 The T26E5 fires fast, and each of its shells packs a strong penetration, making this heavy tank dangerous even for higher tiers. Combine your good gun depression and thick gun mantlet for hull-down tactics, and your enemies will think twice about taking you on.
Limited to one per account. If you receive a tank you already own, you get Credit compensation.
Free Download: The "Xoc Aventus" Skin!
Join Xoc's crew and download this incredible free skin, designed by HELL. Note that this skin can only be applied to the AMX 40, however, it includes no bonuses and is not viewable by other players in-game.