A brand-new in-game shop has been under construction for several months within the dev team, and it's finally available for everyone to test. We're planning to drastically change the shop's interface and functionality, so we're rolling out a separate Common Test specifically for the feature.
Why We've Done This
The current shop allows you to browse through the list of available vehicles, modules, shells, and other items, providing decent filtering tools and featuring special offers. Its design hasn't been updated, however, leaving much to be improved. We started working on the new version, pursuing two main goals.
Functionality:

We want "Shop 2.0" to become the go-to place for anyone looking to get new in-game content. For this reason, the new shop will provide extensive information about every item available.

Convenience:

Instead small consecutive changes, we opted for making a completely new design from scratch and focus on usability and the overall look.
For a better understanding of what should be improved, changed, or even removed, we're asking everyone to join the test and share their feedback (please see the forum link at the end of the article).
Now, let's take a closer look at what the upcoming shop will offer.
Everything is Close at Hand
The horizontally aligned three-tab menu has been replaced with a vertical set of icons, which now only contain Shop items. The "Depot" tab has been redesigned and taken its place in the main menu, while special offers are now part of the Shop under "Best."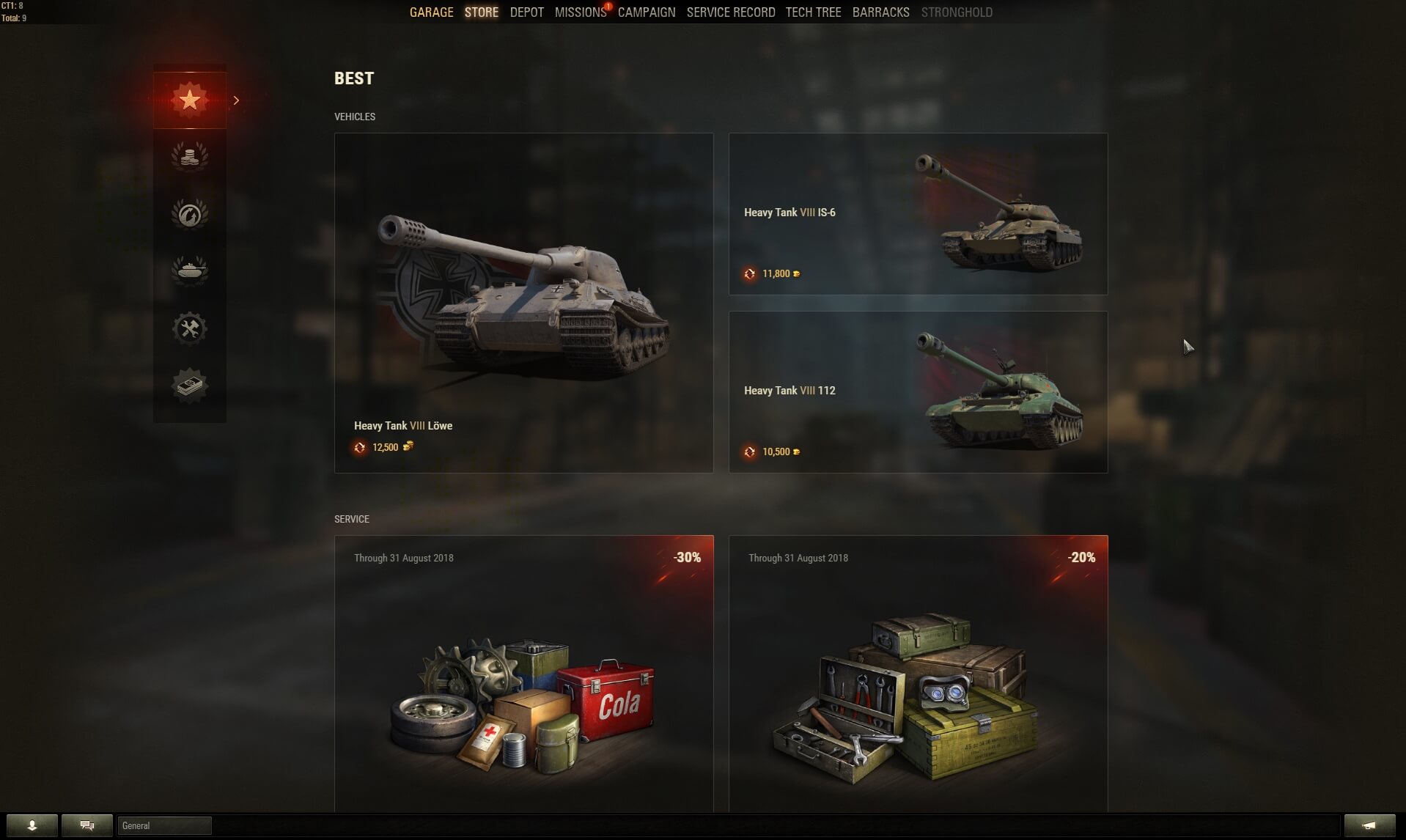 Two completely new sections, "Gold" and "Premium Account" have moved to the Shop, too, featuring options available for purchase. They could be left in the upper right menu, but we want to test this arrangement in terms of user experience.
The "Vehicles" section now has a cleaner look and clearer structure. The list of machines is presented in tiles, divided into several categories (reflecting bundles), along with available Premium tanks. The familiar filter is now hidden behind the tank icon to the right of the search field, so as not to frustrate players with excessive visual information. Its functionality remains unchanged: if you want to search a desired nation or vehicle class, click on respective buttons in the filter menu.
Once you click on any vehicle, it is displayed as if parked in your Garage, so you can literally "try it on." If you choose a bundle containing several machines, you can switch among them by clicking on the desired icon at the bottom of the screen. Every vehicle will feature a historical note, a list of Crew members with their core abilities, and additional bonuses with descriptions (if you've chosen a Premium tank).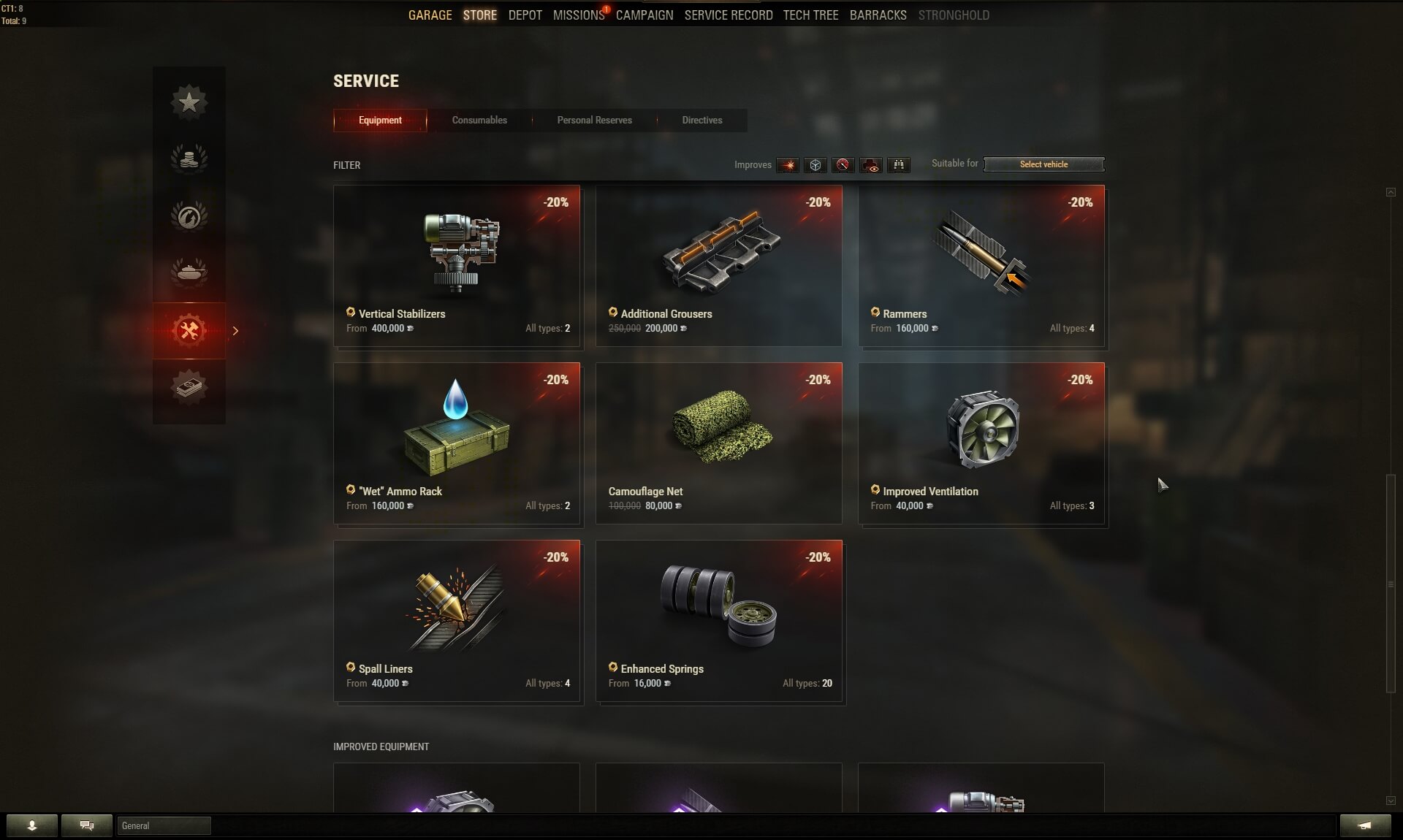 Equipment, Consumables, Personal Reserves, and Directives are all compiled in the unified "Service" section. Jump between the tabs to reach the type of items you're looking for. In case you need an item for a certain vehicle, activate the filter in the upper right field and choose the desired machine.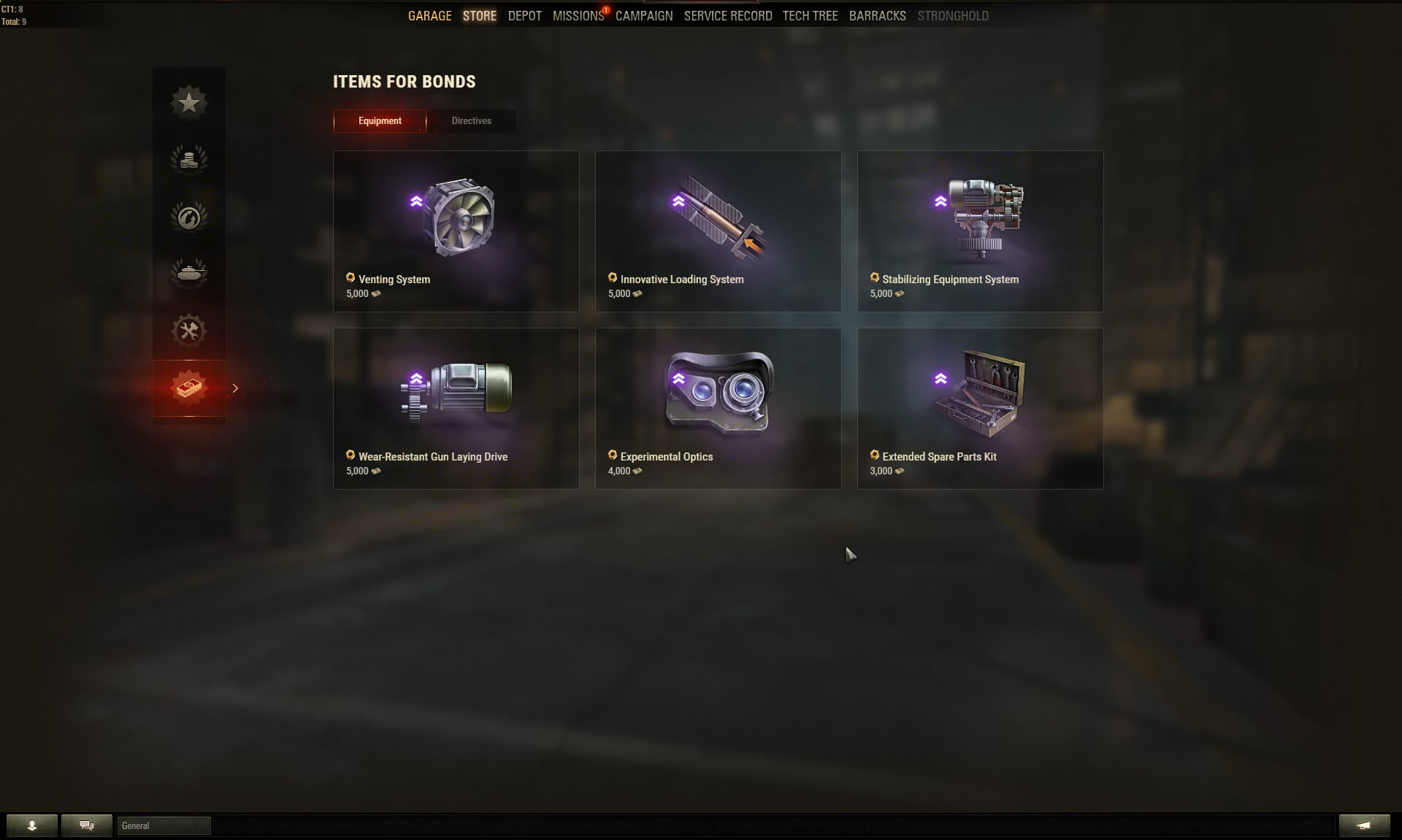 Just like with vehicles, everything is divided into blocks; items available for Bonds are arranged separately. For your convenience, we've created a standalone section, "Items for Bonds," where you can seamlessly access improved Equipment and Directives.
How the Shop 2.0 Common Test Will Work
After joining the test, you'll be provided with a certain amount of all in-game currencies (Credits, Bonds, and Gold) to buy in-game items.
100,000,000

100,000,000

20,000

50,000
We'll be running an emulation of purchasing Gold with real money — to test the full-circle functionality. If you lack the Gold to purchase a Premium Package and decide to buy more of the currency, choose a bundle and click "Purchase" — doing so takes you to the Premium Shop, where a payment operation will be completed. Upon release, Shop 2.0 will allow linking and remembering preferred payment methods by default, but during this Common Test, the operation will be automatic.
Note:
As long as the majority of players tend to explore and use Tier X vehicles in combat, we advise you to do the same in order not to waste time in pre-battle rooms.
What's Next
At this stage, it's crucial for us to know your opinion about the new Shop. We'll continue holding internal QA sessions to make sure it's fast and reliable from the technical standpoint, but we also want to be confident Shop 2.0 performs well in terms of user experience, too. Based on your impressions, we'll introduce necessary changes both prior to and after the release. Please let us know your thoiughts!