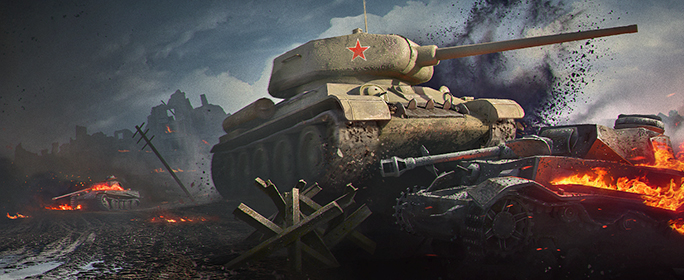 On July 12, 1943, the 5th Guards Tank Army of the Soviet Union collided with II SS-Panzer Corps of the German Wehrmacht in what was to be one of the largest tank battles in history. Fought near the town of Prokhorovka, roughly 50 miles southeast of Kursk, the Battle of Prokohorovka marked the end of the German offensive in the two-month-long Battle of Kursk.
In honor of this historic battle, the Prokhorovka map will be appearing more frequently and special discounts on Soviet and German vehicles, bundles and Missions will be available!
Freedom to Play Double-Key Event
Freedom to Play (FTP) rewards players with the never-before-seen FV201 (A45) Premium heavy tank! Accept the challenge and earn a ton of free Premium goodies along the way!
Starts: Friday, July 10, 04:20 PT (07:20 ET)
Ends: Sunday, July 13, 04:20 PT (07:20 ET)
x2 Crew Experience Bonus

Regular Soviet and German Vehicles, Tiers II-V
50% Credit Discount

Regular Soviet and German Vehicles, Tiers VI-VII
30% Credit Discount
Missions

Soviet Mission

Destroy at least one German enemy vehicle in a single battle.

Driving Soviet vehicles only

Random battles

Three times per day

Reward: 1 Extra Combat Rations

German Mission

Destroy at least one Soviet enemy vehicle in a single battle.

Driving German vehicles only

Random battles

Three times per day

Reward: 1 Chocolate

Hero of the 5th Guards Tank Army

Place in the top 5 XP earners on your team in a battle.

Soviet vehicles

,

tiers III-X only

Random battles

Must fight on Prokhorovka or Fiery Salient

Repeatable

Reward: x2 Crew XP

Still Standing

Place in the top 10 XP earners on your team in a battle and survive.

German vehicles, tiers III-X only

Random battles

Must fight on Prokhorovka or Fiery Salient

Repeatable

Reward: 1 Large Repair Kit

Learning The Ropes

Play in three unranked team battles.

7v7 mode only

Five times per account

Reward: 10% Personal Reserves Credit Booster (6-hour duration, expires September 1. Boosters of the same type do not stack.)

Moving On Up

Play in three ranked team battles.

7v7 (Ladder)

Five times per account

Reward: 20% Personal Reserves Credit Booster (4-hour duration, expires September 1. Boosters of the same type do not stack.)