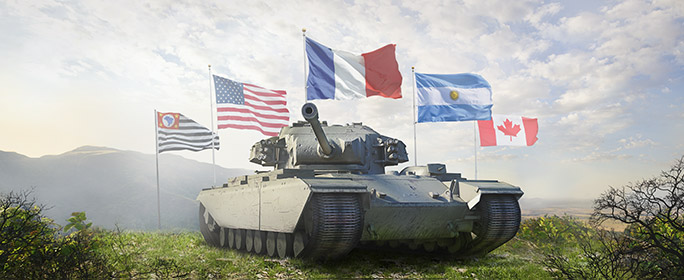 Storming the Bastille, a prison fortress in Paris, kicked off the French Revolution in 1789 and is celebrated today as a national holiday in France. As part of our month-long event, Freedom to Play, these Bastille Day Missions offer you the opportunity to earn consumables and Freedom to Play keys, plus a French flag emblem for your vehicles!
What is Freedom to Play?
Freedom to Play (FTP) rewards players with the never-before-seen FV201 (A45) Premium heavy tank! Accept the challenge and earn a ton of free Premium goodies along the way!
Starts: Tuesday, July 14, 04:20 PT (07:20 ET)
Ends: Wednesday, July 15, 04:20 PT (07:20 ET)
Missions

Freedom to Play: Quad

Earn 3,750 XP in any number of battles.

Random battles
Eligible to all vehicles
Limit four times per day

Reward: 1 Large Repair Kit, 1 Freedom to Play key

Pride of France

Complete "Freedom to Play: Quad" four times.

Reward: 1 French Flag Emblem (usable on any tank in your Garage)