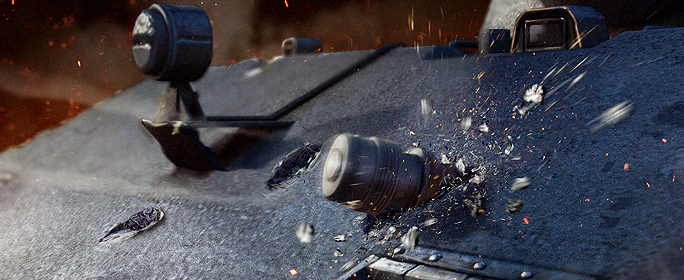 Download Test Client

Guide to Public Tests
We're giving you the chance to try out another World of Tanks Public Test. These tests help us gather data and information on changes we're implementing and give you the chance to test out what we're work on and provide us with your feedback! You don't need to be an experienced tester to join in, you just need to be willing to try out the new features we're working on and send us your feedback!
This particular Public Test focuses on changes to armor penetration at higher tiers, particularly in regards to tank destroyers and medium tanks, and some heavy tanks.
We have two main reasons why we're revising the armor penetration:
Excessive armor penetration in high tier (VIII - X) battles. The ratio between successful and ineffective shots exceeds the rations in medium and low tiers.
A need to increase the role of penetration in high-tier battles. Analysis of high-tier battles has shown that excessive armor penetration eliminates the role of heavily and medium armored vehicles in battle.
Before you jump in, keep in mind that armor penetration values in the Public Test are not final and changes will be implemented only after careful examination of statistics gathered via the Public Test.
Ready to Download? New to Testing?
Get the full story on how Public Tests operate in our handy guide.
Any new or changed content for the Public Test should be considered not final and subject to change upon final update release. We strongly encourage you to send us your feedback and opinions via the forums.
Update Notes
Collapse
121:
Dispersion on move of 121 suspension reduced by 14%
Dispersion on hull traverse of 121 suspension reduced by 14%
Aiming time of 122mm 60-122TG gun for the 121 turret reduced from 2.7 to 2.3 s
Reload time of 122mm 60-122TG gun for the 121 turret reduced from 9.6 to 9.3 s
Dispersion on turret traverse of 122mm 60-122TG gun reduced by 14%
Penetration of Chuan bei-472 shell for the 122mm 60-122TG gun reduced from 258 to 235mm
Penetration of Po-122 shell for the 122mm 60-122TG gun reduced from 340 to 320mm
110:
Penetration of Tuo chuan-412G shell for the 100mm 62-100T gun reduced from 265 to 250mm
Penetration of Tuo chuan-412G shell for the 100mm 62-100T gun reduced from 265 to 250mm
Aiming time of 130mm 59-130T gun for the WZ-111 turret reduced from 2.9 to 2.7 s
Penetration of Chuan bei-482 shell for the 130mm 59-130T gun reduced from 244 to 232mm
Penetration of Po-130 shell for the 130mm 59-130T gun reduced from 340 to 300mm
Dispersion on move of WZ-120 suspension reduced by 11%
Dispersion on hull traverse for the WZ-120 suspension reduced by 11%
Dispersion on move of WZ-120 model 3 suspension reduced by 12%
Dispersion on hull traverse for the WZ-120 model 3 suspension reduced by 12%
Penetration of Tuo chuan-412G shell for the 100mm 62-100T gun reduced from 265 to 250mm
Penetration of OCC-105-F1 shell for the 105mm mle. F1 gun increased from 320 to 330mm
Penetration of OFL-105-F1 shell for the 105mm mle. F1 gun reduced from 260 to 242mm
Penetration of OCC-105-F1 shell for the 105mm mle. F1 gun increased from 320 to 330mm
Penetration of OFL-105-F1 shell for the 105mm mle. F1 gun reduced from 260 to 242mm
Dispersion on move of AMX 50 Foch (155) suspension reduced by 10%
Dispersion on hull traverse for the AMX 50 Foch (155) suspension reduced by 10%
Aiming time of 155mm AC SA58 gun for the AMX 50 Foch (155) turret reduced from 3 to 2.8 s
Dispersion on gun traverse of 155mm AC SA58 gun reduced by 10%
Penetration of AP-T T368 shell for the 155mm AC SA58 gun reduced from 293 to 280mm
Penetration of HEAT T267 shell for the 155mm AC SA58 gun reduced from 395 to 370mm
Penetration of Frt.Prf. mle. 1945 shell for the 120mm AC SA46 gun reduced from 325 to 282mm
Penetration of Prf. mle. 1943 shell for the 120mm AC SA46 gun reduced from 257 to 241mm
Penetration of Frt.Prf. mle. 1945 shell for the 120mm SA46 gun reduced from 325 to 282mm
Penetration of Prf. mle. 1943 shell for the 120mm SA46 gun reduced from 257 to 241mm
Dispersion on move of Batignolles-Châtillon 25 t suspension reduced by 12%
Dispersion on hull traverse of Batignolles-Châtillon 25 t suspension reduced by 12%
Dispersion on turret traverse of 105mm mle. 57 (D. 1504) gun reduced by 12%
Penetration of OFL-105-E1 shell for the 105mm mle. 57 (D. 1504) gun reduced from 259 to 241mm
Penetration of Pzgr 43 shell for the 12,8cm Kanone L/61 gun reduced from 352 to 320mm
Penetration of Pzgr 40 shell for the 12,8cm Kanone 44 L/55 gun reduced from 311 to 280mm
Penetration of Pzgr 43 shell for the 12,8cm Kanone L/61 gun reduced from 352 to 320mm
Penetration of Pzgr 40 shell for the 12,8cm Kanone 44 L/55 gun reduced from 311 to 280mm
Dispersion on move of Leopard Prototyp A1 suspension reduced by 9%
Dispersion on hull traverse for the Leopard Prototyp A1 suspension reduced by 9%
Dispersion on move of Leopard Prototyp A2 suspension reduced by 10%
Dispersion on hull traverse for the Leopard Prototyp A2 suspension reduced by 10%
Penetration of APDS-T M392 shell for the 10,5cm L7A1 gun reduced from 268 to 243mm
Penetration of HEAT-T T384E4 shell for the 10,5cm L7A1 gun reduced from 330 to 310mm
Penetration of Pzgr 40/48 shell for the 9cm Bordkanone gun reduced from 259 to 240mm
Aiming time of 10,5cm L7A1 gun for the Porsche Standardpanzer turret reduced from 2.3 to 2.1 s
Reload time of 10,5cm L7A1 gun for the Porsche Standardpanzer turret reduced from 11.1 to 10.5 s
Dispersion on turret traverse of 10,5cm L7A1 gun reduced by 12%
Dispersion on move of Leopard 1 suspension reduced by 33%
Dispersion on hull traverse for the Leopard 1 suspension reduced by 33%
Aiming time of 10,5cm Bordkanone L7A3 gun for the Leopard 1 turret reduced from 1.9 to 1.8 s
Reload time of 10,5cm Bordkanone L7A3 gun for the Leopard 1 turret reduced form 8.7 to 8.3 s
Penetration of APDS-T M392 shell for the 10,5cm Bordkanone L7A3 gun reduced from 268 to 243mm
Penetration of HEAT-T T384E4 shell for the 10,5cm Bordkanone L7A3 gun reduced from 330 to 310mm
Penetration of Pzgr 40/48 shell for the 9cm Bordkanone gun reduced from 259 to 240mm
Dispersion on move of E 50 Ausf. M suspension reduced by 14%
Dispersion on hull traverse of E 50 Ausf. M suspension reduced by 14%
Crossing capacity of E 50 Ausf. M suspension on solid terrain increased by 18%
Crossing capacity of E 50 Ausf. M suspension on medium terrain increased by 15%
Crossing capacity of E 50 Ausf. M suspension on soft terrain increased by 9%
Aiming time of 10,5cm Kw.K. L/52 Ausf. K gun for the E 50 Ausf. M turret reduced from 2.1 to 2 s
Reload time of 10,5cm Kw.K. L/52 Ausf. K gun for the E 50 Ausf. M turret reduced from 9.6 to 9 s
Penetration of Pzgr 40 K shell for the 10,5cm Kw.K. L/52 Ausf. K gun reduced from 270 to 240mm
Penetration of Gr 39 H1A K shell for the 10,5cm Kw.K. L/52 Ausf. K reduced from 330 to 310mm
Penetration of PzGr 46 shell for the 17cm Pak gun reduced from 299 to 278mm
Penetration of Gr 46 H1A shell for the 17cm Pak gun reduced from 420 to 370mm
Penetration of Pzgr 39 L shell for the 10,5cm Kw.K. L/52 gun increased from 200 to 208mm
E 50:
Penetration of Pzgr 40 G shell for the 10,5cm Kw.K. L/52 Ausf. K gun reduced from 270 to 260mm
E 75:
Penetration of Pzgr 39 L shell for the 10,5cm Kw.K. L/52 gun increased from 200 to 208mm
Penetration of Pzgr 40 shell for the 10,5cm Kw.K. L/68 gun reduced from 285 to 250mm
Penetration of Pzgr 42 shell for the 15cm Kw.K. L/38 gun increased from 235 to 243mm
Penetration of Gr 39 H3A G shell for the 15cm Kw.K. L/38 reduced from 334 to 325mm
Penetration of Pzgr 39 L shell for the 10,5cm Kw.K. L/52 gun increased from 200 to 208mm
Penetration of Pzgr 40 shell for the 10,5cm Kw.K. L/68 gun reduced from 285 to 250mm
Penetration of Pzgr 39 L shell for the 10,5cm Kw.K. L/52 gun increased from 200 to 208mm
Penetration of Pzgr 40 shell for the 10,5cm Kw.K. L/68 gun reduced from 285 to 250mm
Dispersion on move of STB-1 suspension reduced by 12%
Dispersion on hull traverse for the STB-1 suspension reduced by 12%
Aiming time of 105mm Rifled Gun for the STB-1 turret reduced from 2.3 to 2.1 s
Dispersion on turret traverse of 105mm Rifled Gun reduced by 14%
Penetration of L28A1 shell for the 105mm Rifled Gun reduced from 258 to 245mm
Penetration of M456 shell for the 105mm Rifled Gun reduced from 330 to 320mm
Dispersion on move of STA-4 suspension reduced by 12%
Dispersion on hull traverse for the STA-4 suspension reduced by 12%
Dispersion on move of Type 61 suspension reduced by 14%
Dispersion on hull traverse for the Type 61 suspension reduced by 14%
Penetration of M318A1 shell for the 90mm Gun Type 61 reduced from 218.7 to 218mm
Dispersion on turret traverse of 105mm Rifled Gun reduced by 14%
Penetration of L28A1 shell for the 105mm Rifled Gun reduced from 258 to 245mm
Penetration of M456 shell for the 105mm Rifled Gun reduced from 330 to 320mm
Penetration of M318A1 shell for the 90mm Gun Type 61 reduced from 218.7 to 218mm
Penetration of APDS L1 shell for the 120mm AT Gun L1A1 reduced from 326 to 300mm
Penetration of AP-T L1 shell for the 120mm AT Gun L1A1 reduced from 259 to 240mm
Penetration of APDS L-28 shell for the 105mm AT Gun L7 reduced from 268 to 240mm
Penetration of AP Mk. 1 shell for the 183mm L4 gun reduced from 310 to 285mm
Penetration of APDS L1 shell for the 120mm AT Gun L1A1 reduced from 326 to 300mm
Penetration of AP-T L1 shell for the 120mm AT Gun L1A1 reduced from 259 to 240mm
Penetration of AP Mk. 1 shell for the 183mm L4 gun reduced from 310 to 285mm
Dispersion on move of FV4202 suspension reduced by 17%
Dispersion on hull traverse for the FV4202 suspension reduced by 17%
Aiming time of 105mm Royal Ordnance L7A1 gun for the FV4202 turret reduced from 2.1 to 1.9 s
Dispersion on turret traverse of 105mm Royal Ordnance L7A1 gun reduced by 17%
Penetration of APDS L-28 shell for the 105mm Royal Ordnance L7A1 gun reduced from 268 to 240mm
Penetration of APDS L-28 shell for the 105mm Royal Ordnance L7A1 gun reduced from 268 to 240mm
T29:
Penetration of AP T32 shell for the 105mm Gun T5E1 increased from 198 to 205mm
Penetration of HVAPDS-T T279 shell for the 105mm Gun T140E2 reduced from 255 to 245mm
Penetration of AP M318 shell for the 90mm Gun T178 increased from 173 to 181mm
Penetration of HEAT-T M469 shell for the 120mm Gun T179 reduced from 340 to 310mm
T69:
Penetration of AP M318 shell for the 90mm Gun T178 increased from 173 to 181mm
Aiming time of 105mm Gun M68 for the M87 turret reduced from 2 to 1.8 s
Dispersion on turret traverse of 105mm Gun M68 reduced by 33%
Penetration of APDS-T M392 shell for the 105mm Gun M68 reduced from 268 to 243mm
Penetration of HEAT-T T384E4 shell for the 105mm Gun M68 reduced from 330 to 310mm
Penetration of APCR T29E3M2 shell for the 105mm Gun T5E1M2 reduced from 265 to 250mm
Penetration of AP M111E1 shell for the 155mm AT Gun T7E2 reduced from 295 to 280mm
Penetration of APCR M112E1 shell for the 155mm AT Gun T7E2 reduced from 375 to 330mm
Dispersion on move of T110E4 suspension reduced by 10%
Dispersion on hull traverse for the T110E4 suspension reduced by 10%
Dispersion on turret traverse of 155mm AT Gun T7E2 reduced by 17%
Penetration of AP M111E1 shell for the 155mm AT Gun T7E2 reduced from 295 to 280mm
Penetration of APCR M112E1 shell for the 155mm AT Gun T7E2 reduced from 375 to 330mm
Penetration of APCR T62 shell for the 120mm AT Gun T53 reduced from 297 to 280mm
Penetration of HEAT-T M469 shell for the 120mm Gun M58 reduced from 340 to 310mm
M103:
Penetration of AP T32 shell for the 105mm Gun T5E1 increased from 198 to 205mm
Penetration of HEAT-T M469 shell for the 120mm Gun M58 reduced from 340 to 310mm
Penetration of APCR T29E3M2 shell for the 105mm Gun T5E1M2 reduced from 265 to 250mm
Penetration of AP M77 shell for the 90mm Gun T15E2M2 increased from 180 to 190mm
Penetration of HVAP M304 shell for the 90mm Gun T15E2M2 reduced from 268 to 240mm
T95:
Penetration of APCR T62 shell for the 120mm AT Gun T53 reduced from 297 to 280mm
T28:
Penetration of APCR T62 shell for the 120mm AT Gun T53 reduced from 297 to 280mm
Penetration of AP M77 shell for the 90mm Gun T15E2M2 increased from 180 to 190mm
Penetration of HVAP M304 shell for the 90mm Gun T15E2M2 reduced from 268 to 240mm
T32:
Penetration of AP T32 shell for the 105mm Gun T5E1 increased from 198 to 205mm
T30:
Dispersion on move of T80E3A suspension reduced by 8%
Dispersion on hull traverse for the T80E3A suspension reduced by 8%
Dispersion on move of T84E38 suspension reduced by 9%
Dispersion on hull traverse for the T84E38 suspension reduced by 9%
Penetration of APCR T62 shell for the 120mm AT Gun T53 reduced from 297 to 280mm
IS-3:
Penetration of BR-471D shell for the 122mm BL-9 gun reduced from 265 to 255mm
Penetration of ZUBK4 shell for the 100mm D-54 gun reduced from 330 to 300mm
Penetration of ZUBK4 shell for the 100mm M-63 gun reduced from 330 to 300mm
Dispersion on move of Object 430 suspension reduced by 14%
Dispersion on hull traverse for the Object 430 suspension reduced by 14%
Aiming time of 100mm U-8TS gun for the Object 430 turret reduced from 2.3 to 2.1 s
Penetration of ZUBK4M shell for the 100mm U-8TS gun reduced from 330 to 310mm
Penetration of UBR-412PB shell for the 100mm U-8TS gun reduced from 264 to 232mm
Dispersion on move of Object 140 suspension reduced by 25%
Dispersion on hull traverse for the Object 140 suspension reduced by 25%
Aiming time of 100mm U-8TS gun for the Object 140 turret reduced from 2.1 to 1.9 s
Penetration of ZUBK4M shell for the 100mm U-8TS gun reduced from 330 to 310mm
Penetration of UBR-412PB shell for the 100mm U-8TS gun reduced from 264 to 232mm
Dispersion on move of Object 263 suspension reduced by 18%
Dispersion on hull traverse for the Object 263 suspension reduced by 18%
Penetration of UBR-482M shell for the 130mm S-70A gun reduced from 290 to 280mm
Dispersion on move of T-62A suspension reduced by 20%
Dispersion on hull traverse for the T-62A suspension reduced by 20%
Aiming time of 100mm U-8TS gun for the T-62A turret reduced from 2 to 1.8 s
Penetration of ZUBK4M shell for the 100mm U-8TS gun reduced from 330 to 310mm
Penetration of UBR-412PB shell for the 100mm U-8TS gun reduced from 264 to 232mm
Penetration of UBK551M shell for the 152mm M64 gun reduced from 395 to 375mm
Penetration of ZUBK4 shell for the 100mm M-63 gun reduced from 330 to 300mm
Penetration of UBR-412B shell for the 100mm D-54S gun increased from 219 to 226mm
IS-8:
Penetration of BR-471D shell for the 122mm BL-9 gun reduced from 265 to 255mm
Penetration of BK-9 shell for the 122mm M62-T2 gun reduced from 340 to 300mm
Penetration of BR-472 shell for the 122mm M62-T2 gun reduced from 258 to 240mm
KV-4:
Penetration of UBR-420PM shell for the 107mm ZiS-24 gun reduced from 289 to 255mm
ST-I:
Penetration of BR-471D shell for the 122mm BL-9 gun reduced from 265 to 255mm
Penetration of BK-9 shell for the 122mm M62-T2 gun reduced from 340 to 300mm
Penetration of BR-472 shell for the 122mm M62-T2 gun reduced from 258 to 240mm
Penetration of UBR-412B shell for the 100mm D-54S gun increased from 219 to 226mm
Penetration of UBR-551 shell for the 152mm BL-10 gun reduced from 286 to 276mm
Penetration of UBR-551P shell for the 152mm BL-10 gun reduced from 329 to 320mm
Т-54:
Penetration of UBR-412 shell for the 100mm LB-1 gun increased from 175 to 183mm
Penetration of ZUBK4 shell for the 100mm D-10T2S gun reduced from 330 to 300mm
Penetration of ZUBK4 shell for the 100mm D-54 gun reduced from 330 to 300mm
Penetration of UBR-551 shell for the 152mm BL-10 gun reduced from 286 to 276mm
Penetration of UBR-551P shell for the 152mm BL-10 gun reduced from 329 to 320mm
Т-44:
Penetration of UBR-412 shell for the 100mm LB-1 gun increased from 175 to 183mm
Collapse
Expand