Did you enjoy your time playing in the infamous Sturmtiger, Commanders? We're sure it was an unforgettable experience!
Act III may be already behind us, but there's still a lot of surprises ahead! We're continuing the celebration by launching Act IV: Overhaul on July 10. Complete fresh Anniversary Missions, take a look at new bundles with a different selection of legendary tanks, and experience fierce 7v7 battles to earn spectacular customization elements from the past!
Act IV: Overhaul

ACT BEGINS:

ACT ENDS:

Friday, July 10 at 04:20 PT | 06:20 CT | 07:20 ET

Wednesday, August 12 at 04:20 PT | 06:20 CT | 07:20 ET
Subtitles in our supported languages are also available by clicking on the icon in the bottom-right corner.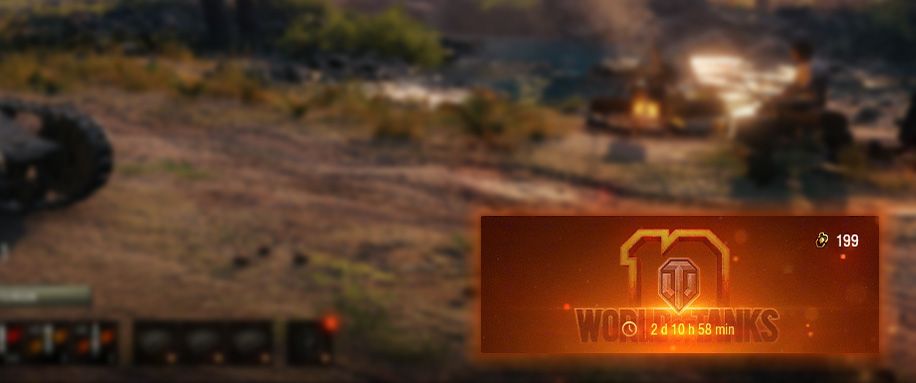 World of Tanks' 10th anniversary consists of five (5) thematic Acts, each of them corresponds to certain milestones of the game that left their mark in the hearts of players. Each Act tells us of the history of our project and its legacy, broken into two-year sections. Veterans will smile and remember the early days, and novices will be surprised to learn some curious facts about our game.
Acts, in turn, will consist of an Active Phase and a Breather.
The

Active Phase

runs for one (1) week, during which you can take part in special

Time Warps

(more on them

below).
After completion of an Active Phase, a

Breather

kicks off. It lasts approximately 20 days, depending on the specific Act.
During both Active Phases and Breathers, you can fulfil Anniversary Missions in Random Battles (including Grand Battles). During the Active Phase, you will have access to a set of 9 missions, divided into 3 consecutive blocks (3 missions each) each of increasing difficulty.
Completing each of these missions will reward you with special game currency, Anniversary Coins. You'll get more Coins for completing harder missions. After completing the entire set, you'll unlock an additional daily mission.
During a Breather, you can complete one simple Anniversary Mission in Random Battles (including Grand Battles) once per day and get Anniversary Coins as a reward. Exchange them for valuable items and exclusive customizations in the special in-game Anniversary Store (more on this below).
NOTE: All customization elements from the previous Acts will remain available in the Store, so feel free to add them to your cart! All unique items you purchase will remain on your vehicles/accounts after the 10th Anniversary celebration is over. All Anniversary Coins you've earned during the previous Acts will remain on your accounts throughout the 10th Anniversary event.
Anniversary Coins

You can earn and exchange Anniversary Coins during the 10th Anniversary event.

Inscriptions

Special Anniversary Inscriptions to choose from, which you can purchase with Anniversary Coins.

Emblems

Special Anniversary Emblems to choose from, which you can purchase with Anniversary Coins.

Projection Decals

Special Anniversary Decals to choose from, which you can purchase with Anniversary Coins.
Having completed all Anniversary Missions of the Active Phase of an Act, you will receive a special Gold Key that brings you closer to the ultimate reward.
To grab the main 10th Anniversary main reward, you need to earn three (3) Gold Keys, so plan your schedule ahead of time!
Redeem Your Rewards!
After earning three (3) Gold Keys, you can get your hands on the mind-blowing 3D Style for the T30, the legendary American Tier IX tank destroyer. World of Tanks veterans may remember that in the very early days of the game, it was a top heavy tank. Over the years, it has changed its vehicle class, but the Т30 still remains a redoubtable adversary on the battlefield. Complete Anniversary Missions, get 3 Gold Keys and outfit this mighty tank destroyer, if you own it, with a truly exclusive custom look! If you don't have the iconic T30 in your Garage yet, this is a great occasion to research it.
In addition to the 3D Style for the T30, you also have a chance to earn:
A Medal

For participating in the celebration of the 10th anniversary. To do this, you only need to complete one Anniversary Mission during the Active Phase of any Act.

A Cool Act Award

For completing all Anniversary Missions of the Active Phase of each Act. There are 5 different Classes of this award available, with the highest Class available only to those who complete all Active Phases in all five Acts.

A Unique Badge

For completing all the Anniversary Missions of all Active Phases in the five Acts.

Anniversary Coins

Received for completing each Anniversary Mission in both Active Phases and Breathers can be exchanged for a bunch of great customization elements.
The Anniversary Store has three (3) tabs offering the following:
Anniversary Gold bundles

, supplemented with Anniversary Coins. You can choose one of three packages containing

5,000

,

8,750

or

12,500

Gold

and 100, 200, and 300 Anniversary Coins. Their value in real money will be the same as if you bought this amount of gold in the Premium Shop. But in addition to Gold, in each Anniversary bundle you will receive a number of Anniversary Coins for free.

Unique customizations

, carefully holding the memories of the past. Each emblem, decal or other item in this section is unique and a real collector's gem. You can purchase the contents of this section for Anniversary Coins. For each Act, new exclusive goodies will be added to this section, including some that have never been offered for sale before. Check them out.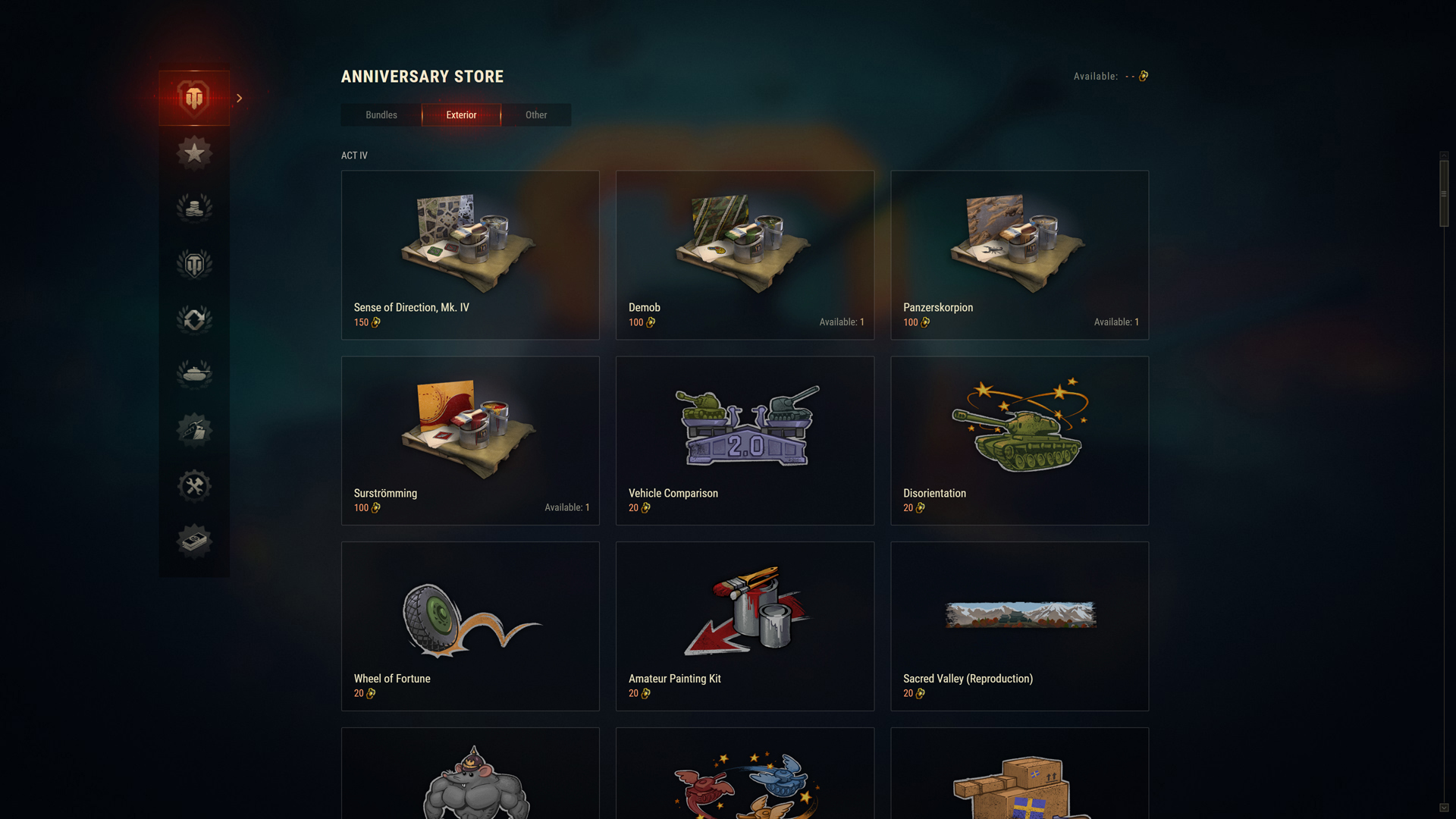 Bundles containing legendary vehicles and unique 2D styles. During each Act, a different selection of three iconic vehicles, each with its own exclusive custom look, will be up for grabs. Act IV features the the Object 252U, the Rheinmetall Skorpion, and the Strv m/42-57 Alt A.2. In addition to the personal style for each tank, these bundles will include an additional all-season custom look, made up of fragments of World of Tanks mini-maps relevant to a specific Act.
Object 252U
Object 252U
Demob
Style
Sense of Direction, Mk. IV
Style
Rheinmetall Skorpion
Rheinmetall Skorpion
Panzerskorpion
Style
Sense of Direction, Mk. IV
Style
Strv m/42-57 Alt A.2
Strv m/42-57 Alt A.2
Surströmming
Style
Sense of Direction, Mk. IV
Style
Useful battle supplies

, including Consumables, Directives, Personal Reserves, and more.
Take Part in Time Warps!
For each of the five Acts, we will launch special Time Warps. These are engaging and unexpected activities for the tank community, related to something significant from the history of World of Tanks of a certain period. Take a trip down memory lane and reminisce about the early days of our game!
Time Warps will only take place during Active Phases. During Act IV, you'll have a chance to experience 7v7 battles in Tier X vehicles. They'll take place on a select set of maps where you can hone your team tactics and individual mastery. There will be one more exciting Time Warp during Act V, so stay tuned!
Check Out the Latest Updates on the Info Hub!
The most up-to-date information regarding the 10th Anniversary will be available at the Info Hub, which will become the key access point for this grand celebration. There, we will publish global and regional news, announcements of upcoming Time Warps, and more. Be sure to check it on a regular basis to be on the same wavelength as us!
Learn More About World of Tanks Legacy!
We will also be periodically adding new videos to the Anniversary Archives available in your Garage, on a separate Anniversary Hub tab. They will introduce you to the history of the project and its most significant events and features during each of the five (5) Acts.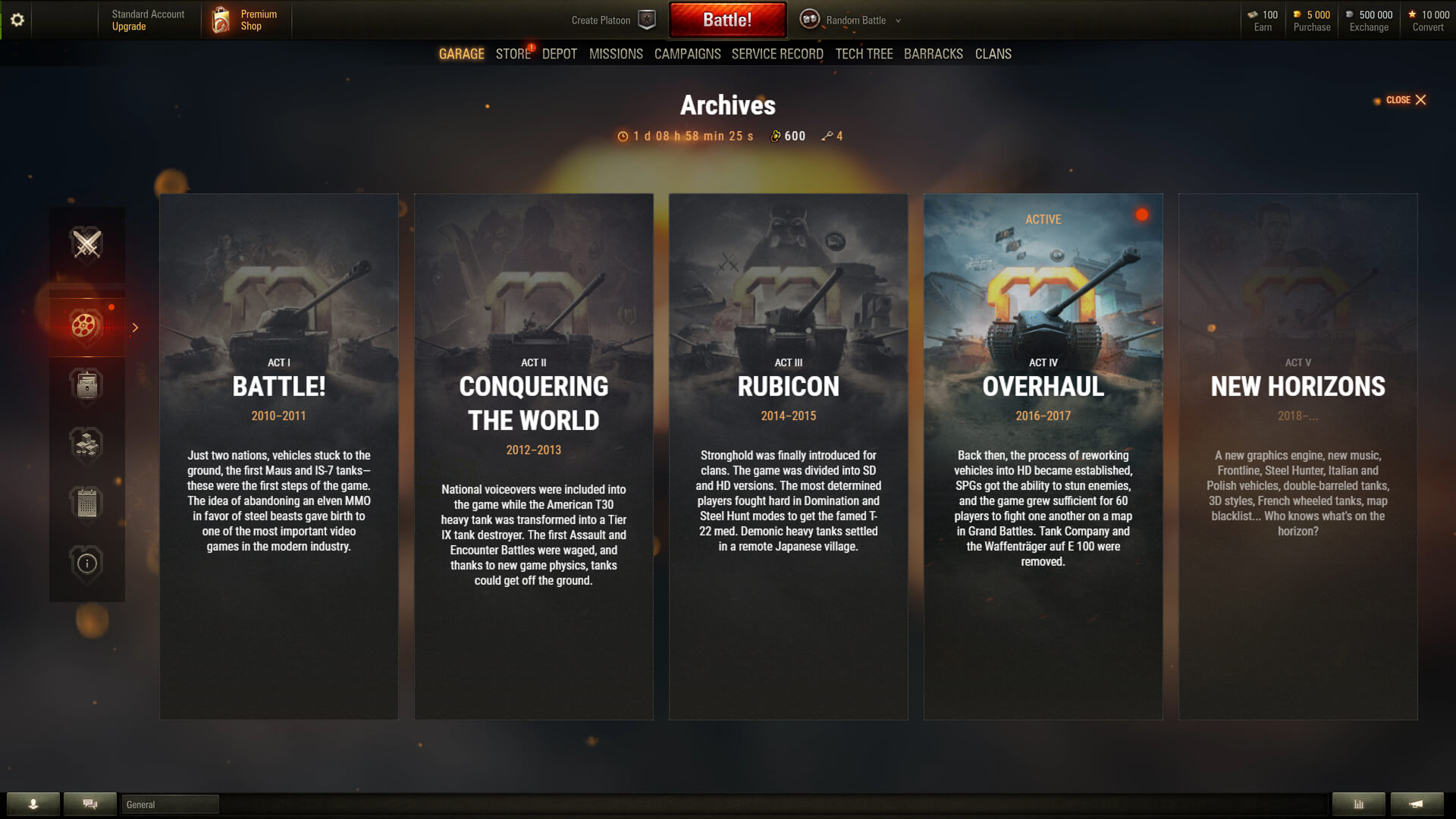 Be sure to party with us, Commander! Take part in exclusive events and try out new features!
let's celebrate
together!
10TH ANNIVERSARY
10TH ANNIVERSARY
Join the grand celebration of World of Tanks' 10th Anniversary with tons of specials and pleasant surprises! A feast of new features, great rewards, and engaging events await, so get ready to party with us! The celebrations will consist of five Acts and will last until October 2020.