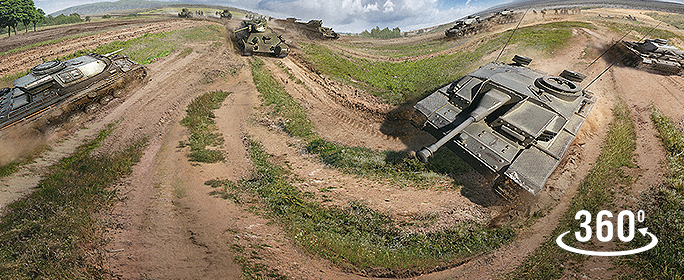 Virtually Inside the Tanks has been a very successful series of videos that allowed you to join Nicholas "The Chieftain" Moran and Richard "The_Challenger" Cutland for a virtual joyride in a variety of real-world tanks such as the Type 59, T-34-76, or even the M4 Sherman "Fury." In order to take the VR experience to a new level, we have partnered with Google to push the boundaries of Virtual Reality even further: get ready to experience a 360⁰ Tank Battle!
How to View the Video
In order to enjoy the 360⁰ feature of the video, all you need is a PC with the Google Chrome browser installed, or a smartphone or tablet with the YouTube mobile app. The free Littlstar app can also be used to view the video on your smart device (available for both Android and iOS).
To look around or change the viewing angle, slide your finger on the screen or tilt the device. When watching on your computer, you can use the mouse. Simply left-click on the video, and then drag the mouse in various directions.
For an even more immersive experience, you can use your smartphone together with Google Cardboard.
About the Project
The events displayed in the video refer to the WWII battlefield in the USSR, in the summer of 1941. The re-enactment was filmed on August 28 and 29, 2015, in Belarus, using technology that allowed for filming in 360 degrees. Wargaming and Google are the first to have ever used this technique to film a tank battle re-enactment. For the purpose of this video, CGI effects were also used to add planes to the scenes.
The filming employed 40 professional re-enactors, two different shooting perspectives (static camera and a drone), and features a total of six different WWII vehicles:
Soviet T-34-76 tank
Soviet BT-7

tank

German Pz.Kpfw. III

tank

German StuG III tank destroyer
45mm artillery gun
ZiS-3 artillery gun