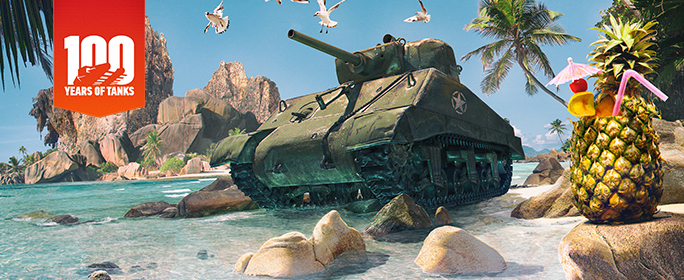 ---
Summer Play Tournament (July 18-31)
We're down to the final days of registration for the 5v5 tier VI Summer Play tournament on Steppes. Grab your friends, blast the enemy and take home awesome prizes!
Registration Ends: July 18, 11:00 PT / 14:00 ET
---
Platournaments (July 19 & 21)
Bring a tier VI, three-person "Summer Play" Platoon for even more prizes with our one-day "Platournaments!" Wreck enemy Platoons in Encounter mode on Ruinberg July 19, and on Prokhorovka July 21.
Registration Ends: Each tournament day, 11:00 PT / 14:00 ET
---
Third Thursday Throwdown (July 21)
It's going to be a whirlwind of AC 4 Experimentals for one-day only -- why not earn some Gold while you're at it? Sign up for this exciting 1v1 tournament featuring the tier VI Australian sharp-shooter!
Registration Ends: July 21, 11:00 PT / 14:00 ET
---
Call To Arms (July 23)
Unite your Clanmates in an epic one-day tournament for honor, glory... and Gold! For all the tier VIII action, join the Champion Tournament, and for you top dogs in tier X, go for the Absolute Tournament!
Keep in mind, your entire team must belong to the same Clan.
Registration Ends: July 23, 11:00 PT / 14:00 ET
---
Heavy 1v1 Throwdown (July 23)
You don't need a team to earn prizes! Sign up solo and put your tier VIII skills to the test against other solo tankers for Gold prizes.
Registration Ends: July 23, 11:00 PT / 14:00 ET