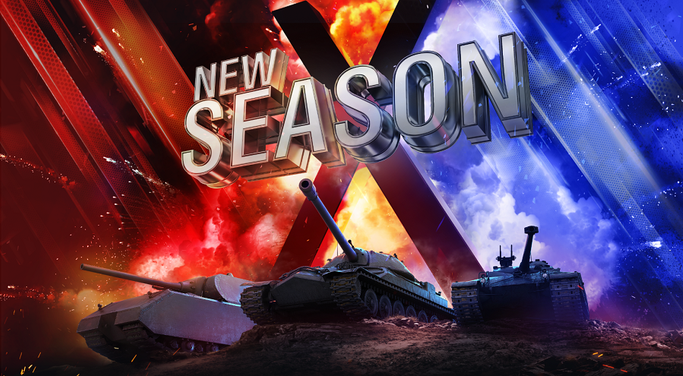 WGLNA Season II 2015-2016 blasts onto BattleViewer.com Tuesday night featuring new tank tiers and a slew of new teams. Here's everything you need to know before the first battle gets underway at 17:00 PT!
Rules
Teams will compete in 7/68 mode, meaning seven tanks on the battlefield with 68 total tier points. What that means is Season II now features tier X titans for the first time in competition, giving fans what they've been asking for: endgame tanks under control of the best players in North America! But that's not the only rules change -- for the first time, teams will also be limited to selecting just two of each tank model, so don't expect to see seven IS-7s rolling into Himmelsdorf to overwhelm an opponent.
Maps
With the switch to tier X, the map pool also sees an overhaul. This season's teams will select from Ruinberg, Steppes, Mines, Ghost Town, Himmelsdorf, Murovanka, Prokhorovka, Cliff, and Sand River.
Teams
Seven new teams join the WGLNA Gold League, including returning favorites The GooglyBobbers, as well as Silver League standouts DING_NA. But it's the defending champs from Noble Gaming and Season 1 runner-ups High Woltage Caballers that appear to be the favorites returning to the championship. Says Noble's Dodoma: "Our whole team was a bunch of tier X players before we even got into the competitive scene, so this season, the change in tiers is playing to our strength. WGLNA is finally bringing the endgame to league play. I can't wait to get started."
Fantasy
Do you obsess over stats to the point where you start comparing AkulaV's dominance on the battlefield to Rob Gronkowski's dominance in fantasy football? Then you're in luck, as Fantasy Tanks returns for another season with prizes ranging from a trip to the upcoming WGLNA Season 2 Finals to nightly prizes, including a Type 59. The WGLNA Fantasy site is also your go-to spot for all league stats and standings, as it tracks everything hardcore fans need to know about every player and team in the league.
The Cash
This season features a beefy $210,000 prize pool, including $75,000 for first place, $40,000 for second, $17,000 for third, and $10,000 for fourth!
As always, for the most in-depth WGLNA action, keep a browser tab open on BattleViewer.com. Season 2 matches will be played Tuesday and Thursday nights at 17:00 PT (20:00 ET).
Week 1 kicks off with intriguing match-ups that should help set the tone for the upcoming season, including SIMP vs. o7 (Tuesday), High WoltageCaballers vs. Simple Tankers (Thursday), and Noble taking on the newcomers from Yo (Thursday 18:00).
For a complete list of matches, check out the full WGLNA schedule
on the Fantasy site.