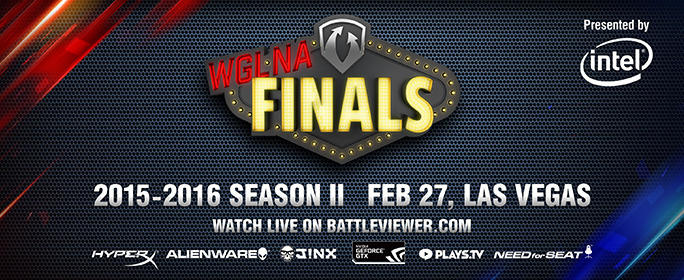 When WGLNA Season II started back in December, it seemed like the only two teams being talked about were Noble and High Woltage Caballers. And why not, as both teams battled in the Season I championship, then followed up with great showings overseas at the Pacific Rumble? Didn't seem like anyone could beat them, but then they did. And now, as we head into the WGLNA Finals in Vegas, it's not just Noble or HWC that people are gushing about -- it's the young upstarts from eClipse and the revamped roster from SIMP that are starting to turn some heads, making this Finals maybe the most unpredictable in WGLNA history.
Wargaming assembled a collection of eSports experts and WGLNA pros to give us their best guess at what we'll see when the battles begin Saturday at 13:00 PT.
Christian Toma (WGLNA Caster)


I am going to give it to the underdogs and go with eClipse! They looked very strong during the playoffs, and if they can keep it together, they might be able to surprise the higher up teams. I also love a good upset.
David "Nagatron" Williams (WGLNA Caster)


If all teams play to the best of their ability, then I think SIMP will take it. Noble is weaker strategically, but they do have more experience under pressure, which just might be enough to secure a second title.
Yoott (WGLNA Commissioner)


I picked right all season, being that I finished first in Fantasy League -- and if things the go the way I think, SIMP is walking out of Vegas as the new champs. If you go back and watch the last few weeks of gameplay, they had the best strats of anyone out there, and I think that carries over to the Finals.
Trevzor (WGLNA Commissioner)


SIMP has been rising too fast to fall now. As much as I want to see eClipse win it all and go to Poland, I think the bright lights and big sounds of Vegas might get to the young team.
Hypnotik (WGLNA Fantasy Czar)


I'm picking Noble. In the past I've chosen some of the less popular teams (and always been right), but this time I'm going to stick with one of the favored teams. They've been great all season and with Poland in their sights, I expect them to bring their best performance yet.
Blue_Mini (Caller Wanted)


I think that the championship match will be between Noble and SIMP, and that either team could win. It will come down to who feels better after their first round match and what maps they play. If I had to pick a winner, I would go with Noble as long as they don't play SIMP on Cliff.
Phlak (rivaL/Simple Tankers)


I expect High Woltage to take the Finals. Of all the teams going to the Finals, we have seen the most interesting and innovative strats from them. Often I look at their lineup and can't imagine how they will use it on any given map. Combined with their high player skill, I think it will be difficult for anyone to take them down.
Fostakid (o7 Gaming)


I'm really the only one worth asking since i was the only one to get it right last season (#prophet). Hypnotik doesn't count because he picked Noble out of pity. But once again, Noble will win it all. They prep better than their competition.
Morphic (Aquatic M60s)


I think the final two teams will be SIMP and Noble. It will be close, but I believe Noble will eventually end up the victor because of their experience as a team going into the Finals. While SIMP does have experienced players, as a team, this is their first time, and I believe that will be the deal breaker when they face each other.
Makos (o7 Gaming)


Noble will win the North American Finals. They have the best player talent and most experience in the league. The only thing they need to make sure they do is not be predictable in their strategies and they should win easily.
Romstar (DING_NA)


I think that SIMP will win the whole thing only because they are on a roll. They seemed to get their stuff together towards the end of the season and should have a strong finish.
Jsmooth (rivaL/Simple Tankers)


I think the winner of the HWC/SIMP game will win. I feel those two teams are playing the best as we enter into the Finals.
Executis (rivaL/Simple Tankers)


I am picking Noble to beat eClipse in the first match. The other match is really a tough one to pick, though. I am going to go with SIMP based off recent battle performance, but I wouldn't be surprised if High Woltage took it either. For the finals, I feel if SIMP manages to make it past HWC, they are going to take it all. Again, both great teams, but SIMP has just been playing lights out since they made their changes, so hopefully the little break hasn't cooled down their hot streak.
LemmingRush (Caller Wanted)


First off, I'd say Noble is definitely going to beat eClipse. Based on previous matches, Noble will outplay and outcall eClipse on nearly every map. The SIMP/HWC match is a bit trickier to call, however. I would bet on HWC beating SIMP simply because of previous battle history. HWC overall has better players and better caller, so I feel like they're going to win. Both teams are experienced, though, and definitely know what they're doing. It's a coin flip, but I'm going with HWC. That sets up a Finals between Noble and HWC. Even though it's in Vegas and there are a ton of different pressures, Noble has the better players and should be able to overcome HWC in the Finals to win their second straight championship.