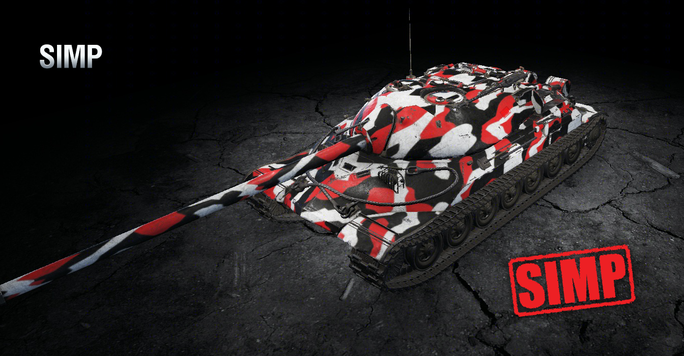 Ask Nitts, SIMP's captain and caller, his thoughts on the WGLNA Finals (Feb. 27 at 13:00 PT), and his pick for the winner isn't surprising. "I have to pick SIMP to win it all," he says with a laugh.
And why not? Since taking the reigns of SIMP, Nitts has helped revitalize this once-great franchise, and heading into the Finals, the new-look squad (part Hammer Time, part old-school SIMP, part Refuse) is the hottest team in the league -- not to mention, the only team this season to take down the defending champs from Noble.
Then again, for SIMP to advance to the championship round, they're going to need to defeat High Woltage Caballers, a team led by former SIMP MVP Blueboyzcaptain.
Can Nitts and crew pull it off? We went straight to the source for the breakdown.
Wargaming: Last season, SIMP and Hammer Time merged. What was the thinking behind that? How did you know the two teams would mesh?
Nitts: The merger came about because in Hammer Time, there were a couple of guys who wanted to quit, and then there were also a couple of guys who weren't putting enough effort in. Coincidentally, something similar was happening with SIMP, where there were some people who just didn't want to play with each other anymore. I'm not too sure what happened on their side, to be honest, but Mac-G approached us, and we ended up having a perfect fit for the team roster, so we ended up merging, and it worked out really well.
You missed a great opportunity to name the team "Simply Hammered."
Some people brought that up, but I rejected it. (Laughs)
After the merger, the team had its ups and downs, but this season, you really came into your own. What was the turning point?
Last season, we were still working out the kinks with the team. There were some rough patches here and there, and there were some things that we just couldn't work out for some reason. This season, we put in considerably more time practicing together, and that really helped iron things out. These days, we're putting together at least five practices every week. We also added a couple of guys from Team Refuse, and that worked out really well for us.
Your teammate E63M6 has been a beast! What does he bring that you didn't have before?
E6 knows how to squeeze damage, but at the same time, he's not a liability. He knows he can't just sit in the back and farm damage. We had a problem with a couple players before, where they could also do damage, but they didn't know when to move in to the fight or when to engage on their own. Sometimes a caller can't do that in the heat of battle, but E6 knows when to move in and when not to move in on his own, and that's extremely valuable.
During the last roster change, you guys also added former Refuse captain Cooliano (Cool_Hammer). Is he going to play in Vegas?
Yeah, you can definitely look forward to him playing.
Your first match in Vegas is against HWC. How do you see that match going down?
To be honest, I think we should beat them. Right now, I think our level of play and our strategies as well are above theirs. It's just all about who brings their A-game to the fight on that day, and I feel if we play like we've been playing recently, we'll come out on top.
How does playing live in front of a crowd impact the tournament?
I'm actually the only one on our team who hasn't been to a LAN finals, so they're all really comfortable sitting down, talking to each other and playing the game. I'm pretty excited to see what it's like.
HWC stole some of SIMP's top talent; still any hard feelings behind the move?
I don't think so. When we merged, we never talked to Blueboyz or HeavyTwenty, as they already left the team. The rest of the guys on SIMP, I think they feel they left on amicable terms, so if anything, it's just a friendly rivalry. I don't really see High Woltage as a rival. They're more just opponents we need to beat in order to make it to the championship match.
And if you get by HWC, there is the possibility of facing Noble for the trophy. You guys beat them earlier this season. How were you able to defeat the defending champs?
With my current team, I think we can beat any team on the NA scene, it's just all about how we prepare and how we play that day. On that day, everything just came together. We had good strats, we knew what we were doing, and everyone was able to do their own thing without me having to always call it. Everyone just played really well. I know it sounds simplistic, but that's really how we won.
Do you think you might be in Noble's heads now that you know the secret to beating them?
I don't think Noble is the type of team who fears anyone. I think they're just like us, if they see a team who beat them, they just want to bounce back. If we do play them in the Finals, it's really just about how brings their "A"-game, who plays better during that match. It's going to be about which team can get in that zone.
You're known as one of WGLNA's better battle callers. Is that art lost on the viewers at home? How instrumental is calling to the team's success?
Calling and strats are probably about half the reason why teams win. While there is a lot of skill involved, it's inherently a team game, and knowing how to position your tanks and what tanks to bring is really important. There are a lot of teams who come in, and if you look at the top of the standings, these are the teams with good callers and gameplay. If you look at the bottom, some of those teams don't have good leadership or strats, and I think that's why they collapsed. Fortunately in SIMP, we have a bunch of guys who can fill the role. Besides myself, there's Drynitz, who used to call for Hammer Time, he's a super big help who really understands how the game works. Same with Rude_Awakening, who came from Refuse. He's also been a big help with the calling and the strats. The great thing about SIMP is, we all know the game so well, everyone on the team gives their input for calling and strats. I think that's one of the reasons we've been so successful this season.
Speaking of leadership, is MacG still active behind the scenes?
He's still around for management duties. He's really busy with real life, but he still steps up and helps us out on the management side of the team.
You also brought back SIMP legend Lapse.
He's our... I guess you can say mascot. (Laughs) He's our promotional guy. He does all our social media, and he's a really big help.
We're putting you on the spot -- what's the final order of teams after Vegas?
I'm putting us on top. We just need to play our best and we'll be there. I'm picking Noble second. And if I have to pick third and fourth, I'm actually going to pick eClipse to finish third and HWC fourth, although that's a close match-up.
How about off the show floor? What kind of trouble is SIMP going to get into in Vegas?
We're definitely looking to have some fun. A lot of the guys haven't met each other yet, so we're looking forward to get together as a team and hang out. I can't wait.
Check out Nitts and crew Saturday at the WGLNA Finals live on BattleViewer.com. Until then, pick him (and other top pros) in the special WGLNA Playoffs Fantasy mini-game for your shot at winning prizes ranging from a Type 59 to a Panzer 58 Mutz.