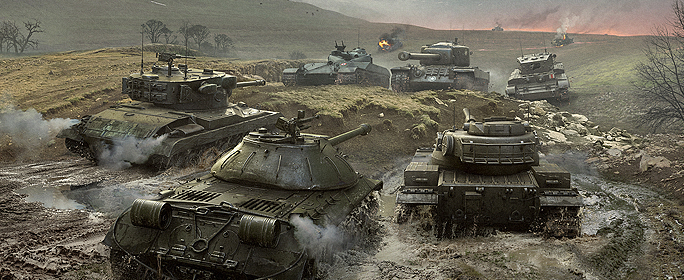 March Mapness is a time for intense competition celebrated on the biggest stage. To honor the buzzer beaters and diaper dandies coast to coast, Wargaming is kicking off a month of competitive play with a tournament featuring prizes for 90% of teams, including coveted Premium tanks like the Type 59!
The tournament breakdown is simple: it's 4v4, tier V action played across three days and five rounds. Win matches to move up the leaderboards and win more prestigious prizes, with the top 1% being rewarded with a Type 59 that comes with 20,000and 3 months of Premium time, plus equipment like Coated Optics, a Vertical Stabilizer, and a Medium Caliber Tank Gun Rammer.
Sign up today for your shot at bringing home the glory… and the Gold!
SCHEDULE
| TOURNAMENT STAGE | DATE | TIME |
| --- | --- | --- |
| Group Stage Round 1 | Friday, March 18 | 18:00 PT |
| Group Stage Round 2 | Saturday, March 19 | 15:00 PT |
| Group Stage Round 3 | Saturday, March 19 | 18:00 PT |
| Group Stage Round 4 | Sunday, March 20 | 15:00 PT |
| Group Stage Round 5 | Sunday, March 20 | 18:00 PT |
PRIZES
PLACEMENT
PRIZE
Top 1% of Teams
Type 59 +

20,000

+ 3 months Premium time + Coated Optics

+

Vertical Stabilizer

+

Medium Caliber Tank Gun Rammer
Top 2-3% of Teams
KV-5 +

17,000

+ 2 months Premium time
Top 4-5% of Teams
Type 62 +

15,000

+ 1 month Premium time
Top 6-10% of Teams
AMX 13 57 GF +

12,000

+ 14 days Premium time
Top 11-20% of Teams
Cromwell B +

10,000

+ 7 days Premium time
Top 21-30% of Teams
TOG II* +

6,000

Top 31-40% of Teams
Churchill III +

4,000

Top 41-50% of Teams
T14 +

2,500

Top 51-60% of Teams
M4 Improved +

1,500

Top 61-70% of Teams
Pz. Kpfw. S35 739 (f) +

1,000

Top 71-80% of Teams

750

Top 81-85% of Teams
One of every Premium consumable, plus a pack of Personal Reserves
Top 86-90% of Teams
One pack of Personal Reserves