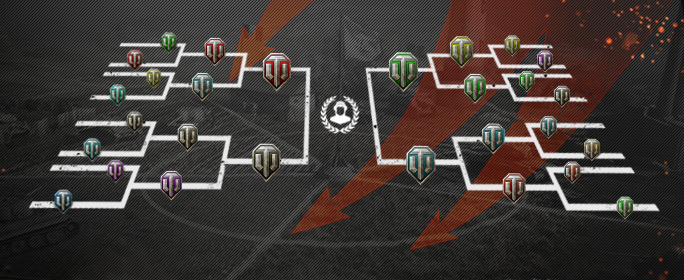 Think your Clan has the guns and gumption to take out any opponent? Prove it by entering the "Call to Arms" tournament series and blast your way to the top of the leaderboard.
For those new to competitive gaming, Call to Arms is a tournament focused on Clan warfare. This week, teams of 15 fight it out on Karelia, with Clans choosing to fight in either the tier VIII Champions division or tier X Absolutes, and both can reward Clans with glory and Gold!
Participating teams must include at least 11 members from the same Clan. In addition, each team is allowed up to four legionnaires -- players from outside the Clan. Legionnaires can be from a different Clan or even Clan-less, but the downside is that legionnaires can't earn Gold or Combat Reserves; they're limited to the individual Credit prize. If more than four legionnaires sign up to a team, player(s) may be removed or the team may be denied entry, so plan accordingly.
Sign up today and answer the call. Battles take place Saturday, May 14. Matches begin at 15:30 PT.
PRIZES
Absolute

Champions

24,000 to Clan treasury

15,000 Industrial Resource

4 Clan Credit Boosts

250,000 per player

12,000 to Clan treasury

8,000 Industrial Resource

4 Clan Credit Boosts

100,000 per player

20,000 to Clan treasury

12,000 Industrial Resource

3 Clan Credit Boosts

250,000 per player

10,000 to Clan treasury

6,000 Industrial Resource

3 Clan Credit Boosts

100,000 per player

12,000 to Clan treasury

10,000 Industrial Resource

2 Clan Credit Boosts

250,000 per player

6,000 to Clan treasury

5,000 Industrial Resource

2 Clan Credit Boosts

100,000 per player

4th Place

250,000 per player

2 Clan Credit Boosts

100,000per player

2 Clan Credit Boosts