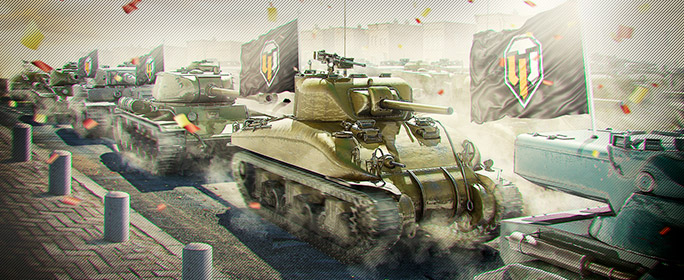 To celebrate the 5th Anniversary of World of Tanks, we're holding a special tournament series, with each tournament offering 3,500 to first place winners! A Type 59 will also be awarded to players who earn the most Gold over the entire weekend of competition. But that's not all—other prizes include the tier VII E-25, the tier VI TOG II, Premium time, and even equipment like the Medium-Caliber Tank Gun Rammer!
With seven tournaments in total over a three day period, tankers can head to the forums in order to register for their desired days and times. But remember, if you want that Type 59, it's in your best interest to play in as many tournaments as possible in order to amass that all-important Gold!
Sign up today for your shot at Tanker glory.
| | | |
| --- | --- | --- |
| TOURNAMENT | DATE & TIME | MAP |
| Friday Late | Aug. 14 @ 18:00 PT | Ensk Encounter |
| Saturday Early | Aug. 15 @ 10:00 PT | Winter Himmelsdorf Encounter |
| Saturday Mid | Aug. 15 @ 14:00 PT | Ruinberg Encounter |
| Saturday Late | Aug. 15 @ 18:00 PT | Steppes Encounter |
| Sunday Early | Aug. 16 @ 10:00 PT | Malinovka Encounter |
| Sunday Mid | Aug. 16 @ 14:00 PT | Mines Encounter |
| Sunday Late | Aug. 16 @ 18:00 PT | Siegfried Line Encounter |