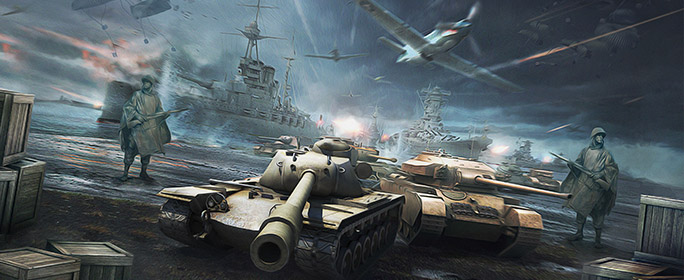 For the fourth year in a row, Wargaming America is celebrating National Military Appreciation Month (NMAM)! Once again we're rolling out a May charity program in partnership with top veteran organizations: AMVETS, Wounded Warriors Canada, the National Armor and Cavalry Heritage Foundation and Operation Supply Drop!
Each week in May, one of the organizations will receive 25% of the proceeds from the dedicated in-game currency support packages purchased from the Premium Shop (NA) across World of Tanks, World of Warplanes, World of Tanks: Xbox 360 Edition, and World of Tanks Blitz. In addition, 25% of the proceeds from each purchase of the Military Appreciation Month All-Charity Support Bundle will be divided between the four organizations. Choose which organization you'd like to support, and get Gold and Credits in return!
We'll be talking more about these charities as time goes on -- but for now, check on the sale dates and times of our charity bundles below, including the bundles focused on the individual charities launching throughout May!
Military Appreciation Month Bundles

All-Charity Support Bundle - $22.99

Starts

Monday, May 4, 04:20 PT

(07:00 ET) Ends

Monday June 1, 04:20 PT

(07:20 ET)

1,500

+

1,500,000

AMVETS Support Bundle - $22.99



Starts

Monday May 4, 04:20 PT

(07:20 ET) Ends

Monday May 11, 04:20 PT

(07:20 ET)




1,500

+

1,500,000

As one of America's leading Veterans service organizations with over 250,000 members, AMVETS (or American Veterans) has a proud history of assisting veterans and sponsoring numerous programs that serve our country and its citizens. Donate directly to AMVETS

Wounded Warriors Canada Support Bundle - $22.99

Starts

Monday May 11, 04:20 PT

(07:20 ET) Ends

Monday May 18, 04:20 PT

(07:20 ET)




1,500

+

1,500,000

Wounded Warriors Canada is a non-profit organization that supports Canada's ill and injured Canadian Armed Forces members, Veterans, and their families. Through a wide range of national programs and services, Wounded Warriors provides a spectrum of care that is focused on mental health and, particularly, Post-Traumatic Stress Disorder. Donate directly to Wounded Warriors

National Armor & Cavalry Foundation Support Bundle - $22.99

Starts

Monday May 18, 04:20 PT

(07:20 ET) Ends

Monday May 25, 04:20 PT

(07:20 ET)




1,500

+

1,500,000

The National Armor and Cavalry Heritage Foundation (NACHF) is a private organization whose primary function is to preserve the lineage, history and heritage of the U.S. Army's mounted force and honor the courageous men and women who have served in that force. Donate directly to NACHF

Operation Supply Drop Support Bundle - $22.99

Starts

Monday May 25, 04:20 PT

(07:20 ET) Ends

Monday June 1, 04:20 PT

(07:20 ET)

1,500

+

1,500,000

Operation Supply Drop (OSD) is a military charity supporting both the US and NATO allies. Since 2010, using video games and digital entertainment as a generationally relevant catalyst, OSD has created a supportive community for veterans, secured millions of dollars worth of video games and equipment for service men and women at home and abroad, and it has supported veteran-owned business in the video game industry. Donate directly to Operation Supply Drop