Commanders!
We have received more details about the Immortal and its plans to plunge World of Tanks into chaos and despair. Soon, commanders will set out to save Mirny-13 from the mighty foe and close the rift between the worlds. Are you brave enough to join them, or do you need more intel before heading to the front?
Halloween Streams with Special Drops on The World of Tanks NA Channel
Only on the World of Tanks NA Channel starting Oct. 27 from 03:00 PT | 05:00 CT | 06:00 ET until Oct. 29 at 03:00 PT | 05:00 CT | 06:00 ET
Jambijon has a special edition of Get Good this Wednesday for an in-depth dive into Mirny-13! Stream is on Wednesday, Oct. 27 at 14:00–17:00 PT | 16:00–19:00 CT | 18:00–21:00 ET.
For a sweet diversion, join the World of Tanks Community Team while they participate in SPOOOKY activities where they play, you answer, and you can win some awesome in game rewards. The stream will be on Thursday, Oct. 28 at 16:00–18:00 PT | 18:00–20:00 CT | 19:00–21:00 ET.
Guranteed Halloween Drops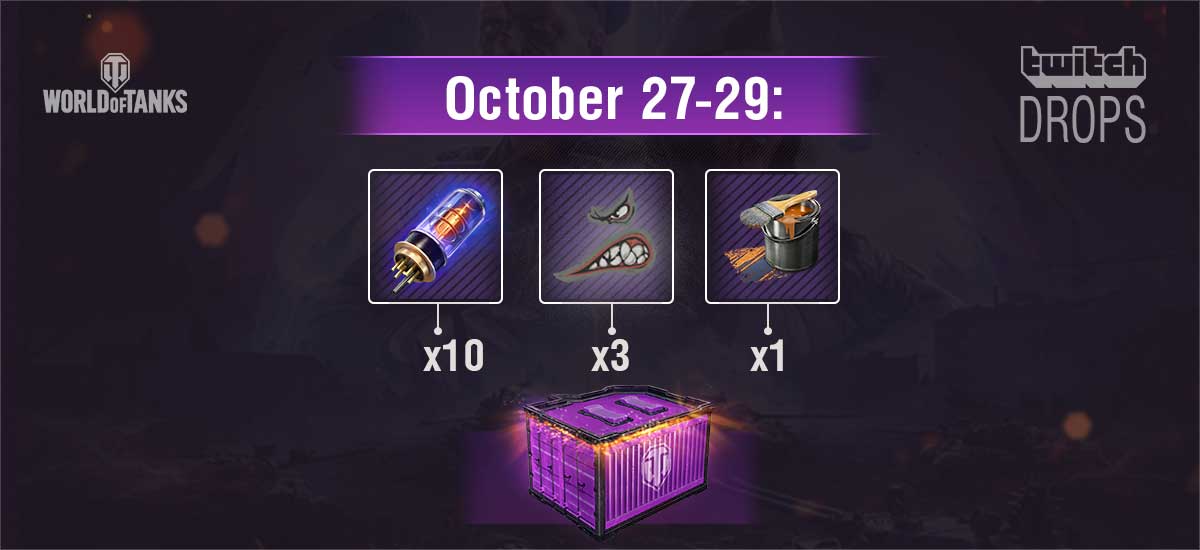 After 60 minutes:

10×Decryption Keys

After 120 minutes:

3×Decals: "Grin in Profile 3"

After 180 minutes:

1×2D Style "Jack-o'-Lantern"
Note: Drops on Oct. 27–29 can be combined with the ones listed below but are only available by watching the official World of Tanks NA Twitch channel.
Twitch Drops for World of Tanks NA Channel & Community Contributors
Available from Wednesday, October 27 at 03:00 PT | 05:00 CT | 06:00 ET until Wednesday, November 10 at 03:00 PT | 05:00 CT | 06:00 ET

World of Tanks personnel aren't the only ones attempting to take out the Immortal. Community Contributors have also signed up for Operation Mirny: Hope. Twitch Drops will also be enabled on the channels of participating CC's, so make sure to join their streams to earn the following rewards over time:
Guaranteed Twitch Drops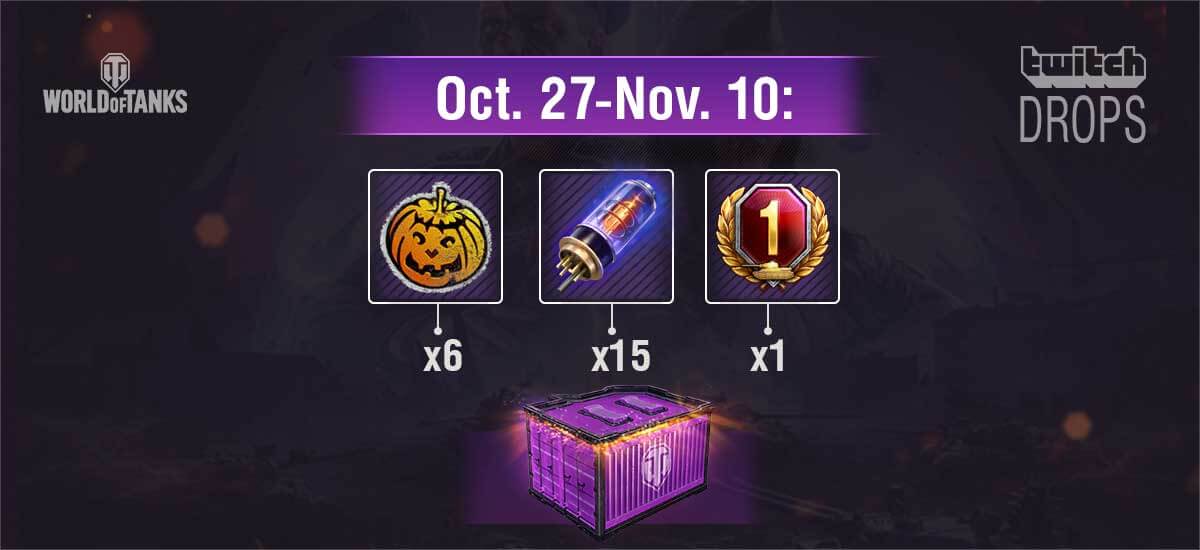 After 90 minutes:

6×Emblems: "Pumpkin"

After 150 minutes:

15×Decryption Keys

After 240 minutes:

1 DayWoT Premium Account
Community Contributors
Expand
Click on each of the names below to visit their stream page:
Collapse
Important: Your World of Tanks account and your Twitch account have to be linked for a chance to receive Twitch Drops. Please see our dedicated guide for more information.
Visit Discord

Are you looking for someone to team up with? Preferably expert tank commanders that will guide you to victory. Communication is the key to success for Operation Mirny: Hope and one of the best communication tools is our dedicated World of Tanks Discord server.
Follow Ongoing Investigations and Battle the Supernatural
HALLOWEEN 2021
HALLOWEEN 2021
Power up your vehicles, join a platoon, and fight a variety of A.I.-driven armored enemies, including the Immortal! Earn Decryption Keys and unlock plentiful rewards including Credits, spooky Decals, 3D Styles, and the King Tiger (Captured).
Remember: In space, no one can hear you stream.